10 Leave In Conditioners Perfect For Curly Hair
Curly hair can be hard to manage due to dryness and breakage, fortunately one of life's greatest gifts is leave-in conditioner that'll make unruly hair turn into soft, defined curled tresses. Protect and heal your hair with 10 leave-in conditioners that will restore your hair back to its natural texture.
1. NaturAll Club Nourishing Avocado Leave-In Conditioner
This lightweight natural curl enhancing leave-in conditioner hydrates by sealing in moisture and aids in repairing damaged hair. Avocado oil, coconut oil, castor seed oil, and glycerin work together to deeply hydrate hair. This cruelty-free, paraben-free, sulfate-free, and silicone-free formula combines naturally-derived ingredients that are safe for hair and makes hair soft to the touch, fights off frizz and heals split ends. Reviews rave about this how this leave-in conditioner revives their curls to make them soft, shiny, and bouncy.
2. Renpure Coconut Whipped Creme Leave-In Conditioner
Dry, frizzy hair has met its match with this budget-friendly nourishing coconut leave-in conditioner. Coconut water penetrates the hair shaft to deliver instant nourishment. Vitamins and oils condition to heal the cuticle and leave hair smoother and healthier. This conditioner is formulated with argan oil, coconut extract, and hydrolyzed pea protein to hydrate and strengthen hair. Renpure's whipped creme leaves hair ultra soft while smoothing frizz, quenching hair's thirst with its hydrating formula. 
3. Kinky-Curly Knot Today Leave-In Conditioner/Detangler
This cruelty-free formula harvests the power of organic fruit extracts and herbs to intensely hydrate hair. The creamy conditioner smooths hair, targeting the cuticle, and detangles to get rid of unruly unmanageable knots.  Mango extract, slippery elm, marshmallow root, and lemongrass provide nourishment while leaving behind a delicate fresh scent. Reviewers claim their hair has never been this soft and their curls have never been so defined. This product encourages natural curls to surface while removing tangles and smoothing frizz. 
4. tgin Green Tea Super Moist Leave In Conditioner
Green tea, shea butter, cocoa butter, honey, Moroccan oil, sunflower seed oil, castor oil, and argan oil come together in this cruelty-free lightweight formula to drench locks in hydration and antioxidants. Fight frizz and improve manageability with this leave-in conditioner. Your hair will be restored to luscious soft, bouncy curls. You'll have an easier time detangling your hair and keeping it nourished with this every-day conditioner. Costumers love that their curls are more defined and helped get moisture back into their hair. Issues with dryness and frizz begone, tgin has an elixir that will make your hair silky while taming frizz for smooth, glossy hair. 
5. Curlsmith Curl Conditioning Oil-In-Cream
This oil-in-cream conditioning leave-in treatment nourishes and moisturizes with glycerin, shea butter, coconut oil, carrot seed oil, olive oil, aloe vera, sunflower seed oil, rosemary leaf extract, and sage leaf extract. No parabens, sulfates, silicones, mineral oil, or phthalates make an appearance in this vegan and cruelty-free formula. Your hair will shine and each strand will be strengthened with all of the restoring oils in this conditioner. Hair won't be left feeling oily, greasy, or crunchy with this non-flake formula. Buttery soft hair that will feel hydrated and controlled with this oil-in-cream. 
6. Ouidad Moisture Lock Leave-In Conditioner
This moisture delivering leave-in conditioner works to create a balance in hair's moisture retention and base, allowing curls to respond to other products being layered on top. This lightweight formula locks moisture in without any oily residue. Nourishing ingredients like prickly pear, green tea, vitamin B5, glycerin, and castor oil work to hydrate hair deeply, leaving curls silky soft and healthy. This formula promotes shine and prevents frizz in one fellow swoop. Curls are smooth and bouncy, and reviews claim their hair style lasts days longer with this leave-in conditioner in their routine. 
7. SheaMoisture Jamaican Black Castor Oil Strengthen And Restore Leave-In Conditioner 
Soften and control frizz with this rich leave-in conditioner. This cruelty-free formula is made up of castor oil, shea butter, coconut oil, glycerin, jojoba seed oil, hydrolyzed keratin, macadamia seed oil, peppermint leaf extract, and rice protein that deeply nourishes hair and provides a protective layer that improves appearance of split ends. Castor oil and shea butter moisturize and promote elasticity so hair is flexible enough to resist breakage while detangling. Hair is silky smooth and restored to its healthier state.  
8. OGX Quenching Coconut Curls Curling Butter
This moisturizing curling hair butter leaves hair super soft and smelling like creamy delicious coconut. Soybean oil, coconut oil, shea butter, honey, lemon oil, and orange extract work to deeply nourish curls. This heavier formula won't weigh down hair, but provide intense hydration curls often are in need of. This butter was formulated without sulfate, silicones, or animal testing. Hair is left without a greasy residue or any crunchy strands. Curls will be softer, hydrated, and healthier.
9. DevaCurl B'Leave-In Miracle Curl Plumper
Bring out your natural curls with this creamy lightweight curl plumper. Wheat protein, lemongrass, castor oil, glycerin, oat protein, soy protein, rosemary extract, and chamomile strengthen hair while providing nourishment. This leave-in conditioner leaves behind a delicate citrus scent that is refreshing and wraps your hair in a lemony smell. Hair won't be crunchy or weighed down, but left silky smooth. Apply a generous amount of this curl plumper to wet curls and get touchably soft, defined curls.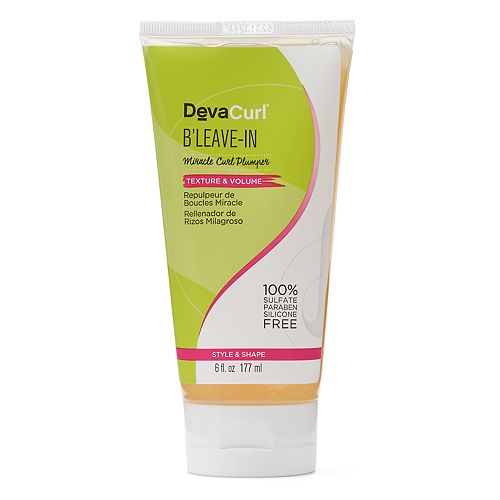 10. Davines OI All In One Milk
This anti-frizz spray controls and protects hair while hydrating and promoting shine. Raucous oil and sunflower seed oil softens and detangles hair, bringing hair back to life. This milk smooths hair without weighing it down with any greasiness or oily residue. It also protects hair from Uv rays and free radicals that could be damaging. Reviews say this leave-in conditioning spray leaves their hair as soft and smooth as if they just left the salon. Not to mention, the scent is heavenly. 
What are your go-to products for curls? Let us know down below!