20 Keto Recipes For Beginners
So you've decided to go keto, but you don't know where to start. Take your first steps by trying these 20 low-carb recipes for keto beginners!
1. Egg Roll In A Bowl
This is a simple recipe that's great for anyone just starting on the low-carb diet. Not only do my keto friends love it, but it's also a big hit with non-keto pals as well! Just follow the recipe here.
Pro tip: If you use a gluten-free soy sauce, it's gluten free as well!
2. Spinach Artichoke Dip
If you are going to stick to any diet, you are going to need to snack without breaking your plan. This low carb spinach artichoke dip has only three net carbs per serving and it's also gluten-free. You can eat it with veggies, low carb crackers, or low carb bread, and it's great when stuffed into mushroom caps as a whole new appetizer!
3. Keto Chocolate Chip Cookies
Not only do you need to be able to snack, but you need to accommodate your sweet tooth. These chewy chocolate chip cookies are easy, but you'll have to get used to using sugar-free ingredients and flour alternatives (this one calls for almond flour). These will taste even better the next day…a rule of thumb for most keto desserts!
4. Cauliflower Rice
With a whopping 8 grams of protein in only 7 calories, this recipe for cauliflower rice is sure to be a staple in your new diet. It's a delicious dish that goes with everything, making it a favorite for keto and non-keto people alike. It's easy to make and even simpler if you buy bagged riced cauliflower!
5. Low-Carb Ham, Pickle, And Cream Cheese Roll-Ups
Here's another salty snack, and this one doesn't even require baking! These low-carb ham, pickle, and cream-cheese roll-ups are a hit with any crowd. Find the simple recipe right here!
6. Buffalo Chicken Stuffed Peppers
Buffalo chicken stuffed peppers are a great keto option for dinner. You can also make them with mini peppers instead, for a fun appetizer you can take to any potluck or dinner party. They are low carb, high protein, and the flavor level is off the charts. Just follow the recipe here for some low-carb spicy goodness!
7. Chicken Zoodle Soup
Who needs noodles when you have zoodles? I'm referring to zucchini noodles, of course, the yummy, low-carb alternative to flour noodles. and you can serve them like pasta with your favorite spaghetti sauce or olive oil. Or, you can make this take on the ultimate comfort food and enjoy some chicken zoodle soup for the soul.
8. Cheesy Pesto Chicken
This super simple recipe for cheesy pesto chicken makes a great dinner entree for the whole family, and not just those eating keto! Serve it over cauliflower rice or cauliflower mashed potatoes and enjoy!
9. Keto Cheez-Its
If you miss carb-heavy snacks like chips and crackers, there's no need to worry. You can make your own keto alternatives that will satisfy your cravings without the calories! Try this recipe for easy keto Cheez-It crackers and enjoy your favorite crunchy snack, guilt-free!
10. Keto Pancakes
Eggs are the staple of the keto diet but you do get sick of them after a while. So, treat yourself to pancakes–low carb, keto-friendly pancakes, of course! Enjoy these 3-ingredient keto pancakes with sugar-free syrup or berries.
11. Crustless Cheeseburger Pie
This dinner is quick to put together and is both gluten-free and keto-friendly. Just follow this recipe to make this delicious dish. It's simple and uses common ingredients you probably already have in your kitchen, so reason to wait!
12. Cauliflower Rice Bowl
Remember when we said cauliflower rice would be your new staple? Cauliflower rice bowls are usually a safe bet for keto meals, and there are a lot of options out there. Here is a Mexican favorite with more than 38 grams of protein. Find the recipe here!
13. Keto Broccoli Cheese Slow Cooker Soup
Crock pots make everything easier. Don't you just love throwing everything into one pot and letting time do the rest? This recipe for keto broccoli cheese slow cooker soup is another low-carb, gluten-free winner for dinner.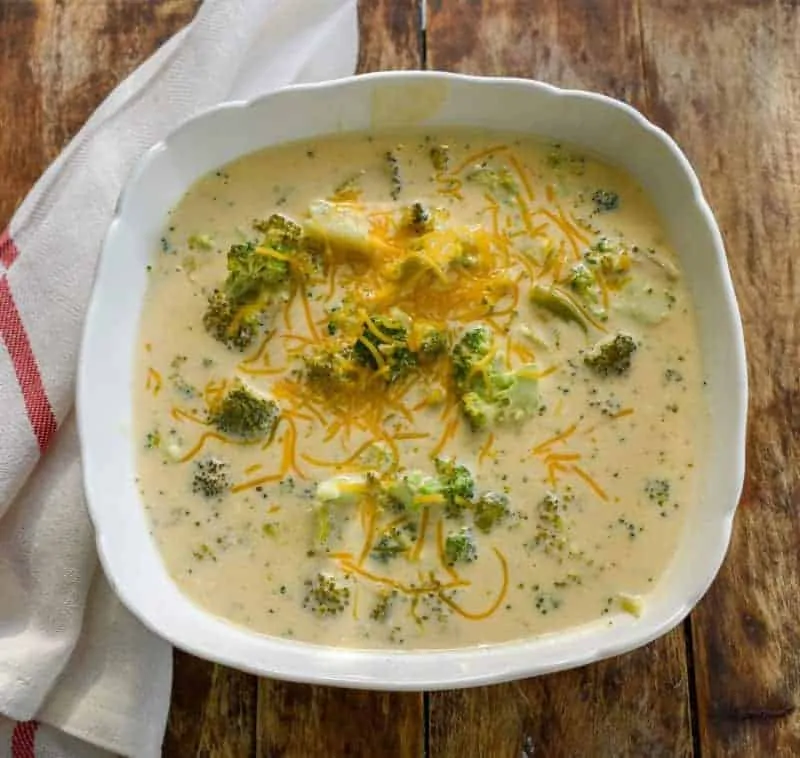 14.  Keto Taco Bites
What's better than an easy meal? A meal that's easy and cheap! The ingredients for this recipe are as simple as the instructions to make it. Your family and your wallet will love these keto taco bites!
15. Sausage Balls
These 5-ingredient keto sausage balls are a great option for a grab-and-go breakfast or to serve as an appetizer. Not only are they easy and delicious, but they have less than a gram of net carbs each!
16. Keto Breakfast Sandwich
If eating keto has turned your world upside down, respond by turning your meal inside out. This breakfast sandwich swaps the bread for sausage patties. It is loaded with protein and you can opt for egg whites and turkey sausage if you want to keep the fat content down.
17. Avocado Deviled Eggs
Eggs and avocados are definite go-tos on the keto diet. This recipe combines the two in a unique and delicious way. Great for breakfast, lunch, a side dish or an appetizer.
18. Baked Salmon With Garlic And Dijon
One of the struggles of going keto is finding enough protein without overloading your diet with red meats. Luckily, salmon and other fish offer a delicious alternative! This entree is a winner across the board with only 3 carbs and 34 grams of protein. Plus, it only takes 20 minutes from start to finish!
19. Creamy Dijon Pork Chops
If you were a fan of the dijon flavor in the salmon dish in number 18, try this recipe for creamy dijon pork chops! This savory sensation is full of flavor and quick to make.  Definitely one for the whole family.
20. Fudgy Keto Brownies
This dessert recipe for "
The Best Fudgy Keto Brownies In The World"
makes a bold claim but, let's face it, how could you go wrong with ooey, gooey, chocolatey brownies?! You don't have to feel guilty about indulging in your favorite dessert because these brownies are low-carb and keto-approved.
Which of these keto recipes are you dying to try? Tell us your faves in the comments below!
Featured Image Source via downshiftology.com. 
Alexandra Ford
A. A. Ford is a writer from St. Louis, Missouri. She is currently a student majoring in English and Theology at the University of Notre Dame. In addition to her articles for Society 19, Ford is known for her poetry and fiction, which can be found at https://aafordstories.wordpress.com/. In her free time, she loves directing stage theater, spending time with her friends and family, and trying her best to glorify God by her life.