The Best Places To Buy Sundresses For Spring
As warmer weather approaches, the season for sunglasses, blank, and sundresses comes with it. Such a flowy, lightweight garment that comes in many lengths and can go with almost any style, whether you're more artsy, classic, bohemian, or even a rocker chick. Whatever it may be, these places listed below will guarantee to have what you're looking for in a sundress this spring.
American Eagle
This first place is well-known for its retro/vintage inspired Southwestern style targeting college students and young adults. Along with their other branches of stores, AE is "rooted in authenticity and self-expression. We stand for individuality, freedom, and difference. Our jeans and apparel empower our customers to reveal their true selves to the world – their style, their creativity, their stories, their strengths. Our brand celebrates those who won't be contained by someone else's labels. Real individuals with passion and purpose."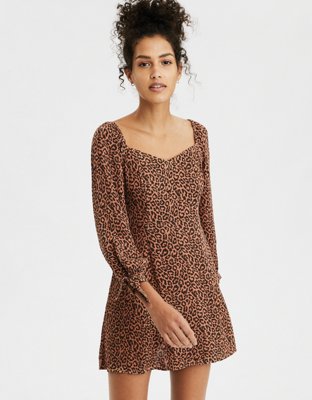 Lulu's
One of the many clothing stores accessible with the click of a button, this next retail, much like American Eagle, provides vintage-style clothing, while also providing a chic, classy choices, that gives the spring in their sundresses. Starting as a brick-and-motor trade, it's one of the many online choices that's gained the fancy of college students for every occasion.
Hot Topic
If you classified yourself as "old-school emo," then you're probably aware of the many phases this next store has been through over the years. In fact, some of the things that hadn't changed are the punk/gothic feel, as well as the revenue the store gets from its variety of band t-shirts, with the addition of pop culture. Even in their choices of sundresses, you can bring so much as your favorite movies and tv shows in subtlety.
Madewell
If jeans are your common outfit even in the warmer weather, then these denim geniuses can fit your needs.  for the sundresses that suit you, and "basically anyone who appreciates timeless designs that put you at ease." Some of their favorite labels include their named Baggu, Corkcicle, and Penfield as well as Adidas, Solid & Striped, Vans, and Veja.
Pretty Little Thing
There's no need to worry about what you may or may not find in terms of sundresses that fit you and your personality, because this next online shop has you covered, from styles to accessories that can make a look for any occasion stand out. Everything from "sweet florals and tropical print sundresses to on-trend crochet and denim numbers, we have this season's hottest sundresses for you right here. Vacay coming up? Our cute sundresses are a must for your suitcase. From catching some rays to sipping on cocktails at sunset, our beach sundresses will take you through from AM to PM. Day drinks with the dolls? Team a sexy sundress with strappy heels and a mini bag for a look that everyone will be loving. Elevate your everyday look with one of our casual sundresses – opt for a midi sundress in a cami fit paired with an oversized denim jacket and slides. Our long sundresses and maxi sundresses are perfect for those extra special occasions. Just add strappy heels and layered jewelry to earn yourself the title of best dressed guest. From a head-turning red sundress that's perfect for those nights out to a yellow sundress for a super cute everyday look, we have an unreal range of sundresses for women in a variety of different hues and styles."
Urban Outfitters
If a store is selling, among other nifty things, primal vinyl records and cassettes, then their wardrobe can say something about their originality from other places. UAE has been encouraging customers with a style combined with "product, creativity, and cultural understanding" since 1970. Starting off as a smaller space before extending to "over 200 stores in the United States, Canada, and Europe," the springtime brings an assortment of artistic vibes in their sundresses, especially perfect for a personality that lets the art speak it for them. And while you're there, check out their home décor to help accent the springtime into the summer with your character. Or see any of their sister locations, including the next two on this list.
Anthropologie
In their words, they aim for the "creative-minded woman, who wants to look like herself, not the masses. She has a sense of adventure about what she wears, and although fashion is important to her, she is too busy enjoying life to be governed by the latest trends. To her, Anthropologie is a portal of discovery—a brush with what could be. A place for her to lose—and find—herself."
Free People
This next one happens to be the original Urban Outfitters before changing the name. Providing an immediate cozy aesthetic, this brand looks to aim for the young woman who's "smart, creative, confident and comfortable in all aspects of her being, free and adventurous, sweet to tough to tomboy to romantic. A girl who likes to keep busy and push life to its limits, with traveling and hanging out and everything in between. Who loves Donovan as much as she loves The Dears, and can't resist petting any dog that passes her by on the street."
Target
Not everyone fits into the style of a sundress, and that's okay. A superstore with all the essentials for home and living, it helps accent the springtime as sundresses should during the season. Even if you're not into their style, it helps to have a simpler option that you can create your wardrobe as your own with one or more components, including their t-shirt dresses.
ASOS
Returning to online purchasing, mainly due to the lack of time to shop for most college students, this shop puts themselves in the mind of the authentic and creative. For over 20 years, ASOS has defied odds to those who thought that online shopping wouldn't work. They upscale "the boundaries for the world's fashion-loving 20-somethings, helping more and more people look, feel and be their best. ASOS, a truly global retailer with our eyes set firmly on becoming the number one online fashion destination for 20-somethings globally."
Do these places have sundresses that fit your style? Let me know in the comments below!