15 Wrap Dresses Perfect For A Summer Wedding
As a guest, figuring out what to wear to a wedding can be pretty frustrating. You want to make sure you're sticking to any themes (if necessary), how formal it is, what the weather is going to be that day, whether it's daytime or nighttime, etc. If you're feeling stuck and slightly clueless, we're here to help you with one of the biggest trends of the season: wrap dresses. Wrap dresses are perfect because there are so many styles for literally any kind of occasion. You can easily dress up or down a wrap dress, and they look good on everyone. (Plus, no one likes being photographed in an outfit that makes them uncomfortable!) Breezy, dressy, cute, short or long, what's not to love about wrap dresses? Here are 15 different wrap dresses for summer that you can wear to any kind of summer wedding!
Floral Wrap Dress
You honestly can't go wrong with floral prints. Perfect for a casual backyard wedding or if you're attending a ceremony in a chic barn or country setting. Play up your dress with bright colors. Go sleeveless if you'll be stuck in the heat or opt for sleeves in an indoor setting!
Copy this style:
Ruffled Wrap Dress
Who doesn't love a good ruffled dress? Ruffles really made their comeback last summer, and they're not going anywhere anytime soon. Perfect for a girl who likes to get her groove on at a wedding. If you're heading to a daytime wedding with a more playful, casual vibe, ruffles are a perfect choice.
Copy this style:
Baby Blue Wrap Dress
Something borrowed…something blue? Okay, technically you're not the one getting married but who can resist this gorgeous baby blue color? This along with any other pastels are perfect for a daytime wedding in the summer because their usually light, airy, and won't attract heat from the sun.
Copy this style:
Striped Wrap Dress
If you want to go for a more street-style chic look, stripes are your go to. Perfect for a downtown wedding or evening ceremony, stripes can be elegant but also trendy. Opt for vertical stripes over horizontal as they will elongate your figure (and look more slimming in photographs!)
Copy this style: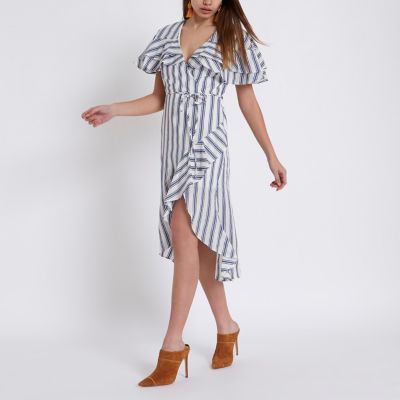 Polka Dots
Polka dots are IN. If you haven't gotten yourself a dress covered in polka dots yet for any summer occasion you're doing it wrong. Daytime, nighttime, outdoor, indoor, downtown or countryside, polka dots are perfect for any gathering! Dress yours down with a cute straw bag and wedges or dress them up with chandelier earrings and pumps.
Copy this style:
Fruity
Fruity patterns are perfect for wrap dresses for summer. They have a youthful, playful vibe about them if you're looking for something a little more funky or unique. Go for something with cherries, lemons, oranges or pineapples!
Copy this style:
Maxi Wrap Dress
You can't go wrong with a maxi dress for a wedding. The more formal a wedding is, the better off you are opting for a midi length or floor length dress, enter: maxi dresses. Off the shoulder styles are perfect for maxi dresses or even ones with a slight slit in the leg.
Copy this style:
Which one of these wrap dresses for summer are you going to get?! Let us know down below in the comments!
*This is a sponsored post. All opinions are my own.
Erin Mahoney
Graduate of Emerson College '15 with B.S. in Multimedia Journalism. Originally from Haverhill, MA. Lover of dogs (and some cats), shoes, hot sauce and depleting my bank account.