What We Can Expect From Mardi Gras 2021
You're sitting on the couch at your home one day when you receive a phone call from your friend Jerry. It's been a while since you've heard from Jerry, so you wonder what's up. Apparently, Jerry recently inherited a large fortune from a wealthy relative and has decided to celebrate his good fortune in New Orleans. However, he tells you that it's no fun to party alone, so he's wondering if you would like to come to Mardi Gras with him next year. You accept, of course, but you tell Jerry that you don't know the first thing about the festival. He quickly tells you that that's not a problem and all you have to do is show up.
Great food
After a few months, you find yourself exiting a private plane into the beautiful city of New Orleans. Waiting for you on the tarmac is a long black limo. As you approach the vehicle, the driver bows and opens the back seat for you. Once inside the limo, you're delighted to see Jerry, who is wearing entirely new clothes. He greets you warmly and asks how your flight was. You tell him that it was incredible and that the stewardess gave you everything you could hope for. As you're catching up with each other, the limo pulls up to the corner and the driver opens the door for you and Jerry to exit. You find yourself at a restaurant named Galatoire's, which Jerry claims is the number one place to eat in the entire city. 
Sydney and Walda Besthoff Sculpture Garden
After a delicious meal with Jerry, you hop back in the limo while he happily assures you that your Mardi Gras experience is just beginning. The next stop on your tour of New Orleans is the Sydney and Walda Besthoff Sculpture Garden. Jerry tells you that this is the first place that he ever went to in the city and that it is full of the most incredible statues. After arriving and commencing your peaceful walk around the garden, you're amazed at how beautiful the scenery is. As you and Jerry walk side by side along the path, you come to a flat bridge that crosses a small section of water with a closed off area on you right. In the middle of this small pond is a metal column with a small statue of a man standing on top. The simple elegance of this art impresses you, but you continue to walk since there is so much else to see.
Lots of Masks
While both the restaurant and the garden were extremely impressive, you can't help but wonder when the Mardi Gras celebration will begin. As if reading your thoughts, Jerry (after glancing at his watch) states that it's about time to go shopping for a mask you can wear. As it happens, Jerry knows just the place to get one that is both expensive, yet not too ostentatious. Heading into the premier mask shop that's only open on Mardi Gras, you head to the back of the store where the owner greets Jerry personally and proceeds to take your head measurements. Once this is finished, the owner disappears for a few minutes while you chat with Jerry. The owner then returns with a small – but impressively detailed – black mask for you to wear.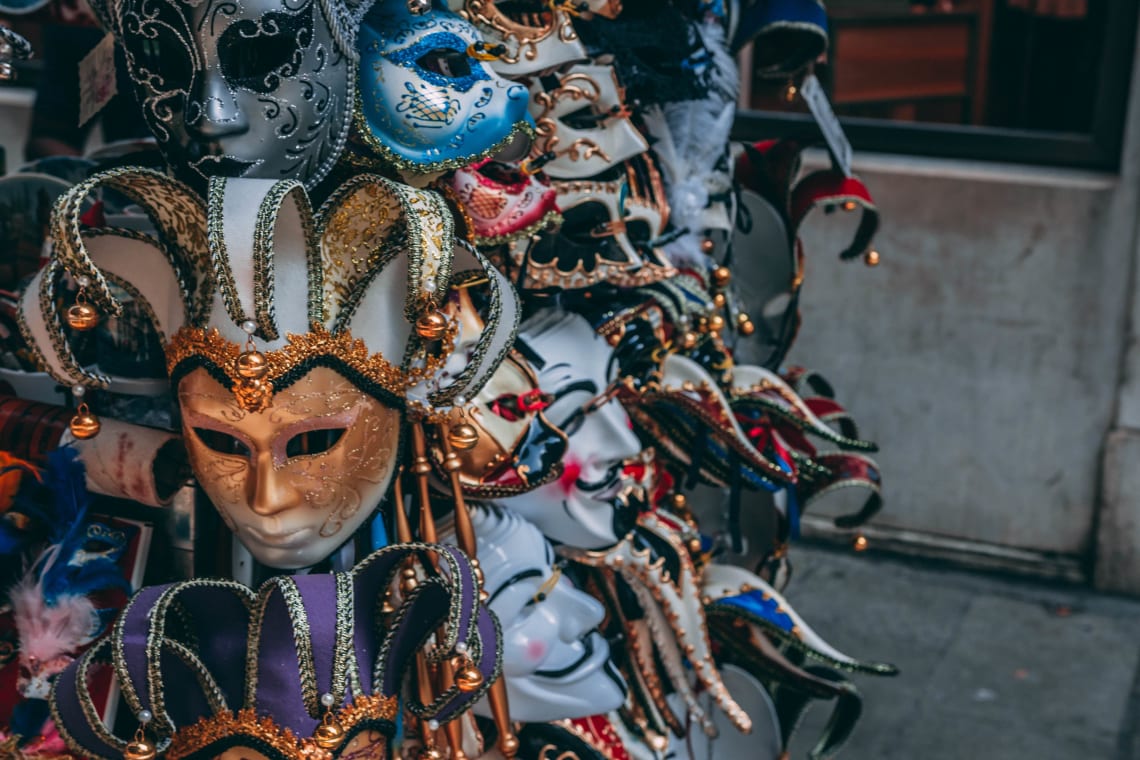 Drinking
Now that you have your Mardi Gras mask, you're all set to enjoy the rest of the night. You and Jerry walk down the streets of New Orleans on your way to a small bar that Jerry has heard about. After momentarily getting lost once or twice, you finally see the sign for the bar. Upon entering the establishment, you notice how most of the seats are empty. In fact, now that your eyes have adjusted to the gloom of the bar, you don't see any other customers besides Jerry and yourself. As you pass by the bar, Jerry calls for two glasses of their best Kentucky bourbon and guides you to a small staircase leading up into darkness. 
A Good View
The slight echo of your footfalls is the only noise you hear, at least at first. The higher you ascend, the more you think you hear a faint roaring coming from outside. At the top of the flight of stairs, Jerry puts his hand on the doorknob and, turning to you, says "Welcome to Mardi Gras." At these words, Jerry turns the knob and throws open the door. Immediately, the roaring which you heard earlier reveals itself to be cheering people who adorn the surrounding balconies in bright colors. Taking your seats on your own balcony, you see the Mardi Gras parade about to begin. Turning to Jerry to remark upon the festivities, you instead find yourself looking up at the bartender, who holds out your glass of bourbon on the rocks. Jerry has seemingly disappeared. 
Thrown gifts
You begin to rise out of your chair in search of Jerry when the Mardi Gras parade begins. Magnificent floats pass one by one on the street below. One in particular – a float shaped like a mermaid – catches your eye. Many mermaids, all boasting bright and multicolored tails, recline in small pools of water around the float. You happen to meet the eye of the one nearest to your side of the street. She smiles warmly at you and, reaching into the pool, quickly throws something toward you. Precariously leaning out over the balcony, you manage to catch the gift one-handed and turn away from the mermaid to examine it. The gift you received was a bright necklace of many different gems.
A Mardi Gras Ball
Putting the gift around your neck, you turn back to sit down in your comfortable seat when you're again greeted by the smiling visage of the bartender. Holding out a silver plate to you with a small piece of paper placed upon it, you take the note and begin to read. It's from Jerry! He wants to invite you to his private home for a grand Mardi Gras extravaganza. You immediately descend the darkened staircase you used to reach the balcony and, after reaching the limo parked outside, you tell the driver to make for Jerry's house. Once you arrive, you find yourself in a wondrous world full of inhabitants wearing the most incredible masks. Upon the marble staircase immediately inside the entrance you glimpse Jerry beckoning you to join him for a night of extraordinary wonders.
How are you preparing for Mardi Gras? Do you have a friend that can show you around and help you experience it in the best way? Let me know in the comments below!
Joshua Vanakker
A new face on the writing scene, Josh VanAkker brings a breath of fresh air to the world of blogging. He enjoys working with new styles of writing, and has employed a good number of them in his many blog posts.