Your Guide To The Best Foundation For Glowy Skin
From sheer to full coverage; matte to dewy finish – whatever look you're going for when opting for foundation, you can't ever say no to a healthy, flawless glow. Below is a petite array of high-end foundations that you cannot miss out on if you're on the hunt for the best foundation for glowy skin!
This cult favourite is definitely worth the hype. Its staying power is phenomenal and the flawless, matte full-coverage it delivers is impeccable. Not only that, but with its skin-nourishing ingredients that include calming chamomile and cucumber, it offers your skin a glowing, baby-soft feel and look.
The Jouer Cosmetics Essential High Coverage Crème Foundation comes in 17 different shades, so no matter your colouring or undertone, there is a perfect little bottle for you waiting to be picked up!
Of course I was going to mention the good ol' NARS Sheer Glow! I am yet to meet someone who has not yet used or at least mentioned this popular favourite. And for a few good reasons, mind you. The buildable satin-finish foundation is an absolute must-have for those who love both the sheer and full-coverage looks. It's packed with skincare benefits and includes a dose of the magical NARS Complexion Brightening Formula. It is even GOOD for your skin when used daily because it's actually designed to brighten and soften it. For like, life. Seriously, how often can one say that about makeup?!
So, glowing perfection in a bottle and on top of that, it is available in 20 shades? I mean…love.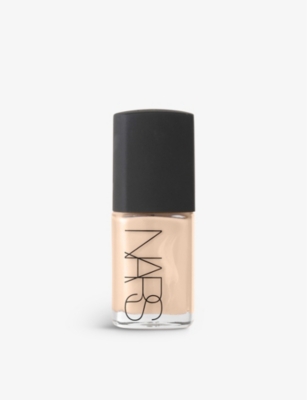 Okay, so where do I start with this one. Ladies and gents, this baby is called Candleglow Soft Luminous Foundation for a very good reason. The formula contains radiant pearl mica for that angelic, soft-focus finish and candlelit effect, and with its super lightweight formula, it combines water and a blend of hydrating oils to seal in moisture – a top-notch recipe for that perfectly glowing finish.
Available in a mind-blowing 24 shades!
And those were my top 3 picks for your guide to the best foundation for glowy skin! Just remember to maintain a regular skin-care routine of cleansing, toning, moisturising and exfoliating – and NEVER neglect your sun protection creams! A good foundation will finally serve to complement your natural beauty and bring out that healthy, radiant glow you've always carried!
Do you agree that this is the best foundation for glowy skin? Let us know in the comment section below!
*This is a sponsored post. All opinions are my own.
Featured Image Source: www. Pinterest.com
Belkis Megraoui
British-Algerian writer & poet, aspiring journalist, history lover, art enthusiast & unicorn.