10 White Outfits To Make You Stand Out
Not everyone's a fan of white outfits! We know this. But they can look amazing, trust us. Don't be afraid to step out and be fabulous and bold in white! If you want to fearlessly stand out from the crowd and make a big impact then get these white outfits! They will make you 
1. White Maxi Dress
Maxi dresses always look cute! It's just a fact. And this one from SHEIN is especially fabulous. It's a lace overlay backless dress with a pleated design so it's really pretty for everyday wear. As if that wasn't enough to make you stand out, its deep v-neck, spaghetti straps, and sleeveless slip, flare style will make you look effortlessly sexy and glamorous. When it comes to picking out white outfits, you can't go wrong with this!
2. White Jumpsuit
This white lace, wide-leg jumpsuit from Missguided is absolutely to die for! Its lace design is super pretty and its high neck gives it a classy, chic look. It's easy to put on with zip back fastening and would look really gorgeous paired with some kitten heels and a clutch purse. Finish the look off by Accessorising with hoop earrings and a cute charm bracelet. 
3. White Midi Skirt
Topshop has designed a mixed broderie midi skirt that is really pretty and cute. This ivory white coloured piece is really stylish and would look great paired with some converse for casual everyday wear or wedge sandals for an evening out. Wear it with a white Bardot top for a sexier look. This skirt will have all eyes on you and make you the shining star of any room you're in.  
4. White Skinny Jeans
The mile-high ankle skinny jeans from Levi's are really classy and stylish! It has the iconic leather patch at the back waist. It's a slim fit right through the hip and thigh and is extra high rise so it's perfect for those of you that are curvier because it won't slip off your hips. The good thing about these jeans is that they can be dressed down with a band t-shirt or glammed up with a crop top and a leather jacket. Pair these jeans with some gladiator sandals for a more chic and refined look. Wearing these jeans will make you stand out from the crowd especially around the regular denim wearers! 
5. White Mini Skirt
River Island is the best place to go for the white mini skirt look this year. This one from River Island is denim so it can be worn super casually just for everyday wear! It comes with belt loops so you can accessorise the outfit with a belt if you want to accentuate your waist. It has five pockets so you can leave the house without a bag if you want! It's comfortable, has a stylish fray hem and could be matched with a white t-shirt or shirt for elegance!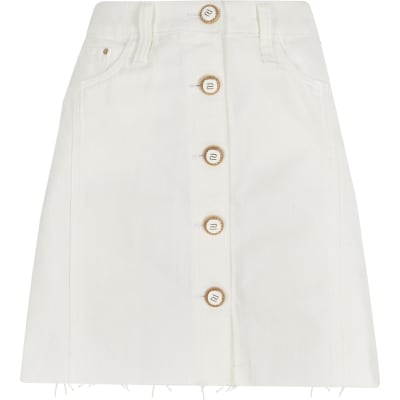 6. White One-Shoulder Dress
This gorgeous dress from ASOS is a perfect outfit to choose for this season! This dress, in particular, is so beautiful and with its one-shoulder look, it adds sex appeal to the outfit. It has a ruffle design that is really pretty and its A-line shape will compliment your figure perfectly. The fit and flare is cute for any occasion no matter if you're off to a summer BBQ or a garden party!
7. White Flare Trousers
These white lace sheer flare leg trousers from Pretty Little Thing are easily the best clothing piece to make you stand out! The sheer, lace material is super sexy and they're easy to throw on with zip fastening. They will definitely turn heads wherever you go. Team it with a matching lace crop top and you will have one showstopper of an outfit!
8. Fishnet Dress
Talking about white outfits that will make you stand out, you can't really get much better than this body con fishnet dress from MissPap. It's daring, risque and bold. No need to ask if it will make you stand out from the crowd. One look at it and the answer is obvious. It's a statement piece that will liven up any outfit and make you the star of the show. It's also perfect to wear if you're going to the beach and want something to slip over your swimwear.  
9. Ivory Shirt
This ivory, belted shirt from Pretty Little Thing is perfect for everyday wear. The belt will help accentuate your figure and flatter your shape. Designed with bell sleeves and a plunging neckline, the top is really feminine and girly. You can pair it with the white flare trousers mentioned earlier for a complete Greek goddess look!
10. Mesh White T-Shirt
Boohoo is selling this beautiful Holly mesh oversized beach t-shirt that is an absolute must-have! This long t-shirt could be worn on its own or over some shorts. It's alluring with its mesh design and will catch more than a few eyes when you wear it out. It's light, airy, breathable and perfect to wear especially with summer just around the corner! What are you waiting for? Get it now!  
Do you agree with these white outfits or do you have your own you would like to add? Leave a comment!