8 Platform Heels To Give You Some Height This Summer
Platform heels are the ultimate accessory for this summer. They're sexy, stylish and look good with any summer outfit. Pair them with jeans for a more casual daytime look or a cute maxi dress for an evening dinner out. Even if you're not normally into heels this will change your mind!
1. Platform Block Heeled Sandals
So these heels from ASOS are really something special! These wide fit walker platform heels are sexy, stylish vibrant. The open toe on them is perfect for the hot weather and they are comfortable with their platform sole and wider fit. That's right. These beauties are made wide so the shoe is roomier for added comfort. They also have tie leg fastening which looks really cute with the straps wrapping round the lower leg. Faux suede and easy to clean with a damp cloth. And the gorgeous neon orange colour is ideal for summer and means these can be the statement piece of any outfit you wear.
Shop this look:
2. Sorry To Platform You Heels
These glamorous cylinder block heels from Nasty Gal will not only give you extra height this summer but also add that touch of sass to any outfit you wear them with. The cute detailing of the ankle strap and buckle closure finishes these shoes off perfectly. And for those of that are concerned about the animals, they are faux leather! So you can wear them totally guilt-free.
Shop this look:
3. No Interruptions Rose Gold Platform Heels
Where to start with these fabulous shoes from Pink Boutique? It has a diamante embellished strap that fastens with a zip to the back. The diamante feature brings extra glamour to the shoes. And at 5.5 inches, these shoes will definitely give you the height you want and you will look like a rose gold goddess. These heels would be perfect with a little black dress for an evening out. 
Shop this look:
4. Snake Print Platform Heeled Sandals
Snake print is such a cute pattern to wear, especially in the summer! This has an ankle strap with an easy to fasten clip. These 5″ chunky platform heels from Missguided look really sleek and stylish for the summer months. The shoes look perfect paired with a jumpsuit and some big hoop earrings. They will add height to your stature and glamour to your outfit.
Shop this look:
5. Suedette Platform Heel Sandals
From Debenhams and part of the Faith collection the beautiful, black suedette 'Dormer' heels. They are faux suede. These shoes could be used for more formal occasions. So even if you have to work over the summer months, these heels will give you that effortlessly fabulous look. They could also be used to glam up a more casual jeans and t-shirt look. 
Shop this look:
6. Peeptoe Platform Heels
Wanting height? Why not try these 12″ heels from Boohoo. The height on these bad boys sounds a little intimidating but it balances out with the chunky platform at the front. These heels are super sexy and would look great paired with a short dress or knee-length skirt.
Shop this look:
7. Leather Cross Heels
The white leather cross-platform heel sandals scream summer! They're affordable and stylish and the ankle tie looks really cute as well.  River Island has outdone themselves with this style. They're glamorous but the sandal look of them means you can wear them to the beach or a BBQ.
Shop this look: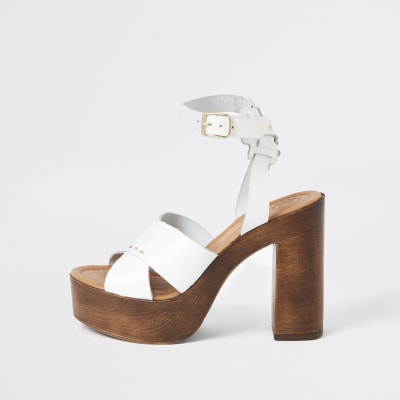 8. Gold High Platform Heels
Pretty Little Thing has a really pretty platform heel out that will give you a nice 6″ boost. They're easy to tie with the buckle and the classic gold colour is simply divine. Plus they are made of a patent material so they have a little shine to them to add that extra bit of charm.
Shop this look:
Do you have any platform heels you think deserve a place on this list? Share with us in the comments!