10 High Leg High Waist Bikini Bottoms That Will Have You Ready For Summer
Although the weather outside says otherwise (when will it stop) (I want warmth), summer is indeed just around the corner. This, of course, means that it'll soon be time to hit the beach – if you're staying in the UK, this probably means that you'll have one or two days to migrate down to your nearest strip of coast (along with the rest of the population), so you'll want to make it count with a good swimsuit. With that in mind, here are our top picks for this season's high leg high waist bikini bottoms – they're fantastic for allowing you to feel a bit more covered while elongating your legs. For those of you lucky enough to be going somewhere actually warm with an actual beach, consider this an extension of your spring break shopping list.
This set has an updated 80s vibe to it, and looks like something Kylie Jenner would wear (it comes in a lovely dusky blue, too).
These pink-and-white bottoms have a vintage vibe to them. Pair with a matching top or plain black to mix it up!
This pair reminds me of something Versace would do: its got a really fun, summery print with a really high leg!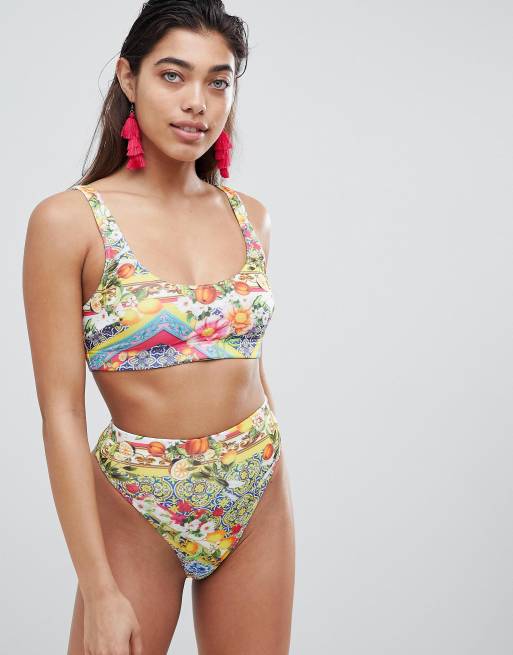 High waists and high legs are fantastic for emphasising curves, which is exactly what this set from ASOS does.
Monki never disappoints with their swim ranges (and their campaigns always promote body positivity) – this year is no exception. Try this blue pair for a fun, sporty twist!
So apparently stripes and swimwear are having a moment this summer – here's a pair from Motel, paired with a cute crop-top-t-shirt bikini top.
Jaded London is tapping into the undying street wear trend with these badged bottoms, pair with a plain black top for a more subtle look, or shop the full look for a statement suit.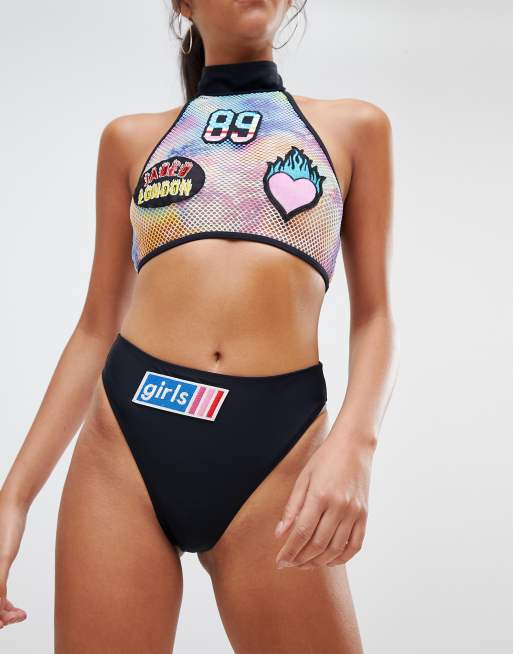 Colourblocking remerges every couple of years, and 2018 is no exception. Try the Topshop high leg high waist bikini bottoms and top combo for a classy swimwear number.
Mesh inserts have been massive for a few seasons now, and add a modern, sporty take to any swimsuit.
The Mauve Pastel
Last but not least, we have the mauvey pastel pink high waist high leg bikini bottoms – pair with the top of your choosing!
Which of the high leg high waist bikini bottoms do you want to wear? Let us know in the comments below!
This is a sponsored post. All opinions are my own.
Featured Image Source: weheartit.com