The Fashion Trends 2018 Has Brought Us Thus Far
Here are the hottest fashion trends 2018 has brought us so far. Trends come and go but 2018 has offered some of my favourites this year. From bold patterns and chunky shoes, I'm at a loss for where to start! Everyone wants to be wearing the "in trends", I know I certainly do, but sometimes it's hard to know where to begin. Here are a few ideas to get you started!
A personal favourite of mine and one I can't get enough of. This is a fashion trend 2018 has started and it looks like these trainers are here to stay! Perfect for adding a little bit of height without looking over the top and they're certainly practical! Team with jeans, skirts or dresses to ensure you're looking as cool as the others.
The rise of the blazer is back for fashion trends 2018 has seen. This officewear staple has revived and is out and about on the streets. Great for jazzing up simple jeans and t-shirt combo or for putting over a skirt to give you business elegance on a night out.
A firm favourite back in the day the bum bag as risen again and I for one am glad. Practical yet fun the bum bag allows you to carry your essentials without the effort of carrying something on your arm or shoulder. Practicality at its finest!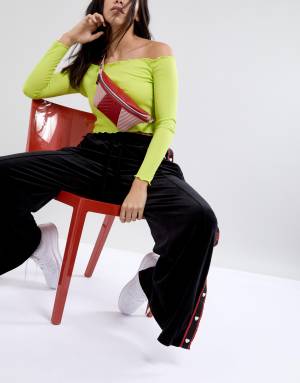 Another favorite of the fashion trends 2018 has brought back are statement earrings. A simple yet effective add-on to any outfit the tassel earring can only do one thing and that makes an outfit look 10/10. They come in all sorts of designs and colours which mean its bound to be a winner. I can't wear an outfit without them now!
Here are the best & coolest fashion trends 2018 has brought us thus far. These trends are here to stay- for now- and we can't wait to see and share what's next! Let us know in the comment which trends you love, and which ones you think need to go!
*This is a sponsored post. All opinions are my own.
Featured image source: www.Pinterest.com
Catrin Jones
I'm currently an English Literature student due to graduate this summer. A super keen reader and magazine fanatic. I love all things beauty related and am a savvy fashionista, always looking for a bargain dupe or cheaper alternative!