10 Colorful Blazers To Try Out This Summer
Blazers don't always have to be super formal wear that you can only pull off in the meeting room! They can also be perfect to wear in the summertime. They can be thrown over a t-shirt or a dress to class up a summer outfit for any occasion! And they don't have to be boring and black. You can make a bold statement in these bright, colorful blazers that scream summer!
1. On Every Day We Wear Pink
This gorgeous, bright pink blazer from Topshop is first up. This fully lined jacket is ideal for any summer occasion. Leave it open over a t-shirt and jeans for a day at the beach or wear it buttoned up over some fitted trousers and pair with wedge sandals for a garden party or BBQ. Its color is playful enough to wear casually but also looks smart and glamorous at the same time making it an all accessible piece to add to your wardrobe!
2. Stay Fabulous In Florals
Pink Boutique have really surpassed themselves with this red, floral blazer. With a single button fastening and padded shoulders, this really should be your go-to piece for the summer. It's bold, beautiful and will let everyone see how to rock a summer style. This would look super cute with some platform heels and culotte trousers.
3. Find Your Summer Joy
In this Joyfunear single button blazer from SHEIN you will be turning heads everywhere you go. They have it in a few colors but our personal favourite is this bright blue shade. The three-quarter length sleeves make it ideal for the summer heat but it looks so elegant you could wear it out to dinner. Go bold in blue this season! The bonus of this blazer is it comes with co-ord shorts as part of the price so you can have a matching summer look.
4. Stay Fierce In Ginger
This ginger/burnt orange blazer from and Marks and Spencer is exactly what you need! It's open front and three-quarter length sleeves which again make it a great summer look. Its flap pockets are also really handy and give the blazer a more sophisticated look. This blazer is the perfect finishing touch to any outfit!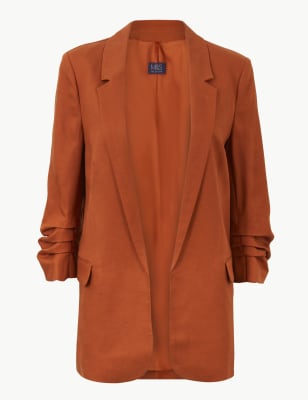 5. Be A Mustard Dream
Pretty Little Thing is selling this sexy little mustard double-breasted blazer that is killer for this season. If colorful blazers are the only summer trend you pick up this year make sure this one is your first purchase! Its beautiful color and popper fastening makes it an easy to wear, breathable, glamorous blazer that will give you an effortless charm. Plus its button detailing gives it an elegant aesthetic.
6. Don't Be Chained Down
This cream chain print blazer from River Island is something really different and funky for this summer. It might seem like a daring print to pull off but you can rock it! It's lightweight so you will never overheat in it no matter how hot it gets! Again, its open front and pockets make it a practical and stylish addition to any outfit. It will be the perfect, bold statement piece for whatever summer look you're going for!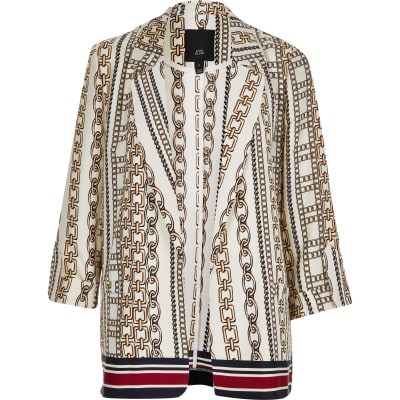 7. Stay Perfect In Patterns
Geo print is always a super cute pattern to rock! This blue, geo print blazer is a really cute statement piece for any outfit. Very are selling this on sale right now! It comes with a waist tie belt to accentuate your figure and its silky texture gives it a sexy, elegant look for summer.
8. Be Wild
Wild and fearless should be the two words you use to describe your summer! Nothing is more wild and fearless than this brown leopard print blazer from Missguided. It has gathered sleeves and looks incredibly sleek and sexy. Colorful blazers don't get much more glamorous than with this leopard print piece. It's long enough to wear with short shorts as it covers any parts you don't want on display! Wear this with some skinny jeans an kitten heels for a sophisticated look.
9. Keep Fresh In the Summer
You will fall in love with this mint green blazer from Dorothy Perkins. This cool shade will match perfectly with any other colors you wear! Its coolness will balance out the warmer shades in the rest of your outfit. The ruched sleeves are a nice detail give the blazer a sleek, captivating look. It's pretty and alluring for the summer.
10. Check This Blazer Off Your List
This multi-colored checked blazer is really smart and cute for this season's hotter weather. These mix of colors are very beautiful and will brighten up the dullest of outfits. It's chic and classic and has a floral lining that is absolutely gorgeous! With long sleeves, button opening and collared neckline make this a vibrant must-have for the summer!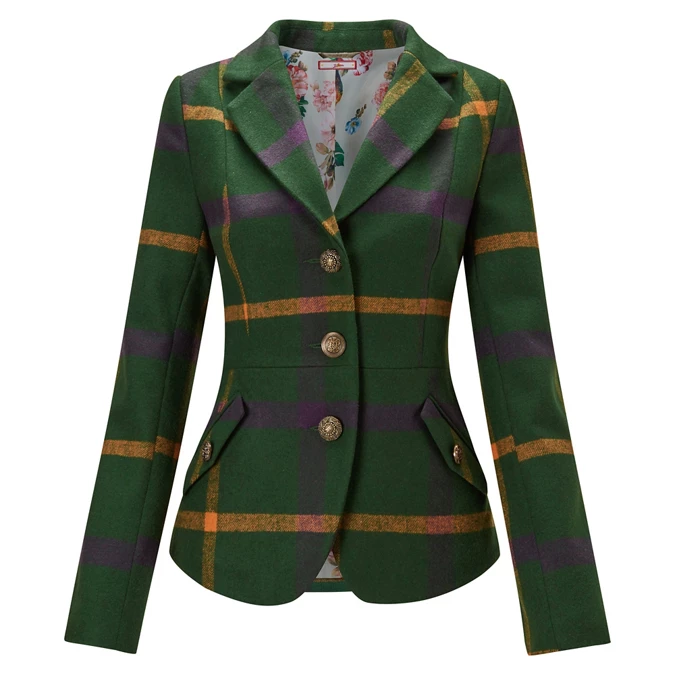 If you agree with these choices of colorful blazers or have your own colorful blazers you would like to add to this list then leave a comment!