8 Cargo Pants Outfits We're Obsessed With RN
Cargo pants can be a hit or a miss for some people. Some people don't think they're stylish or cool enough to wear. Some people don't like the way they fit. Some people are just bored of wearing them the same way again and again.
But even if you are someone that thinks they will never wear cargo pants then prepare to have your mind totally changed. This is our list of the ultimate cargo pants outfits that will soon make them a staple in your wardrobe!
1. Cargo Pants and a Blazer
For this outfit choice, we love the cargo pants from Missguided. The plain tan colour means you can wear them with virtually anything. They are high-waisted so they will not roll down on you during the day. They also have cuffed bottoms so they will fit neatly around your ankles for a snug fit.
The pocket detailing these is great so you can leave the house without a handbag! Team these with a black blazer and t-shirt for a casual but sophisticated look. Finish it off with some converse and a cap for extra style points.
Shop this product:
2. Cargo pants With a Graphic T-Shirt
Wearing a plain pair of cargo pants may seem like a boring option sometimes. But if you team them up with a graphic t-shirt then it will allow your outfit to make a statement! We love the renewal salvaged deadstock olive French pants from Urban Outfitters. These cargo pants are super cute and edgy at the same time.
The military look of them makes them ideal for everyday wear as well as the banded hem. Wear your favourite graphic print t (cropped or not) with them and finish the look off with some Doc Martens. This look is a little more rebellious and playful!
Shop this product: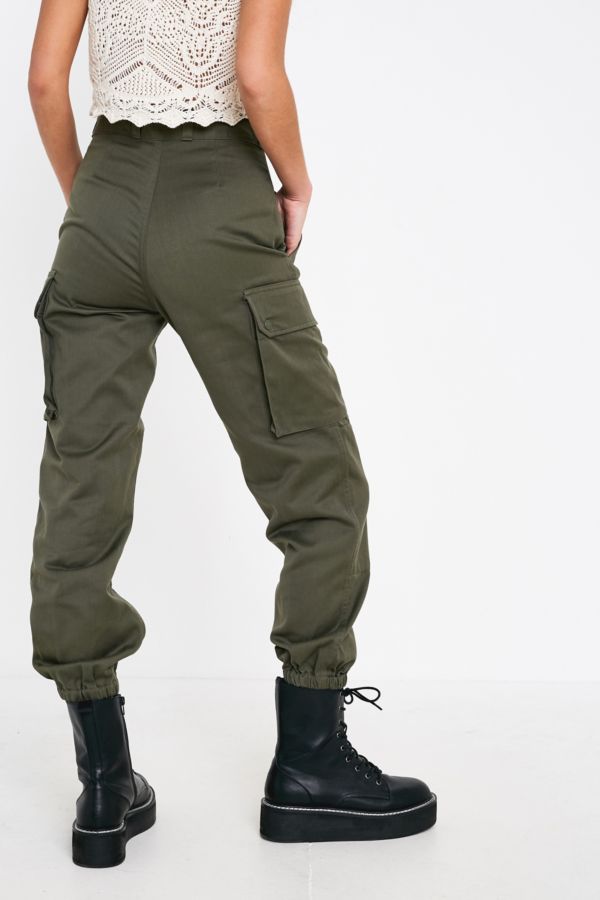 3. Cargo Pants and Knee-High Boots
Knee-high boots are pretty much never a bad idea but are often not thought of to pair with cargo pants. We love the combination though as it just looks really chic and cool. The Stradivarius cargo pant in beige from Asos works really well for this look. Team with knee-high heeled boots going over the trousers and a tucked-in shirt.
Shop this product: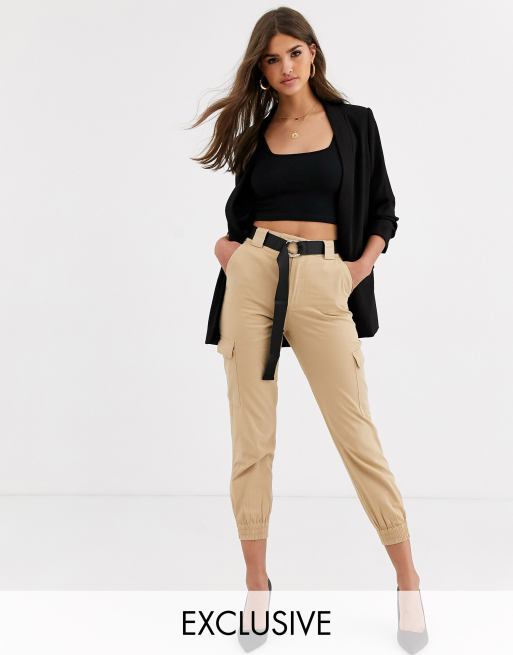 4. Cargo Pants and Animal Print
Again, a bold pattern can help bring to life even the most plain-looking cargo pants and pull together a look that will slay. The black cargo pants form H & M will be the perfect offset for a bold animal print. Pick out a top or t-shirt with your favourite animal print on it be it leopard, zebra, tiger or any other animal that takes your fancy. The look always looks really classy but still has a little sass to it.
Shop this product:
5. All Matching Cargo Outfit
Bare with us for this one! Teaming cargo pants with a cargo jacket can look really cute. The whole utilitarian vibe is trendy right now so you won't look out of place wearing this outfit on the street.
These new khaki cargo pants from Next are a great match for this look. Team with a khaki jacket and break it up with a pastel top.
Shop this product:
6. Satin Cargo Pants With Lace
Another must-have pair of cargo pants from Next is this gorgeous mint velvet chocolate satin pair. Mix your cargo game up with these irresistibly sexy pants. They are loose-fitting and have an adjustable drawstring for extra comfort. Team with a lacey top or slip for ultimate glamour and sex appeal.
Shop this product:
7. Cargo Pants and a Crop Top
Cargo pants can be quite baggy so it's nice to balance it out with a petite top. Try these camo print ones from Boohoo for a touch of vibrancy and edge. They are elasticated for comfort and will look great teamed with cute plain black or white crop top. Finish the outfit off with a clutch purse and some heeled boots for during the day or kitten heels for a glamorous night out!
Shop this product:
8. Cargo Pants With Tie-Dye
Particularly during summertime, tie-dye is the print to go for! It looks really cute and can give a chilled vibe to any outfit. Match a baggy tie-dye t-shirt with these black ripped denim cargo trousers from New Look.
The ripped trousers work with the tie-dye to give a casual, effortlessly cute appearance. Or if you're not sold on the tie-dye top, why not accessorise with a tie-dye headband or bandana to give your outfit an extra pop!
Shop this product:
Will you be trying out these cargo pants outfits? Leave a comment!