10 Affordable Bras That Are Actually Great Quality
Bra shopping is hard. Let alone searching for affordable bras. It's stressful, it's sometimes embarrassing and most likely expensive. A lot of women neglect buying new bras. I mean, who wants to try on ten different sizes, trek out to get measured or spend the kind of cash needed to acquire anything half way decent?
It's not a calming process. But maybe it can be. Bra shopping shouldn't be as costly as it is, and it doesn't have to be. And no, that doesn't mean buying flimsy bras from Primark. You can get quality bras and save cash. The best of both worlds isn't just a fantasy.
Here are some suggestions to start you off.
This Balconette Bra comes from the brand Curvy Kate which make stylish, cute bras that accomodate women with bigger busts who are usually relegated to less sensual styles in most stores going up to size cup K.
The bra has a colourful floral design, paired with mesh along the top of the cup to make the ensemble a little racier. This affordable great quality bra would be a great addition to any bra collection.
Price: £16
Behold your new perfect bra to pair with all your V or scoop neck ensembles. The moulded nature of the bra ensures comfortability all day, so you can just focus on having fun and not have your mind wonder why it feels like your bra is trying to kill you.
Price: £16
While this bra isn't the sexiest or most embroidered of the bunch by any means, it offers a simple design which promises lack of visibility under clothes. So, while you won't be wearing it for date night, it will make sure your everyday outfits are unencumbered by any ugly lines under your clothing. The perfect every day bra.
Price: £18.40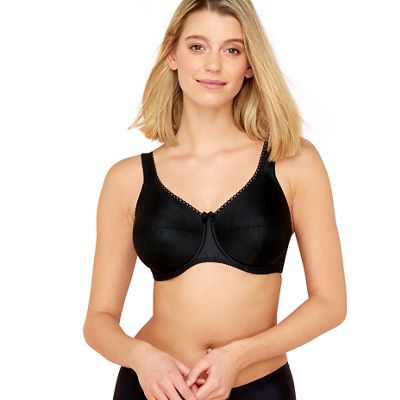 The embroidered lace is a simple and sweet design, perfect if you want a fuller breast cup. A perfect bra if you want that full coverage and the support that's necessary for you to have pain free and stress free day.
Price: £16
Come on. Nothing's quite as savoury financially as a good two for one deal. It's the epitome of affordability and trust that quality won't be sacrificed when buying at Debenhams. You can pick up a pack of these non-padded t-shirt bras for 26 pounds. That's 13 pounds per bra. Those prices rival that of Primark bras. And you get two colours, so your week doesn't have to be completely bathed in beige.
Price: £26
This bra is the definition of "sugar and spice and everything nice". I'm pretty sure if you  were to add all those ingredients together somehow, in an alternate universe, that this bra would be what you would produce. If you're in search of not just a cute bra but a bra that could rival the cuteness of a Labrador puppy, look no further. From Curvy Kate's line, comfort and support are a guarantee and it's low price point means no quality will be sacrificed while wearing this sickly sweet pink dream.
Price: £16
For those of us who weren't born looking like Christina Hendricks, padded bras can be a great way for us to get a certain silhouette or just a quick confidence boost.
But no one wants to overpay for that extra padding. These bras aren't just padded to add extra volume to your chest but are made to be comfortable throughout the day. No sacrifices have to be made to achieve the illusion of those extra inches on your bust. And you get 2 for less than £15!
Price: £13.50
Perfect for girls who want a full cup bra, that is both embellished but not overly feminine. The yellow "zest" colour sets it apart from the pinker more overtly "girly" options on this list. The bra itself gives a natural lift and will support you while providing you with a summery look under all your clothes. Talk about one of the prime affordable bras.
Price: £16
Wires can hurt. For some women, even after finding our right band size and cup size and seemingly going into that magical phase of our lives where we're wearing "the right bra", there's still discomfort to be had. Non-wired bras can be a remedy to that. The bra offers maximum comfort with it's wire free design while also still giving you a boost with extra padding.
This bra is supremely wearable and you'll be hard pressed to find a bra that can deliver this comfort and make your cleavage look this good at once. What more could you ask for when searching for affordable bras?
Price: £16
Working out in an every day bra is just a no go. Unless you want to be adjusting your boobs every five minutes while trying to run uphill on a treadmill, you're better off going another way. That's right. I'm talking about a sports bra. Now, a good sports bra can be more than pricey. I once thought I found a perfect one in a sportswear shop and then I saw the price tag and time stopped as I fathomed how I was supposed to spend in excess of £100 on a bra of all things.
However, with some searching there are good quality alternatives such as Royce's own Impact Free Sports Bra. The fabric is smooth and breathable meaning it won't suffocate your skin as you run or squat your way through your workout. And you still have all the great trimmings of a real bra with adjustable straps and three hooks.
A great quality affordable alternative to higher priced sports bras.
Price: £16
Here's to a happy, affordable and more supportive future. Are you going to purchase any items on the list? Do you have your own affordable bras? Let us know.
Featured Image Source: weheartit.com