15 Trendy Turtleneck Outfits That'll Keep You Warm
Wintertime brings a lot to the table – icy roads, school cancellations, snow, and the worst of it all;  below freezing temperatures. Some people claim to like this climate, but I don't think anyone particularly loves freezing their a** off walking to class everyday. However if you live up north, it's something we all have to put up with, which is why they say we have "thick skin." Well, if you're looking to add some protection to that "thick skin" then turtlenecks may be your solution. Not only are these outfits super cute, but they can be worn as a dress, crop top, and shirt. Also, did I mention they keep you warm too? So, whether you're into turtlenecks for the black turtleneck fashion trend, or just because, these are the 15 cutest turtleneck outfits that will keep you warm!
 1) Accessorize Simplicity With A Cute Jacket
Corduroy has made its way back into the style game and looks great layered on top of a simple turtleneck! This is such an easy to create turtleneck style, that's warm too!
Get The Look:
2) Winter Doesn't Always Mean Dark Colors
Just because it's freezing outside and everyone's go-to color is black doesn't mean yours has to be! Try out a fun light shade!

Get The Look:
 
3) Layer It With A Dress
Definitely one of the best turtleneck outfits is this one right here. The added dress on top makes this whole look come together!

Get The Look:
4) With A Skirt
This outfit definitely can't be worn on those FRIGID days, but towards the end of the winter why not? It'll feel nice to free those legs!

Get The Look:
5) Big And Baggy
Oversized sweaters are the best, and with the added turtleneck on top, they're even better. Hat's off to the oversized turtlenecks, they're the true MVP on a cold winter day.

Get The Look:
6) The Everyday
You can never go wrong with a simple sweater and jeans! Perfect to wear just about anywhere!

Get The Look:
7) Heavy Duty
If you really want to stay warm, get yourself a wool turtleneck. Definitely one of the best turtleneck outfits, you'll thank me later.

Get The Look:

8) Muli Colored
If you want to switch it up, try a multi colored turtleneck! Colors are always a fun option, and this girl is rockin' it.

Get The Look:
9) The 90's Vibe
Let's just start off by saying that Rachel Green made these stripes popular first. However, they're even cuter in turtleneck form!

Get The Look: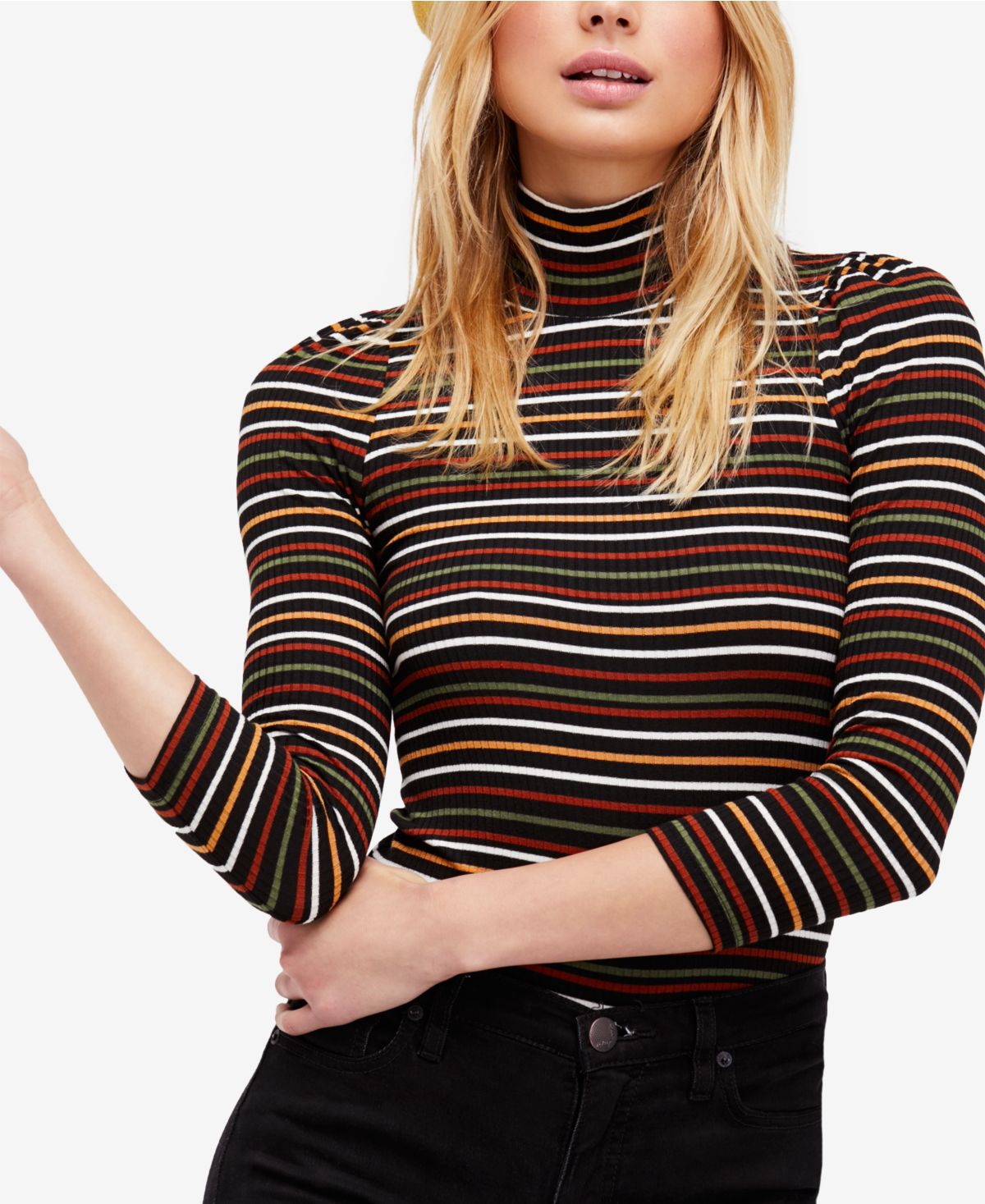 10) To Keep Warm
Not only are turtlenecks fashionable, but they're functional too. In order to stay really warm, add a coat on top!

Get The Look:
11) The Trendy Black Turtleneck
Black turtlenecks are super in right now, and look great with some vintage high wasted jeans and of course, that trendy Gucci belt.
Get The Look:
12) Sleeveless
Chances are you're probably going to be too cold to wear a top like this, but you never know!
Get The Look:
13) Accessorize
Turtlenecks always look cute with added accessories! Try to add some jewelry, sunglasses, or a purse with it.

Get The Look:

14) The Crop Top
Turtleneck crop tops are such a great clothing item to wear out with your friends. Definitely more of a night time bar look… but still, cute.

Get The Look:
15) A Form Fitting Top
A simple form fitting turtleneck crop top looks great worn as is!

Get The Look:
What turtleneck outfits did you like? Leave us a comment in the section below!
*This is a sponsored post. All opinions are my own.
Featured Image Source: www. Pinterest.com
Haley Lyndes
Just a twenty-something trying to navigate life. Northern Vermont University graduate. Yes, I own Birkenstocks. No, I do not like maple syrup. Hoppin' around New England since 95', currently in MA.