5 Trendy Shoes That Are Actually Comfortable
It's spring, which is my favorite season and means that it's time to pull out my favorite pair of shoes: my old Adidas. Sneakers the comfiest option for summer and spring, and guess what? If you always want to wear sneakers, you're actually on trend! But there are so many other shoe options out there if you're sick of getting those pesky heel blisters. Put the band-aids away and read this list of 5 trendy shoes that are actually comfortable!
1. Doc Marten's Oxfords
We all love Doc Marten's because they are sturdy and dependable and last for ages. With a classic shoelace and yellow stitching, docs are the perfect cool to warm weather transition shoe. I hope that Doc Marten's NEVER go out of style, but it doesn't look I have no worry. These babies are not going anywhere soon, because they're always making new and trendy styles that are comfy and versatile. Doc Marten's Oxfords are a spin on their classic combat boot. They're less chunky and but they keep that classic Doc silhouette that'll look super cute on your feet. This look is great for walking and perusing the city during spring. Pair with your favorite socks. I suggest pairing a brighter toned sock with a darker shoe if you want to stand out and be artsy. If you want to keep things on the DL, then a shorter, more nude or black sock would also do just fine. You can pair your Doc's with skirts, jeans, slacks, or dresses… it's up to you!
Get the look:
2. Pointy-Toe Flats or Loafers
Flats are amazing. They are your go-to when the heels have kicked your butt and destroyed your toes. Loafer flats are definitely trendy shoes this season and they can be paired with anything. A slipper type is sleek and stylish and has the added benefit of being really easy to slip on and off. For this time of year, a brown or black suede shoe will pair great with your lighter denim. You can wear loafers with or without socks, but I always slip in a shoe liner if I wear them barefoot to prevent chafing. If you invest in a higher quality pair, you'll find that your chances of blisters will be quite low. These loafers are great for parties and more formal or semi-formal events. Wear them to your summer job interview or to a grad party! They are as elegant as you.
Get the look:
3. Combat Boots
Are you a little more on the edgy side? The combats boots are just the thing for you to stay comfy and ferocious. Boots are a good option for rainy days or chilly nights out. They are comfortable since they hold your ankle in place and keep you steady. The bottoms are usually good for gripping at the ground, you'll feel safe and secure on a rainy evening. If you want to make a great juxtaposition, pair these trendy shoes with a skirt or dress. You can also go full-on badass and pair your combat boots with a leather jacket. Contrary to popular belief, combat boots do not only come in black. You can get oxblood boots and pair with an oxblood jacket; that color is popular for this season.
Get the look:
4. FILA Sneakers
The newest trend in 2019 is surprisingly an old fashioned gem: dad sneakers. You can call them ugly, but these trendy shoes are cute, retro, and fashionable. They're great for summer walking and frolicking around without a care in the world. If you don't love the chunky look of FILA, try other retro dad sneakers, like Rebook or Skechers who tend to have slimmer fits. FILA is great for a sporty chic 90s look. Pair them with jeans, trousers, or even a mini-skirt with cute socks. It's all about the oversized look, so consider buying an oversized denim or sports jacket to pair with these cuties. They also tend to look better with wider legged pants, especially if your lovely legs are on the thinner side.
Get the look: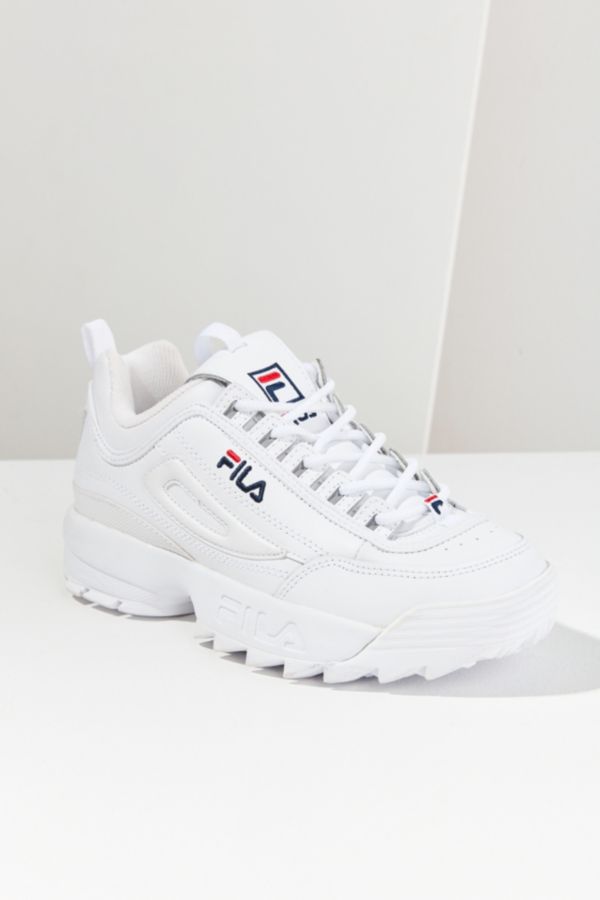 5.Comme Des Garçons Converse Sneakers
Comme Des Garçons is a Japanese fashion label founded by fashion powerhouse Rei Kawakubo. These heart-eye sneakers are the cutest way to spread love throughout the world in the spring and summer months. They're those sneakers you see everywhere with the little heart with eyes on the sides. You've probably seen them everywhere as they became very trendy shoes recently. They also make shirts. Those little hearts the sweetest things and they create a great bright accent on a cream or black shoe. Whether it's hightops you crave or just the regular style Converse, the Comme Des Garçons heart will make you feel just a smidge more special. Pairs best with skirts and dresses for a more formal summer look or shorts and cropped jeans for a chiller vibe.
Get the look:
Do you love all of these trendy shoes? Any more you would add? Comment below and share this post with friends!
Featured Image Source: https://www.tumblr.com/tagged/fila