7 Tops To Wear With Mom Jeans You'll Love
Mom jeans are the perfect pant to wear in any season. They're comfy, cute, and can even be elegant when worn with the right top. They're my favorite kind of pants, and when I'm not wearing sweatpants, I'll totally be wearing these. It suits all your needs, and that's why I've put together this list of 7 tops to wear with mom jean's you'll love!
1. Cropped Rainbow Sweater
The perfect look for a cool spring day, or any day where you want to stand out. A cropped sweater is always a good option if you want to show off the look of your jeans, like the back pockets, or you want to pair your pants with a belt. A tight crop is also a great way of showing off your figure even when your pants are baggy. The contrast is super cute!
Copy the look: 
2. Ringer Tee
A ringer tee is a great comfy option if you're looking for a late spring aesthetic. You can dress this look up or down with accessories like necklaces or belts. The ringer tee definitely won't just be for your mom jeans alone! You can pair this adorable top with skirts, dress pants, and anything else your trendy heart desires. This is a classic top to wear with mom jeans.
Copy this look: 
3. Box Sweater
Maybe you're going for a comfier top to wear with your mom jeans. After all, mom jeans are one of the comfiest pants in the world. They deserve a partner that is just as airy and chunky as them. A knit box sweater is perfect because it gives you space, softness, and the mobility you need to stay cozy in the colder months. A box-shaped top is good for your mom jeans because it'll hide that little button bulge you can get when you wear a longer close-fitted top.
Copy the look: 
4. Oversized Tee
My go-to top to wear with mom jeans! Big one-sized fit all tops are great for tucking into your mom jeans or leaving half in and half out when you feel like being super comfy. It's always a great idea to have an essential over-sized top on hand. You can wear this is any season, and there are a lot of great options at thrift-stores. Try a retro graphic tee for some 90s fun!
Copy this look: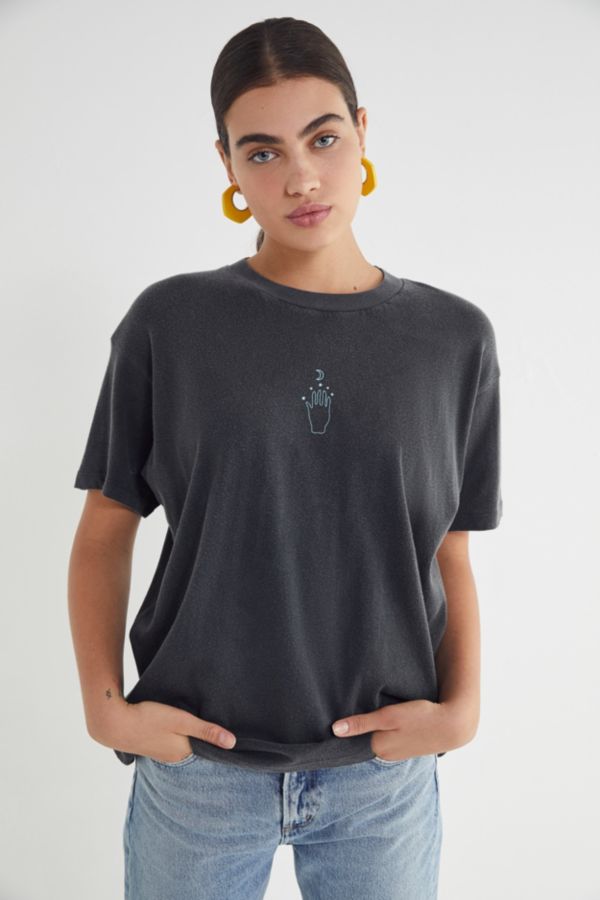 5. Baggy Crew-Neck Top
This comfy and light option will make you look super 90s (as if you didn't already). A nice oversized crew-neck it perfect for tucking into your pants and giving you that classic silhouette of a retro skater girl. Pair with sneakers, good friends, and a cool belt for a finished look.
Copy the look: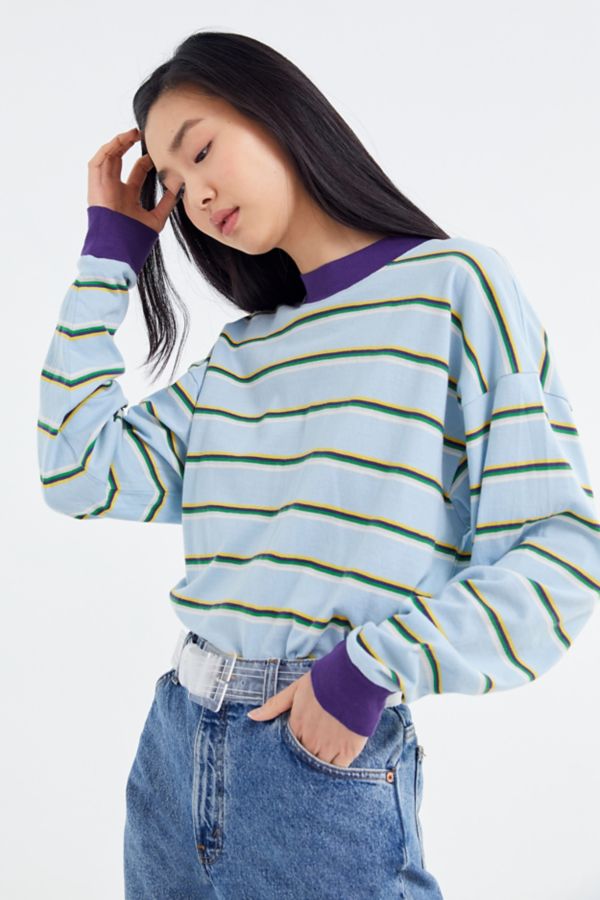 6. Halter-Top
A halter-top is a great option if you're going to be wearing your mom-jeans into the summer. Some mom jeans can be flattering while others are just plain baggy. If you want to show some extra skin and keep things cool while spicing up your wardrobe, a halter-top is for you. Try to get a ribbed or striped one, as these look less athletic than the workout tops. But hey, if you want to work out in your mom jeans, who am I to judge?
Copy this look: 
7. Crop Button-Up
If you're going for a more professional look, try this top to wear with mom jeans. A button-up shirt can give you that semi-formal look that you need for dinner with your friends. You don't have to give up your mom jeans to look classy! If you have black mom-jeans, this top will extra well.
Copy the look: 
What's your favorite look? How many pairs of mom jeans do you have? Comment more ideas and below and bless us with your fave styles!
Image: https://weheartit.com/entry/321714960