10 Top Nude Glitter Lipsticks
Nude glitter lipsticks compliment the hottest natural accessory, at the moment, lips! These lip formulas are bold and perfect for a night when you're feeling upscale. 
1. MAC Frost Finish
MAC is an iconic brand that always delivers quality. The MAC Frost Finish has hints of glitter, with a satin finish, creating a striking shimmer. The nude glitter lipstick in a pink-like shade is perfect for party days when you want your lips to stand out, but stay neutral. 

2. Estee Lauder Pure Color Love
Estee Lauder is also a staple brand that delivers each time when it comes to their lip products. This color is highly pigmented and glides on, with an easy to apply stick. The nude glitter lipstick shades are available in deeper tones, as well as lighter ones. 
Copy this look:
3. Lime Crime Diamond Crusher Iridescent Lip Topper
The shade "Dope" in Lime Crime's Diamond Crusher Iridescent Lip Topper is an out-of-the-box nude hue, with hints of foil-like gold! This lipstick is best used with a lip primer, to be sure the pigment fully shows. 
Copy this look:
4.
KAT VON D
Everlasting Glimmer Veil Liquid Lipstick in Lolita
Everlasting describes the nude glitter lipsticks, available in hues that are glamorous and enchanting! They have a liquid-crystal finish and lasts for 24 hours. This is the ideal lip to wear when your eyes are bold, but you want to keep a clean overall look. 
Copy this look: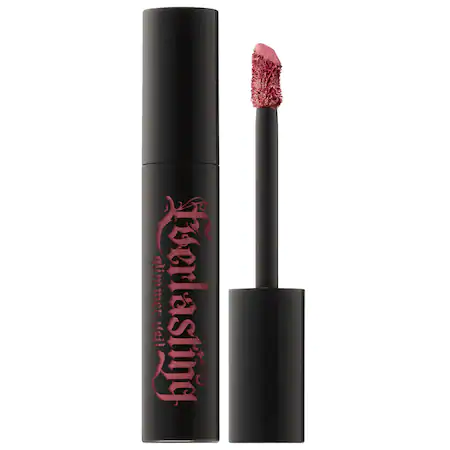 5. Gerard DM ME Glitter Lipstick
Made cruelty and gluten-free, the nude glitter lipsticks from Gerard are made with Hollywood Blvd in mind. The formula is packed with glitter that doesn't move or slide off, allowing you to wear all day! 
Copy this look:
6.
PAT MCGRATH LABS
Lip Fetish
This nude lip can act as more of a top coat to your nude glitter lipsticks. The formula is light and has hints of glitter and slides on easily. Apply on top of your finished nude lip, to add a layer of shimmer. 
Copy this look:
7.
CIATÉ LONDON
Glitter Flip
With a matte to glitter finish, the nude glitter lipsticks by Ciate London are comfortable to wear, with only one coat needed for a fully filled lip. Remove with an oil-based makeup remover, which works best for wiping off the many glitter specs. 
Copy this look:
8.
Too Faced
Melted Matte-Tallic Liquified Lipstick
The brushed metal finish is one of the best qualities of the Too Faced Liquified Lipstick. The nude glitter lipsticks by Too Faced have a formula that is smooth, creating a velvet finish. There are four different nude shades to choose from, including Caffeine-Queen, Faking It, Give It To Me, and You Better Work! 
Copy this look:
9.
L.A. Girl
Glitter Magic Shimmer
Affordable and glamorous describes the L.A. Girl Glitter Magic Shimmer lip color. Available in the nude shade Champagne Fizz, there are other brighter shades including hues of hot pink and soft purple. The easy-to-use tube design allows you to apply the lip color in a gliding motion for full coverage. 
Copy this look:
10.
Fenty Beauty
Gloss Bomb Universal Lip 
Fenty Beauty is the rage at the moment, and the nude lip does not disappoint. The lip color is cruelty-free and made with shea butter to enhance your lip's softness. Available in shimmering colors like pink, rose nude, and pearl, each shade is infused with refined glitter. 
Copy this look:
Glitter lips are a creative way to liven your makeup when you don't want an over-the-top look, yet you desire a pop! With each of these lipstick formulas, you can guarantee to create a lip look that is noticeable and classy. 
Which eye-shadow color do you think will look best, with these nude glitter lipsticks? Let us know in the comments!