The Ultimate Gift Guide For The Girl Obsessed With Athleisure
Nowadays, women's athleisure isn't just for exercising anymore. The different styles are just so comfortable and, sometimes, comfort is really all a girl needs whether you're going to class, the gym, or even daily. And these styles really can be worn with anything, athleisure or non-athleisure. Aside from comfort, most athleisure can help shape the body and move around with it as she goes about her day. Athleisure companies have also become more inclusive to fit women of all shapes and sizes over the past few years. But, if you're like me, you're probably not able to afford most of the high-end stores that sell athleisure. And, other places that sell the best quality leggings, sports bras, etc., are either very expensive or require a membership to snag the best deals.
Continue to read this article below for the ultimate gift guide for the girl obsessed with athleisure, whether it's to look cute and comfortable on her next hike, or to just be comfortable every minute of every day. Below, you'll see brands like Nike, Old Navy, Gymshark, and more!
Nike Training Crossover Cropped Top
Starting off with a brand that's well known to provide an affordable fit, this wrap-around top provides comfort with every move and adds that little bit of that flare that you don't expect to find in athleisure. But, when you do find that little bit of style, it certainly is a plus.
Get this look:
Flex High Waisted Leggings
I personally have never shopped at Gymshark, but anyone who has purchased at least one item from them can vouch for the quality they provide for their products. These leggings provide a breathable fit that is engineered to sculpt the body and perform at the same time.
Get this look:

High Support Cross-Back Sports Bra
You might be seeing a lot of this brand on this list, but, that's okay. I wouldn't have put Old Navy on this gift guide if I didn't truly think they were reliable. One of their bestsellers, this sports bra offers the highest amount of support for women in all shapes and sizes. Since it is at its highest level of support, it's really up to the person who wears it if it makes a more comfortable substitute for regular bras.
Get this look:
Flex Sports Bra
Another sports bra that provides support and comfort, this piece of athleisure can be matched with any of their Flex Leggings for a fit that's sure to bring confidence to anyone who loves athleisure.
Get this look:

High-Waisted Elevate Powersoft 7/8-Length Side-Pocket Leggings 
Get a taste of the stars with these leggings from Old Navy. The hi-rise fit helps sculpt your body as you move around, but they also come with pockets for your convenience. In hindsight, decently sized pockets are hard to in any sort of women's pants, so these definitely come at a high recommendation.
Get this look:
Crop Cotton and Cashmere Top
Made by Live the Process, this relaxed fit top provides plenty of movement with its stepped hem and cozy cotton and cashmere material. I personally can't get enough of colors like the soft rose-blush this athleisure comes in. it can go perfect with any other color, and even better when it matches colors with your outfit.
Get this look:
Sweater-Knit Mock-Neck Tunic Sweatshirt
I like this next piece, because it is the epitome of cozy, whether it's for living life on a cold day, or just relaxing without care. Fit with a standing mock turtleneck (basically a big hood) and big on-seam pockets, this cozy piece is a gift anyone would never want to take off.
Get this look:
Yoga Crop Top Orange Cup Coral 
This next piece of athleisure caught my eye because of the sea-like design. I've really never seen anything like it, and you really can wear it with anything. It has a four-way stretch, so it stretches and recovers in all angles, and it moves with you.
Get this look:
Breathe ON Pullover Hoodie
This hoodie of Old Navy's many products with their Breathe ON material, which is "a soft, breathable stretch knit that feels great for all kinds of moves." It's perfect to reach the top of any mountain, whether it's an actual peak or the metaphor for feeling on top of the world in any situation.
Get this look:
Double Wall Stainless Steel Water Bottle 
Perfect for keeping ice water chilled and hot tea, well, hot, this water bottle is made of the highest grade 304 Stainless Steel, which is entirely resistant to oxidation and corrosion, topped with an anti-slip layer Powder Coating to make you hang on to your bottle during a workout or regular daily life.
Get this look:
High-Waisted Elevate Mesh-Trim Compression Leggings
This is probably one of my favorite products. Also made with a hi-rise waist, these simple black leggings help shape your body like a gentle hug while you're on the move. Even if you're a curvier girl like me, these pants will never fail to support you and make you feel beautiful.
Get this look:
Mid-rise Cozy Jogger Pants
Ah, Target. No matter what section you're in, you're always going to find something. And their clothing really isn't too shabby. These joggers, with big side pockets and rib-knit ankles for a sure fit, are super comfy and the color choices make them all the more fun to bike or lounge in.
Get this look: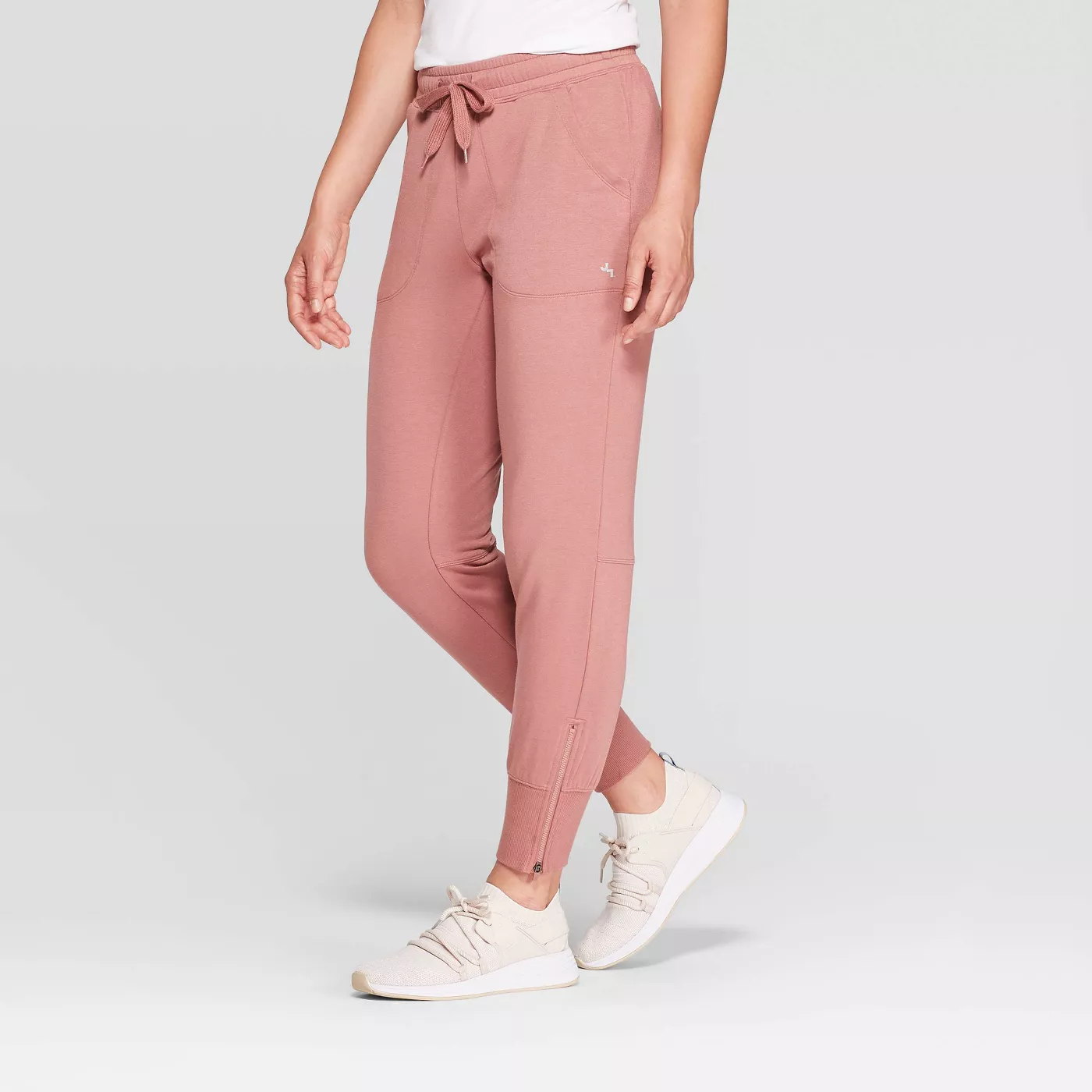 Slounge Crop Top
Another great match with their Flex Leggings, this crop top Gymshark is perfect for the ultimate rest day. It's made of such a soft and breathable material, you can feel it just by looking at the image, and it comes in six colors that are just as soft as the material. So much so, that I'm going to have to do some more shopping by the end of this article.
Get this look:
Graphic Muscle Tank
This final item is sure to put some positivity in your day, whether it's at the gym or during finals week. This muscle tank is light and comfortable, and the different print options send a similar message: you're strong and you can do anything you set your mind to.
Get this look:
Which of these athleisure ideas would you gift you athleisure wearing besties? Would you maybe even gift one of these items for yourself? Let us know in the comments below!
Featured Image Source: https://www.businessinsider.com/best-womens-athleisure-brands