The Met Gala is basically the Super Bowl of fashion. Top-tier celebrities convene in looks that dazzle. From feathers, glitter, to extravagant head pieces (literally) the steps of the Met in New York this year were covered by the most shocking celebrity fashion choices and moments.
1. Zendaya's Fairytale Moment
This year, arguably the most talked about of all Met Gala moments was Zendaya's ode to a fairytale classic.
She graced the pink carpet in a gown fit for a princess…actually made for a princess -Cinderella to be exact. With the wave of a wand, *literally*, Zendaya's custom Tommy Hilfiger gown lit up. As it turned from gray to blue, the skirt also became fuller.
Her hair was done in an elegant updo, accessorized with a blue headband, again a replica of the classic 1950 Disney film.
Of course Cinderella always needs her fairy godmother. Law Roach, Zendaya's stylist, came dressed for the part. With the wave of the magic wand and a bit of fashion magic, Roach helped turn fantasy to reality.
What a creative and attention-grabbing idea!
2. Lady Gaga x 4
This too topped the list of Met Gala moments that caught the attention of many. In typical Lady Gaga fashion, one extravagant look is just simply not enough. Neither is two, nor three. Four should do the trick.
Gaga graced the pink carpet wearing a show-stopping hot pink voluminous gown. This pink number was so grand that she needed several people to help carry it for her. Following behind Gaga was a clan of tuxedoed dancers, helping to amplify the performance.
Gaga removed the gown with the snap of a few buttons, and underneath a black dress was revealed paired with an umbrella accessory. Her next outfit was a form fitting pink satin dress and a Judith Leiber cell phone purse.
Outfit number four is perhaps the most Gaga of them all. She stripped down to lingerie; a fishnet look with ten-inch platform heels. She showed the Met Gala exactly what she is made of. You GO girl!
For this outfit's accessory, her crew pushed to her a pink wheelbarrow full of champagne and pink cowboy hats.
Being THAT extra and THAT spectacular is how I aspire to be in my everyday life.
3. Fried Chicken To-Go
Tiffany Haddish might be on to something here.
Of all the Met Gala moments from this year, this one is definitely one that we should all take notes on.
Haddish learned after her first Met Gala attendance that there simply wasn't enough food for everyone. This year, she came prepared.
In her clutch, Haddish revealed a Ziplock bag holding her dinner for the evening.
She is a smart lady.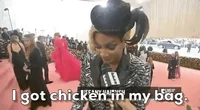 4. Head As An Accessory (?)
Jared Leto used his own head as an accessory for his outfit. If that isn't creepy, I'm not sure what is.
Leto wore a red Gucci gown detailed with several cross-body chains. However, what caught the eye of many was what was in his hands.
The actor carried a replica of his own head, right down to his signature hairstyle and captivating blue eyes.
As if this isn't enough to try to wrap your head around, Jared casually walked across the carpet to Shawn Mendes and handed him the head as if it were a normal thing. What a time to be alive, folks.
Gucci debuted this idea in their runway shows in 2018. Models walked the catwalk holding their own severed head by their side.
Though we aren't sure why this was done, it sure did get out attention. Please don't make 3D heads a new fashion trend.
Which celebrity do you think was the best dressed at this year's Met Gala? Be sure to let us know in the comments!
Comments, Questions & Rants