The Hidden Gems In Taylor Swift's New Music Video
Taylor Swift has returned. In typical Taylor fashion, her new music video is full of hidden easter eggs for her fans to find. From odes to the past, to possible hints for the future, Taylor's video is more than just a colorful dance party swirling around a love story. Here are what fans have picked out from Taylor's new music video for her single "Me!"
1. The Snake
Taylor Swift's new music video starts with the scene of a pink snake slithering across a colorful path. This is clearly a nod towards Taylor's Reputation era- as the snake was a recurring symbol.
After a few slithers of the tongue, the snake evaporates into butterflies- the new symbol for Taylor's upcoming 7th album. She is utilizing the butterfly to symbolize her growth over the past few years of hardship.
Clearly, this creature transformation is Taylor's way of saying change has come.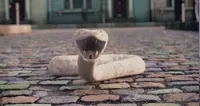 2. Cool Chicks
"And there's a lot of cool chicks out there" is a line of the single. As this line first appears in the video Brendan Urie sits in front of a wall that is covered by framed paintings of baby chickens, but also the Dixie Chicks.
How sly of Taylor!
Of course, this has fans speculating that perhaps there will be a Dixie Chicks collaboration on Taylor's next album. However, that hasn't been confirmed. So for now, it's just a cute play on words.
3. The New Taylor Can Come To The Phone
Taylor walks in a fancy lobby through a path of clouds. Atop one of those clouds is a pink telephone.
Taylor further works to prove that change has come, as she pats the phone as she walks past it. Of course, this is responding to the infamous "Taylor can't come to the phone right now" lyric from "Look What You Made Me Do."
Has the old Taylor been reborn?
4. Snake Clouds
In that same scene, the clouds in Taylor Swift's new music video seem to take the form of snakes. At one point, one of the snake-clouds even tries to engulf Taylor, but with no success.
She shakes off the gesture and continues on her way to the door. This is her way of showing that though she has had people try to do her wrong and hurt her, they didn't win. She is still standing and is stronger than ever because of it.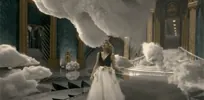 5. Neon Lover
In the background of one of the scenes, you can see a neon pink sign that reads "Lover". After Swift said on a livestream that the name of her upcoming album was blatantly written in the music video, fans speculated that this was possibly the title.
It has also been guessed that this could be the title of the next single.
However, none of these theories have been confirmed (or denied) by Swift herself.
6. Chrysalis
Throughout Taylor Swift's new music video, it appears that everything is taking place inside of a chrysalis, which is the membrane that a caterpillar creates during its transformation into a butterfly. The chrysalis can be seen clearly in the outdoor scenes.
Taylor is a genius. Seriously. This all confirms it.
Again, Taylor is reiterating that there is a rebirth with her 7th album.
7. Benjamin Button
Taylor's newest family member was featured in the video, and he is the cutest little thing ever!
After Taylor Swift's mural in Nashville was unveiled, fans noticed 3 cats painted, rather than 2. This, of course, began the rumor that Taylor's feline-family had expanded.
The super-sleuths were correct. The kitten featured in the video was actually up for adoption. Taylor couldn't resist.
The sweet boy is now named Benjamin Button, but Benji for short.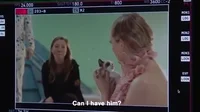 Did you pick up on these hidden easter eggs?
Featured Image via https://weheartit.com/entry/329973624?context_query=taylor+swift+me&context_type=search
Comments, Questions & Rants