The Best Ways To Deck The Halls With Christmas Lights
Winter is one of the most magical times of the entire year! You can get cozy by the fire to escape the cold weather and of course, get creative with your Christmas lights and decorations.
1. Light Up The Path To Your Front Door
If you are looking for the simplest way to add some light and joy to the outside of your house using Christmas lights, I recommend the classic lighting of the walk-up. Places such as Walmart, Kohl's, and Target all sell Christmas lights that are specifically made for the sole purpose of doing just that. This always looks so nice and welcoming when visitors walk up to your front door and it takes no time at all to set up! There are all the usual color options you can choose from, my personal favorites being the classic white lights or red and green lights as pictured below. Usually, these lights are sold in sets and each individual light is attached to a stake that you simply stick into your yard around the perimeter of your front walkway to create a lovely display.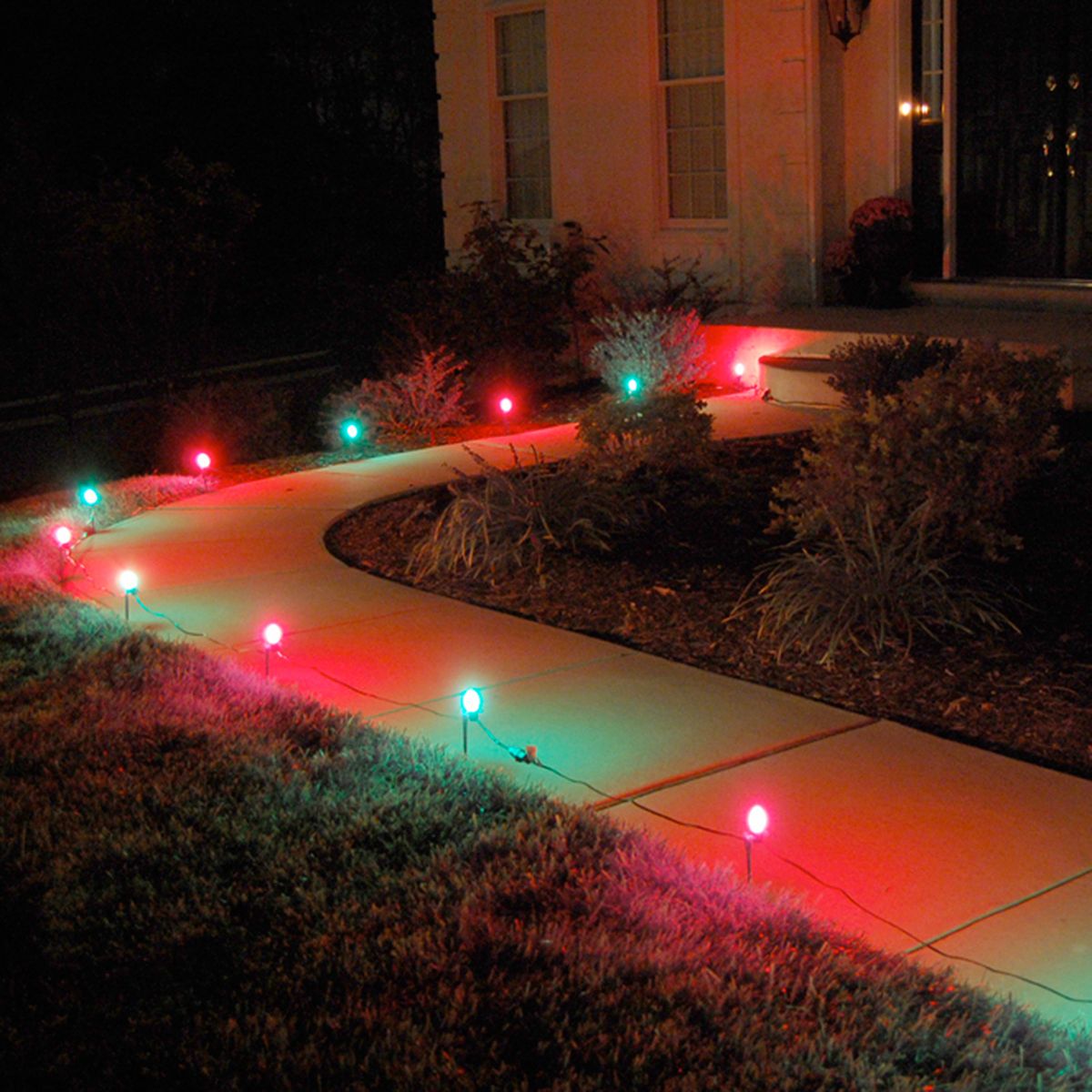 2. Classic Outline Of House
Now, if you want to be a little more ambitious, or have people to help you, you can go for something a bit more complex. Creating an outline of Christmas lights around the perimeter of your entire house, a stunning example is shown below, does indeed take quite a bit of time, but always looks marvelous for the holiday season! Again, I am partial to the classic warm white lights, however, I also love the look of multi-colored lights around the home. The picture shows lights even draped around each individual window of this beautiful home, but even just outlining the roofline and front door in Christmas lights would be sufficient to create a gorgeous lights display fit for the holidays.
3. Lights Crawling Up Tree Trunks
Something that my dad used to do to decorate the house for Christmas when my sister and I were younger is wrap strings of Christmas lights around and up the trunks of the trees in our front yard. It always looked so magical and seemed to me like we lived in an enchanted forest! This can get a bit tedious, however, the outcome was always worth it to my dad and everyone loved the way they looked. This use of Christmas lights is my favorite to experiment with color. Blue lights give the illusion of icicles and give off a very Frozen vibe, while alternating red and white lights make the trees look like giant candy canes! The possibilities are endless! You will want to have an extension cord on hand though, as the trees in your yard are most likely a good way from the nearest outdoor plug. If you do not have trees to decorate with lights, you can always do the same with bushes that may line the front of your home. Special Christmas light kits are available to simply drape over the bushes, which my family as used before, and they are quite convenient and efficient to use in decorating.
4. Brighten Up The Balcony
If your house or apartment has a balcony, you can recreate this cascading lights display for your own home. This display was created using icicle lights in a warm white color, but as with the trees, I believe that blue string lights would look absolutely magical in this arrangement. The white Christmas lights make this look like snowfall, but the blue lights would make it look much more like icicles in my opinion. Of course, you can also plan your own display and totally deviate from the norm. Christmas lights wrapped around the railing of the balcony or curtain lights against the windows and doors of the balcony would also look quite lovely and create such a cozy atmosphere out there. Even white and red lights wrapped around the balcony railing would look fabulous, especially if you did the same with the tree trunks in your yard, it would create a cohesive design that would look so nice and festive for the season. Add in a few Christmas throw pillows, a fleece blanket, a heater to keep warm, and you are set to enjoy your outdoor space even on colder days!
5. Front Porch Illumination
Another area of focus that my family tends to hone in on when it comes to putting up Christmas lights is the front porch. As the photo suggests, there are so many ways to add light to this area of the home and it is one of the most important areas to decorate, I think because it is where all of the guests who come to your home enter. It is the first thing people see and is the literal welcome to your home. I love combining elements of foliage and Christmas lights specifically on the front porch. Using wreaths that have lights throughout on the front door, branch garland to crown the door complete with poinsettias and ornaments, even small Christmas trees in small pots on either side of the porch are all ways you can create a lively and pretty display. Lowes has a great selection of these outdoor Christmas decorations, as well as Target and Walmart beyond that. If you really want to go all out, you could also purchase Christmas inflatables of various characters from the classics such as Santa Claus and Rudolph, or Mickey Mouse, Star Wars characters like BB 8, Minions, Frozen characters like Olaf, or even the Grinch himself and his trusted companion Max!  Either route you go is fine but is important not to neglect this outdoor area of your home when decorating for Christmas, especially when Christmas lights are involved.
All of these various ways of using Christmas lights to decorate are so beautiful and really bring the joy of the holidays to your front door! What are your favorite ways to decorate with Christmas lights? Let us know in the comments!
Featured Image Source: https://weheartit.com/entry/338170539