12 Sweaters You'll Want To Be Wearing This Fall
The warm weather and green trees of summer are wonderful, but by the time August rolls around, I'm usually dying for the weather to cool down so I can break out my favorite sweaters. Be prepared for sweater weather with these twelve sweaters you'll want to be wearing this fall!
1. Hand-Dyed Limited-Edition Sweatshirts| Orenda Tribe
Fast fashion is out, and upcycling is in. But the creativity and work involved with making something old into something new can be intimidating to a lot of people. Luckily, there are artists and artisans already doing that work of turning old materials into brand-new, totally cute clothing pieces.
If you're looking for quality, colorful, sustainable clothing and/or Indigenous-made designs, Orenda Tribe has got your back. They're a collective of small, independent artists and artisans from around the world specializing in vibrant hand-made clothing pieces made from upcycled textiles.
Not only are their clothes cute and cutting-edge, but right now, 100% of their proceeds go toward their Dził Asdzáán (Mountain Woman) Command Center, a collective of Diné matriarchs that has provided meals, reusable masks, PPE, and hand sanitizer for community members in Dinétah, which has been greatly affected by the COVID-19 pandemic.
2. TIG Sweatshirt | Aliya Wanek
Sometimes you just need something simple. Plain, solid colors are really in right now, as are the comfy, slouched look of sweatshirts. Aliya Wanek has adorable sweatshirts in lovely colors from  ochre to olive, a palette as relaxed as the cut is. Best of all, these sweaters are made without shoulder seams, so every inch is soft and comfortable.
Ethically and sustainably made in the United States, often by designer Aliya Wanek's own hand, this Black-owned clothing brand is focused on exploring the relationship between identity and style through comfortable clothing for all body types.
3. New-Knit Novo Sweater | Afrikrea
The chunky sweater is still all the rage this year. Cable-knit sweaters are a cozy must-have that look great on everybody. Whether you pair them with a  collared button down for a preppy vibe, or wear them over-sized with leggings, you simply can't go wrong with a chunky cable-knit this fall.
This year, we're going to see lots of re-imaginings of the traditional sweater: patches, embroidery, and cutouts are becoming more and more common. Try putting a new spin on the long-time fall staple by wearing a chunky cable knit in a funky bold color, like this lavender sweater from Afrikrea. Emblazoned with art inspired by Ernesto Novo's paintings, this purple beauty is a contemporary remix on a classic look.
4. W. Forever After Sweater | TenTree
As trendy as the chunky sweater is, sometimes you can feel like you're drowning in all that fabric. If you want a mid-weight sweater that's warm and cozy but still shows off you're figure, you'll love TenTree's W. Forever After Sweater! This ethically-manufactured sweater is made of organic, sustainably-sourced materials. It's form-fitting without clinging, the perfect standalone top for a chilly autumn day.
On top of being a simply adorable piece of clothing, this is a sweater that gives back: for every item purchased, TenTree plants ten trees! They've planted over 43 million trees to date, and are on track to complete their goal of planting 1 billion trees by 2030!
5. Ribbed Crewneck | Victor Glemaud
Ribbed shirts have been on the rise for the past couple years. It's high time the look made it to sweaters, too! It's all the fun of vertical stripes converted into texture instead of pattern!
If you're looking for a designer sweater, this tri-color sweater from Victor Glemaud is not only ribbed, but it's got that chunky sweater look that's essential to fall fashion. The sleeves puff at the shoulders for a bubbly, preppy look that you can rock anywhere.
Victor Glemaud is a Haitian-born designer of high-end clothing that's both stylish and comfortable. His leisurewear is designed to be worn anywhere by people of all genders, races, sizes, and personalities.
6. Blue Fuzzy Textured Jacket | JIBRI
This fall, be on the lookout for long outerwear, like this blue sweater from JIBRI. This sweater reaches almost to the ground, made of a thick wool that will keep it from billowing in the chilly fall wind. The contemporary cut, bold colors, and chic plaid pattern all work together to make this a cutting-edge option for a cold fall day, while the fuzzy texture promises to be soft and cozy.
JIBRI is the clothing brand of designer Jasmine Elder. This Black-owned business is dedicated to making stylish, fashion-forward clothes for plus-size women.
7. "My Country Tis Of Thee" | Jamie Okuma
If you're looking for a high-fashion remix of the letterman jacket, this sweater is literally art you can wear. It's expensive, but that's to be expected with quality: award-winning artist and designer Jamie Okuma makes every one of her pieces by hand. This sweater, "My Country Tis Of Thee" features a stunning and provoking print of a painting of the same title by the artist's mother, Sandra Okuma.
If you're not Native and are worried you'll be offending by wearing Okuma's art, which is very clearly rooted in her Luiseño/Shoshone-Bannock culture, don't be. Okuma herself has said that non-Natives should support Indigenous artists and artisans by buying and wearing their products, so long as it's authentic. Knock-off mass-produced trinkets which appropriate Native cultures are the real problem. So don't be shy about buying from Okuma or other Indigenous designers today!
8. Hillview Cardigan Sweater | Madewell
Button-up cardigans are a fall staple that you're going to thank yourself for getting. They're versatile, something you can throw on with just about anything, with an old-school look that's timeless, sophisticated, and classy. As cute as they are, they're also super comfortable and convenient, equally suited to lounging around the house or rocking at the office. I love my button-up sweater from Madewell, and I know you will too!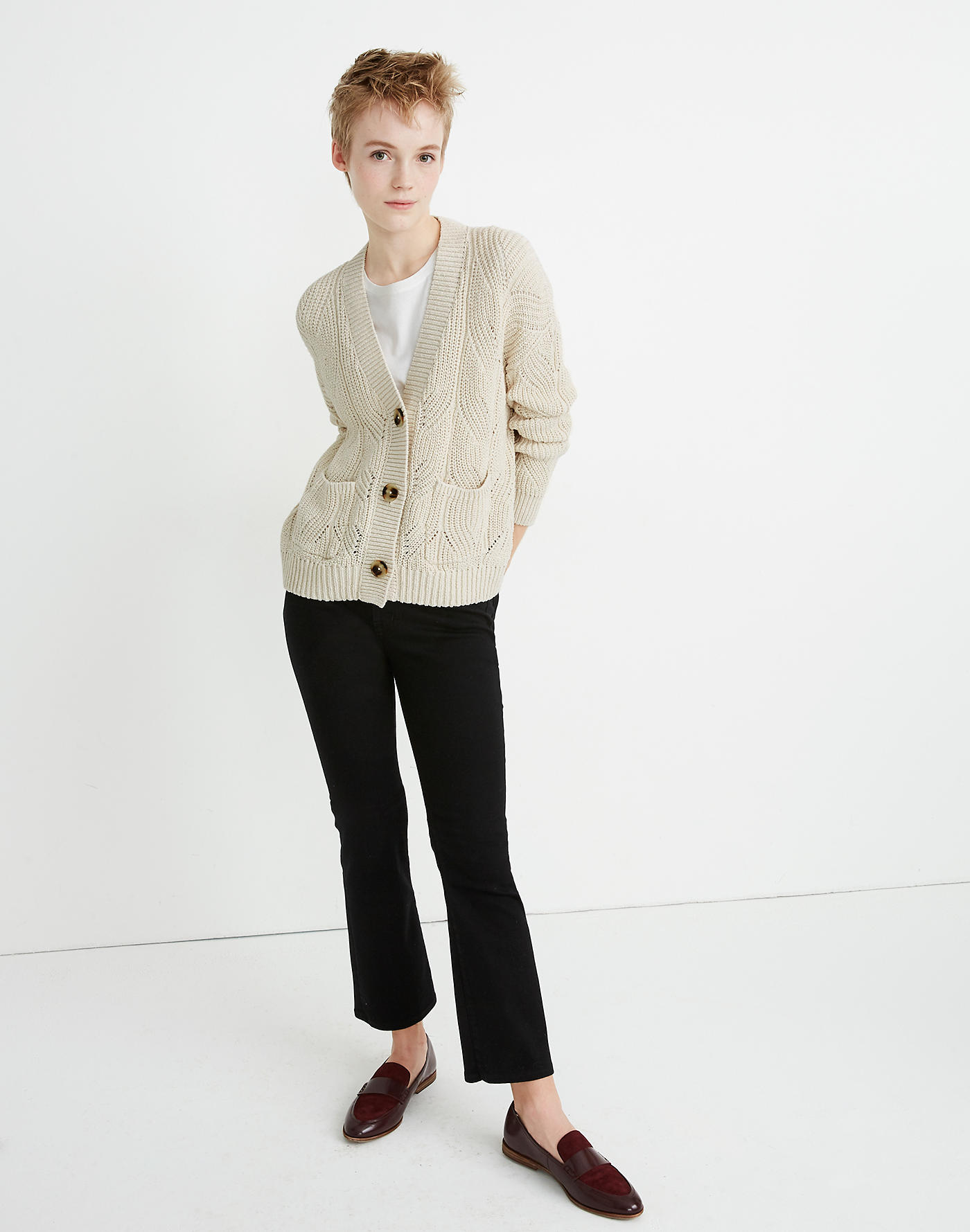 See Also
9. Favorite Crop Cardigan | Boden
Usually when I see cardigans, they're being worn over something else. But short-sleeve cardigans worn as shirts themselves are the new kids on the block you'll want to pay attention to this fall. Flattering and fun, short-sleeved cardigans are simultaneously cutting edge and old school, preppy and alternative. This simple yet eye-catching sweater is sure to be a fall favorite this year.
10. Silk Cashmere Ribbed Turtleneck | NAADAM
Everybody needs a good fall turtleneck. They're ideal as a stylish top for cold days, when you want to keep your neck warm without carrying around a scarf. Popularized by the Beatniks and later famously worn by Steve Jobs, the black turtleneck is a sophisticated, must-have piece for artists and innovators.
Ethically and sustainably sourced from Mongolian herders, NAADAM's ribbed silk-and-cashmere turtleneck is lightweight, flattering, and "butterfly soft."
11. Cropped Turtleneck Sweater | Kloset Envy
Crop-tops have been huge for the past couple years, and 2020 looks like it's on track to continue that trend. Just because the weather turns cold, doesn't mean you have to stop wearing your favorite styles! This long-sleeved turtleneck crop-top from Kloset Envy will keep your arms and neck warm while still giving you that crop-top look you love.
12. Mae Pullover | Krochet Kids
With COVID-19 still at large and safety being a priority, we're all spending more time at home than ever before. Whether you're taking online classes or working from home, you want tops that are comfortable enough for lounging on your couch and cute enough for giving a presentation over Zoom.
The Mae Pullover from Krochet Kids is an inexpensive, lightweight sweater that's as soft as it is chic. Whether you wear it with pajama bottoms and slippers or a denim skirt and heels, you'll feel as good wearing it as you will buying it. Krochet Kids aims to break the cycle of poverty by providing jobs for women in need. Their website even provides information about each of their makers, so you can learn more about the woman who hand-made and signed your sweater!
What kinds of sweaters will you be wearing this fall? Tell us your favorites in the comments below!
Featured Image Source via thezoereport.com.
Alexandra Ford
A. A. Ford is a writer from St. Louis, Missouri. She is currently a student majoring in English and Theology at the University of Notre Dame. In addition to her articles for Society 19, Ford is known for her poetry and fiction, which can be found at https://aafordstories.wordpress.com/. In her free time, she loves directing stage theater, spending time with her friends and family, and trying her best to glorify God by her life.