15 Summer Midi Dresses You Can Take From Day To Night
Haley Lyndes
Just a twenty-something trying to navigate life. Northern Vermont University…
Every spare moment in the summer is filled with fun activities to do, from the beach, hiking, friends, tanning, brunch, and more – summer is just all around better. However, when you're spending your days out and about the last thing you're thinking about is a change of clothes. Going to brunch, the beach, and then out to dinner? Who wants to bring 3 changes of clothing for that? These summer midi dresses are the best for beach coverups, lunch dates, and dinner and drinks with friends. The best part? No need to change! Add some cute accessories and you're good to go!
 1) A Button Up Dress That Takes You Back In Time
After a long day at the beach, an easy transition into an evening look is to button up this dress over your swimsuit and you're good to go! No one will know you came from the beach, and with some added accessories you'll be looking boho chic for dinner on the water!
Get The Look:
2) A Cute Tie Up Dress
A simple style like this is the best to sport walking around town or for an evening out. Seriously, it's all up to you how you want to style this outfit. A great nighttime look would be to add some red lips and heels!
Get The Look:
3) There's Beauty In Simplicity
A plain white dress is one of the best summer midi dresses due to its simple look! This wrap dress can be worn anywhere, and looks great with a tan!
Get The Look:
4) The Deep V
This classic 50s style dress adds a twist with a deep V cut out. The accent of the deep V in itself it what makes this style perfect for both day or night wear.
Get The Look:
5) Flowy, White, And Totally Professional
Alright, so not every summer day is spent doing fun activities. Some days, us adults have to do the damn adult thing and work. However, if you want to meet up with friends or grab drinks with coworkers after work, summer midi dresses like the one below are totally appropriate.

Get The Look:
6) You Can't Go Wrong With Off The Shoulder
Off the shoulder is debatably one of the hottest summer styles, and compliments every body type. An off the shoulder dress is something you can't go wrong with for a day to night look.
Get The Look:
7) Florals For Days
Florals make some of the best summer midi dresses. Not only are they extremely pretty, but the multi-colored fabric brings out a little something for everyone. When in doubt, wear florals!
Get The Look:
8) Try Out A Geometric Pattern
There are so many fun options to try out when it comes to summer midi dresses, and cute patterns like this are one of them! Get your geometry on with fun lines and shapes for the summer!
Get The Look:
9) Show Off Some Side Boob
That's right ladies, show off that side boob if you desire!  This is the perfect outfit for a day to night look as you can wear it around town, or on a dinner date with you boy.
Get The Look:
10)  Stripes Are Always Acceptable
Stripes are probably one of the hottest summer patterns, and look great on everyone! Find your perfect stripe colors and wear them anywhere!
Get The Look: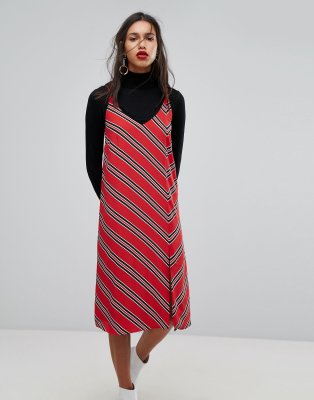 11) Yet Another Button Up
I think button-up dresses are the cutest, and look so great on all bodies, shapes, and sizes! Accessorize your button up with a cute hat and watch and you're good to go!
Get The Look:
12) Vintage May Make One Of The Cutest Dresses
Anything retro is making a comeback, and these tie-front dresses are one. If you're a fan of the vintage style, try out a tie-front midi dress for your day to night look!

Get The Look: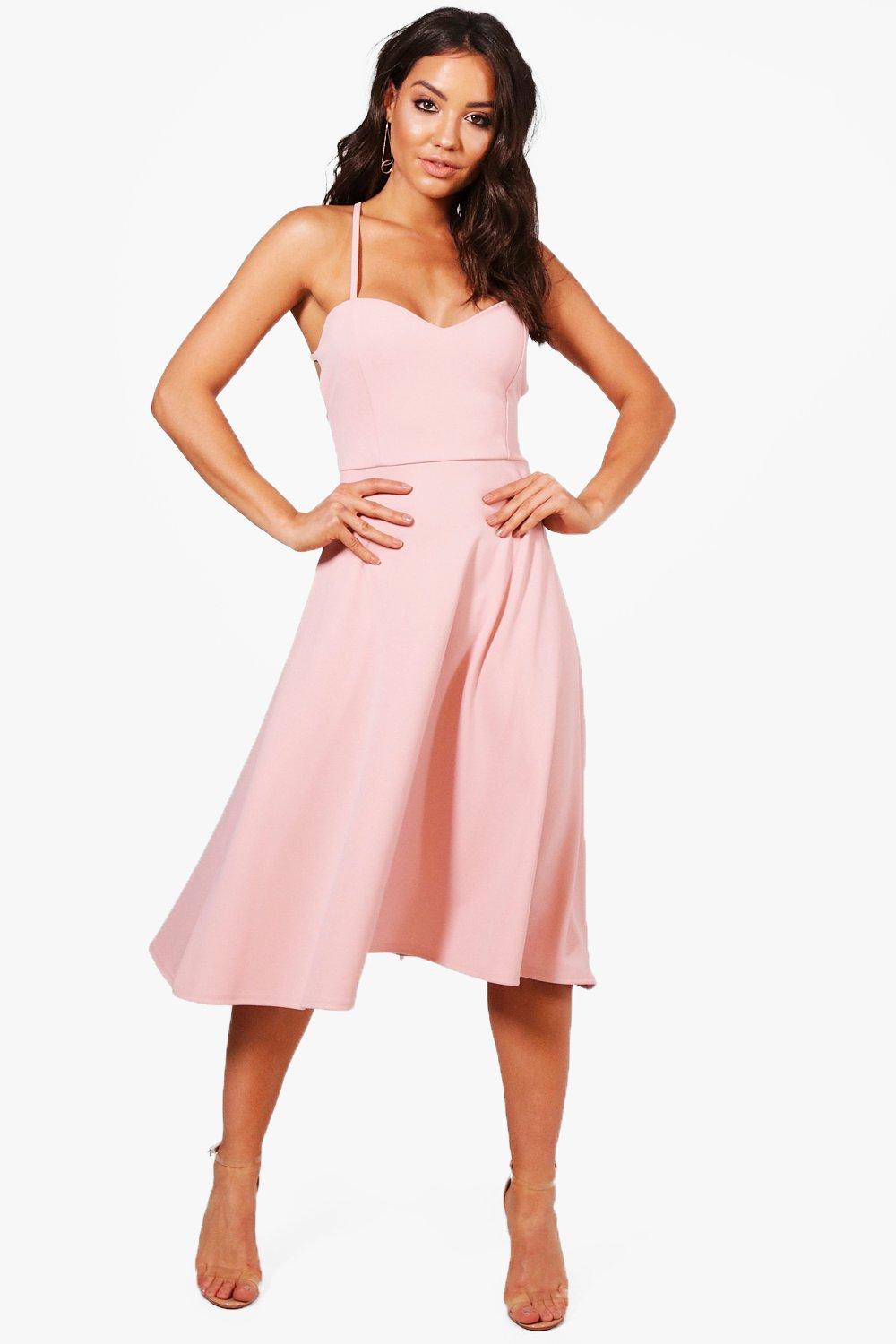 13) That Mauve Pink Though
Millenial pink, mauve pink, baby pink…etc, whatever you want to call it, it's in right now. In addition, it makes for some really cute summer midi dresses that work for both day and night!
Get The Look:
14) Get Funky With It
Try out a lace patterned dress this summer! A style like this looks cute on everyone and depending on those accessories, can be transitioned into a nighttime look too. Don't knock it til you try it!

Get The Look:
15) Add Some Frills
In addition to stripes and off the shoulder, frills may come in for a hard third for summer outfits. This dress incorporates the best of all worlds!
Get The Look: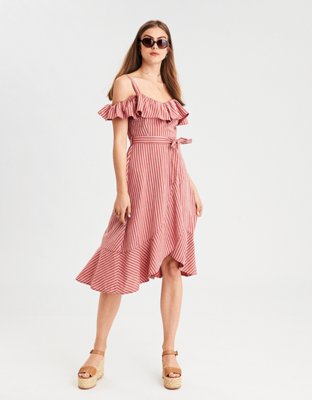 What do you think of these summer midi dresses? Let us know in the comment section below!
Featured Image Source: www. Pinterest.com
Haley Lyndes
Just a twenty-something trying to navigate life. Northern Vermont University graduate. Yes, I own Birkenstocks. No, I do not like maple syrup. Hoppin' around New England since 95', currently in MA.