Staple Clothing Pieces Everyone Needs In Their Closet
Having a great wardrobe requires some staple clothing pieces that you can mix and match on the fly. Life is hectic enough without struggling every morning by finding something to wear. If you're like me, you may have experienced a handful of mornings staring at a closet full of clothes and finding you have nothing to wear. So we've done some research and compiled a list of designer approved staple clothing pieces that will guarantee getting dressed more fun and less chaotic.
Black Flats
While heels are nice, flats are usually what we navigate towards daily. Think about it, when running errands, shopping, or heading off to work, we tend to gravitate to a sturdy and versatile pair of shoes like flats. 
They are easy to get in and out of perfect for our hectic schedules. Owning a pair of comfy and quality black flats will make life easier, especially on your feet. 
If ever in doubt of what shoes to wear with an outfit, you can always rely on a pair of black flats to match. 
Copy This Look:
Dark Wash Jeans
Dark wash jeans are one of the most highly favored stapled clothing due to their versatility. There's nothing a great pair of jeans can't do!
What started off as a marking of the American Midwest has over time became phenomenal all over the U.S. From date night to meetings, jeans are everywhere and in every shape, color, length, and style. 
Finding a perfect pair of dark wash jeans takes time, but once you do you'll be sure to wear them with just about anything, no matter the occasion.  For a date night, dress them in some cute heels and a blouse. For a casual business meeting, pair them with some signature flats and a white button-up shirt. 
Shop the look: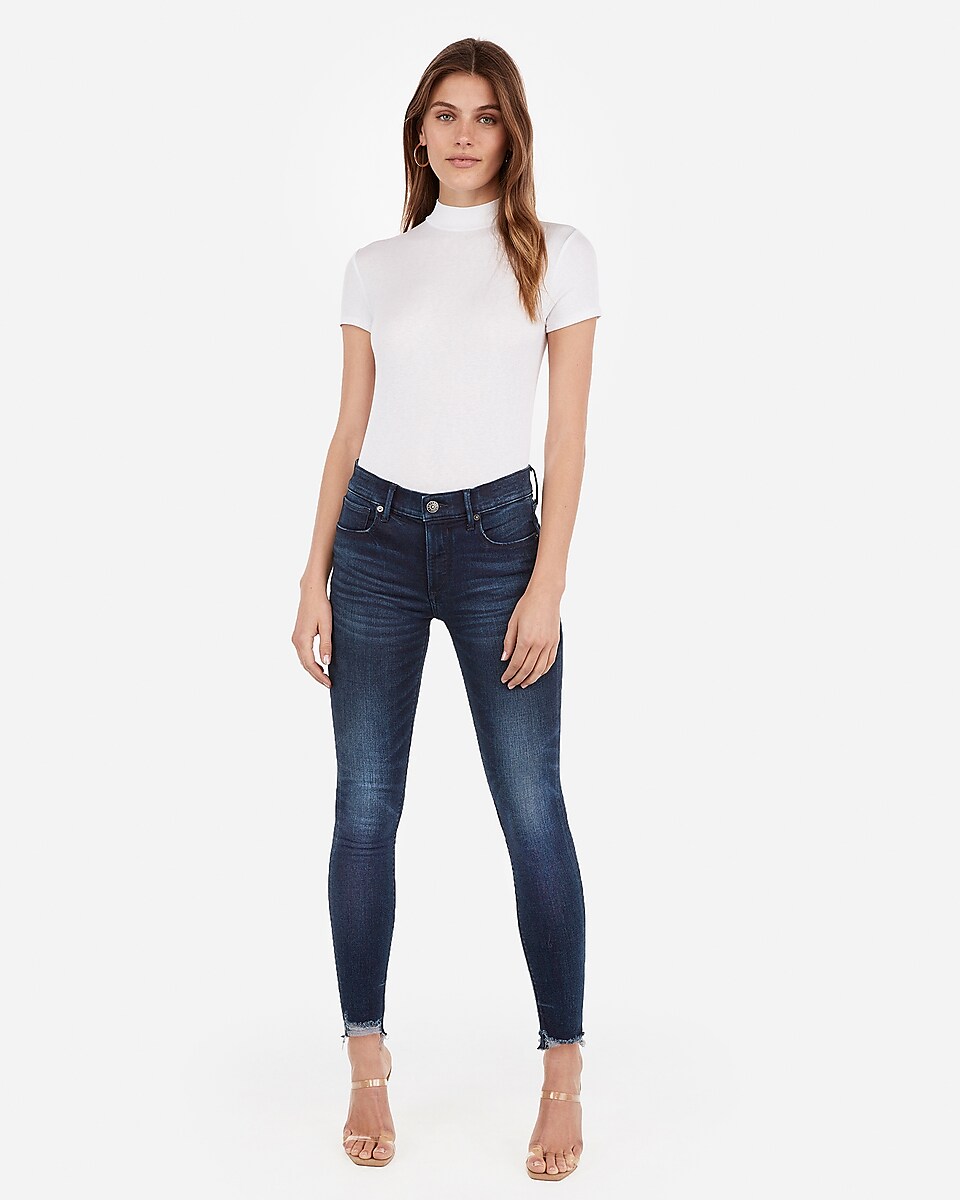 White Tee Shirt
A white tee shirt is like a blank canvas; the possibilities are endless!  Making this item an essential clothing staple needed in every closet. A versatile piece that you can wear any day of the year. 
Pair a white tee with a blazer, black trousers, and flats for a polished look suitable for an interview or throw on your favorite jeans and a nice belt for an effortless cool spring look. There are no limits when it comes to rockin' a white tee. 
For those annoying yellow stains, you might find after frequent wear- especially in the summer, soak your white tee in equal parts baking soda, water, and peroxide and watch those stains fade away. 
Copy This Look:
Pea Coat
Pea coats are the ultimate coat you'll see every girl wearing once the cooler months hit. And here's why: they're are lightweight, cozy, and trendy. Pea coats are also super affordable and available for purchase at department stores and also boutiques. 
These coats are perfect for layering during the fall and winter months. Don't like the idea of looking too bulky in a huge winter coat, opt for a pea coat you can wear throughout the winter. Just make sure to accessorize with hats, scarves, and equally cute hats to protect yourself from the bitter cold. 
Copy This Look:
White Sneakers
Just like black flats, white sneakers are another versatile staple item that you can wear with any outfit. 
I hope you know by now that the rule for not wearing white after Labor Day is totally out! Once thought of as just a summer item can and should be worn all year-round. During the colder months just make sure to wear them when the ground is dry or risk staining them. 
Copy This Look:
Striped Shirt
I am obsessed with striped shirts and you should be too. They are so chic and so effortless. All you need is a really good pair of dark wash jeans or your go-to skinnies to create a comfortable and cute ensemble. Don't think horizontal stripes flatter you? Find one with a thinner stripe.
For a preppy look: wear a striped shirt with jeans and some boat shoes or ballet flats. Or wear one with a contrasting pattern like a polka dot blazer or floral patterned shorts. 
A striped shirt makes getting ready in the morning easier since it fits together with everything so seamlessly. You can wear one morning, noon, or night. The best part is that it acts a neutral and also as a pop of color to give you that little extra something. 
Copy This Look:
Blazer
Layers are your friend! A well-tailored blazer is an essential item for every closet. Pair one over your white-tee shirt or striped shirt for an instant business casual look. Or throw one over a flowery dress for an instant first date look. 
Copy This Look:
White Button-Up Shirt
It doesn't get more classic than a white button-up. It's a classic staple must-have for any occasion. It's the article of clothing you pick out when you are feeling confident and on top of the world. It is also the piece of clothing you can wear when your day is off to a rough start and need to 'fake it till you make it!' 
Not all button-up is the same! Purchasing a slim fit one is great for layering under blazers or cardigans. A looser fit button-up is great for French-tucking into your favorite pair of boyfriend jeans during the spring and summer. 
Copy This Look:
Little Black Dress
The first step to finding the perfect little black dress is to know your body type. Find a dress that accentuates your body and has a modest length for maximum versatility from day to night. 
Opt to wear just the dress and a pair of pearl-studded earrings for a timeless and classy look. Or layer on a chunky statement necklace in a bright color or adorn your wrists with layers of gold bracelets. Whatever accessory you choose, a little black dress is a perfect foundation. 
Copy This Look:
What do you think of these staple clothing essentials? Do you own a few? If so, leave us a comment below on your favorite staple purchases!