21 Small Appliances For College You Wish You Packed
Going away to college is an exciting, nerve wracking, and adventurous time. Sometimes we get so wrapped up in the thought of living on our own and being away from home, we forget to pack some of the essentials. Especially living in a dorm, there are a number of things you definitely will want to bring to avoid any potential mishaps. Here are some of the most useful small appliances for college that you will want to be sure to pack!
There's absolutely no way to get through college without coffee. For those mornings when you can't spare a second, a single serve coffee maker only takes a couple of minutes to brew you a perfect cup of coffee!

You might wonder why you would need a tablet when you already have your laptop. Believe me you will love the portability of a table to watch Netflix in bed without bothering your roommate or just do assigned reading without trucking around your laptop. Our favorite is the Samsung Galaxy Tablet. It comes with a detachable keyboard, a stand, and the S Pen which is super easy and fun to use.
Many dorms will supply you with a mini fridge, but if not, you're definitely going to want to get one. Having a fridge is an absolute necessity, especially if you like fresh ingredients and are trying to avoid the "freshmen 15".

Okay, hear me out on this one – you might be thinking "why would I need a vacuum cleaner for my dorm?" I'll tell you why. I lived in a carpeted dorm for four years and just after a couple of months of moving in, my carpet was already filled with dust, hair, dirt and more. (You can imagine what it would look like after a full year.) And from experience, there's nothing worse than having your friend visit you and spending over an hour trying to sweep a carpet, giving up, and then getting on your hands and knees to pick up all the crap out of the carpet. Do yourself a favor and just have a small vacuum cleaner on hand. Our choice? This powerful and compact one from Samsung is all you need.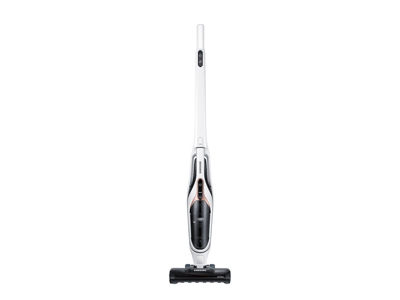 It's a known joke that all college kids live off Ramen. While this may not be true for everyone, Ramen will always be a cheap and easy go-meal for many of us. This Top Ramen rapid cooker cooks your dinner in only 3 minutes, making it an essential appliance for your dorm room.

Whether you're making smoothies or milkshakes, a personal blender is essential. Its compact size makes only one serving, keeping you from using too many ingredients or having to clean up after yourself for 20 minutes.

Most people wouldn't think to bring a vegetable spiralizer to college, but I can tell you, I have found this super helpful when trying to eat healthy. This appliance can turn any vegetable into pasta-like noodles. Rather than making pasta every night of the week, you can switch it up and easily make zucchini noodles instead!

This one goes right along with #8. You wouldn't want to wash your stuff in your dorm then have to carry your sopping wet clothes downstairs to the laundry room. Why not dry them in your room too?
While some people may not be familiar with a hot pot, it saves you a lot of time and effort when making things like pasta, oatmeal, or soup. The hot pot boils water more quickly than a microwave, and eliminates the need to use a stove, which is perfect for a dorm room!

To me, this one is one of the most important things on this list. Buying a case of water bottles every week can get expensive, and honestly is just a waste of plastic. With a water filter, you can drink the water from your sink after letting it process through the filter, which only takes a minute or two.

This goes without saying- everyone's had a time where their phone died in the middle of a fun night out, or while you're using your phone's GPS, attempting to navigate through your new college town. Having a portable phone charger will keep your phone charged all night, so you and your new bestie can take all the drunk selfies you please.

Dorm rooms are known for having cement walls and those harsh overhead lights, which flatter no one. Bringing a light-up makeup mirror to college will save you from walking out of your dorm looking like a 5 year old that got into her mom's makeup.
Most mornings in college typically consist of snoozing your alarm, waking up late, skipping breakfast, and having to rush to make it to your 9am. But with a toaster in your room, you can throw a bagel or some bread in, and have breakfast on the go in a matter of minutes.

Yes, this is kinda gross… but it's necessary. Whether or not you'll be sharing your shower, this product will save you from having to unclog your drain or making that embarrassing call to maintenance to do it for you.

This one is just necessary because who doesn't love quesadillas? Rather than bringing your tortillas, chicken, and cheese down to the communal kitchen, you can make a quick and delicious dinner right in your dorm room.

Having such limited space in a dorm, it's important to make use of your space in the best way possible. Not only does this breakfast maker include a coffee maker, toaster oven, and griddle, it also saves you from having to buy all of these appliances separately, saving you some cash! What could be better than that?

Especially in places with dry air, humidifiers can have a huge effect on your dorming experience. Humidifiers help with problems caused by dry air and make the air in your room feel much more refreshing! Since most dorm rooms are pretty small, a mini humidifier does the job just fine!
It's your big formal night; your makeup is perfect, your hair is done, and your dress is… wrinkled. Rather than keeping an iron and full ironing board shoved in the back of your closet, a portable steamer is easy to store and heats up in minutes! You just fill it up with water, plug it in, and steam all the wrinkles away!

I found that a wireless speaker was one of my most used items while living in a dorm. Being able to play your favorite music while getting ready for a night out, amps up the mood and gets you excited for the night! It's also not loud enough to get you in trouble with your RA.

This one only applies to those of you that have a TV. An HDMI cord connects your laptop to your TV, which allows you to stream whatever is on your laptop to your TV screen. So instead of buying a smart TV that has Netflix, Youtube, or Hulu, buy an HDMI cord to stream it from your laptop! (This is a much cheaper alternative)

Last, but certainly not least. This one is for all the pizza lovers out there. Save yourself the hassle (and money) of ordering Dominos every night, and make your own pizza! This pizza oven is so compact and affordable, I don't know who wouldn't want it.
These are some of the best useful small appliances for college that you will regret not packing. Can you think of anything else? Share in the comments!
*This is a sponsored post. All opinions are my own.
Featured Image Source: pinterest.com