15 Sleeveless Tops You Didn't Know You Needed
From sleeveless tops made of cotton to velvet-style, you wouldn't know how much you're missing when it comes to sleeveless tops in your wardrobe. When you need a quick, yet stylish piece to wear, these top 15 sleeveless tops are ideal for their design and ease-of-wear!
1. Flannel Style 
The popular flannel trend has a twist, with flannel sleeveless tops. Wear with jeans and sneakers or jeans and heels. This top matches with all jeans from the darkest wash, to the lightest. Jessica Among many celebrities have been spotted in this top with cuffed sleeves and dark lipstick. 
Copy this look:
2. Blouse
Get a breezy, beach-inspired look with an open v-neck or buttoned blouse. Perfect for attending important events like graduation and semi-formal events. Pair with your go-to favorite pair of heels and pumps, for a crisp day-look.  
Copy this look: 
3. Grunge Tank
Get a grunge look in a sleeveless, graphic tee. With an edgy biker feel, pair with combat boots, shorts, even sheer tights. Or, pair an oversized graphic tank with leggings or slim pants.
If you want to add a feminine touch, wear with a simple ring or classic, silver chain necklace. Bring out the goth-inspired colors by wearing black or white nail polish or a pop of color from the graphic design, like orange or yellow. 
Copy this look:
4. Cropped Sweater
Wear a sweater that has no sleeves with accessories like large earrings and midi stacked rings. These tops are perfect for transitional weather, allowing you to wear a light and comfortable piece that also keeps you cozy. 
Copy this look:
5. Tie-Front
A sleeveless tie-front top, made of breathable cotton is a must when it comes to casual style. Wear a tie-front top with sandals, sneakers, platform heels and any shoe you choose. The laid back style of this type of sleeveless top can be kept simple with no accessories or glammed with a large bangle!
Copy this look: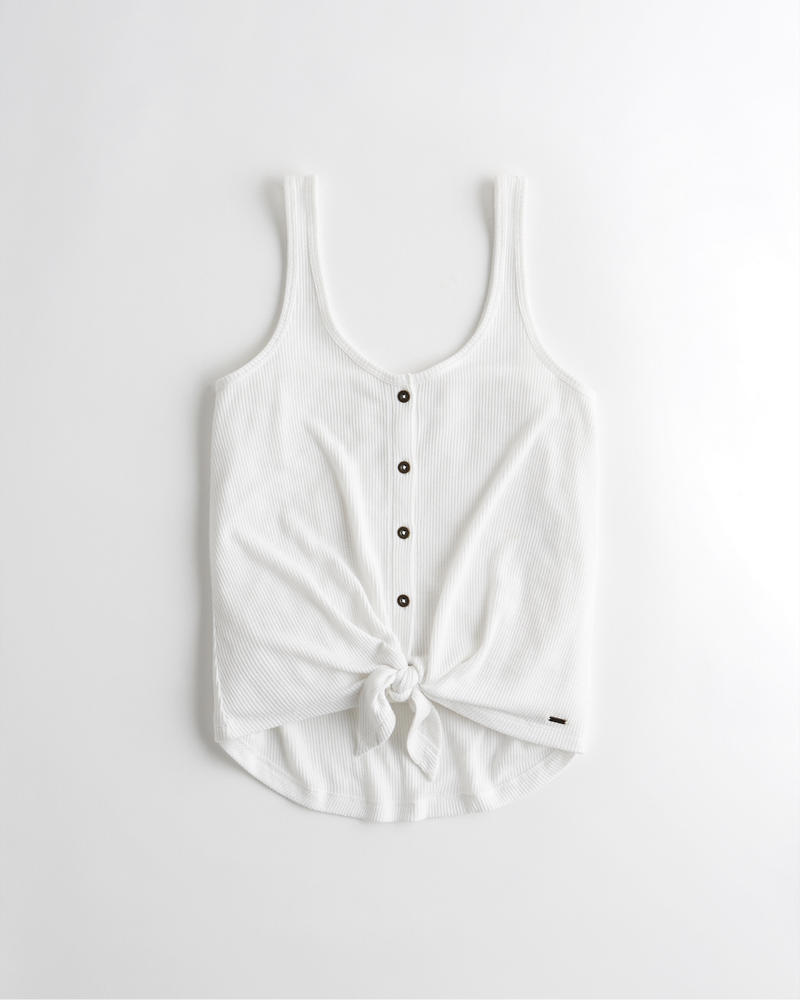 6. Casual Chic (day/night)
This sleeveless top allows you to be flexible with how you wear it. It's dressy enough for a last-minute, fun night out and casual enough to simply wear to class. The look has been seen on celebrities like Selena Gomez when wearing slim black trousers and aviator sunglasses. 
Copy this look: 
7. Satin Cami
Satin camisole pairs well with formal trousers, but can also be dressed down. Camisoles in satin are available in jewel-tone, metallic-like colors like navy and pink. The satin-like material feels smooth and cool on the skin, with comfortable thin straps. 
Copy this look:
8. Work/Intern Appropriate/Professional
With so many outings and hanging with friends, it's easy to forget workwear! Look business-ready, chic and stylish in a sleeveless blazer vest. Pair with flats or heels for business casual looks that you can wear to the office.
Copy this look: 
9. White Tank
A plain white tank is the most looked over a sleeveless top. A plain white tank can be worn as is, for a casually high fashion look. Pair with jeans that are totally destroyed and sandals for a chic coffee run. Or, pair with biker shorts for a Kylie Jenner inspired athletic-casual. Dress all the way up, by wearing with chunky heels and a satin skirt. 
Copy this look:
10. Sleeveless Ruffle
There's nothing like an ultra-girly ruffle top for breezy days. When you want a sweet look. Spice it up with added accessories like bracelets or a statement necklace. Your handbag can be the highlight with this top, by wearing an oversized bucket bag or square, structured top-handle. 
Copy this look:
11. Jean
This piece is cool enough to wear on warm days and warm enough for cool days. The fabric usually has a reasonable thickness and comes in different washes, like denim. Wear on a casual daytime date with caged heels or wear with comfortable slides or sneakers when spending time with friends. 
Copy this look:
12. Peek-A-Boo Back
A sexy twist to the basic cami, allows you to dress up effortlessly. You can keep your bottoms, shoes, and accessories simple since this top will grab the attention! 
Copy this look:
13. One Shoulder Crop
Stay comfortable in a one-shoulder crop top. Usually made with moisture-absorbing fabric, this is a buzz among celebrities. The fabric has stretch to allow easy movement, for a quick supermarket run or movie date. Pair with jean shorts or palazzo pants and heels. 
Copy this look: 
14. Smocked Crop Top
A smoked crop top is one of the most breathable sleeveless tops. The ultra-stretchy bodice wraps snuggly around your top area and stomach while allowing you to freely bend. Pair any color top with dark wash jeans and canvas sneakers. Or, pair with a high-waist skirt and pumps and open-toe sandals. 
Copy this look:
15. Turtle Neck
A top that will keep you warm but show just the right amount of skin. This piece is available in a ribbed form for '70s inspiration. It even comes in plush cashmere, for a warm look. Pair with pearl studs or a watch. 
Copy this look:
Ruffles and satin-like materials are only a sample of the many ways sleeveless tops are available, this season. Pair your tops with your most casual pieces like jeans or wear with formal wear. Mix your tops with every accessory from a crossbody handbag, to silver-tone jewelry. 
These sleeveless tops are perfect to transition into fall. Comment and tell us which top you can't wait to get your hands on!
Jessica Ross
Jessica graduated from AIU Atlanta with a Bachelor of Fine Arts in Fashion Marketing. When she's not working hard on writing and designing, she enjoys spending time with family and a good cup of coffee!