10 Skincare Products You Have To Try To Help Clear Your Acne
Dealing with acne is one of the most frustrating skin concerns and can be difficult to clear. If you struggle with acne, you have likely gone through the trial and error process with numerous products and didn't see any results. If you still get new pimples every now and then and don't have the right products to help you clear it all up, there are several products that you can sample and try out to help clear up any of your breakouts. Here are 10 of the best acne clearing products on the market.
EltaMD Foaming Facial Cleanser
While this cleanser does not have any specific acne fighting properties or ingredients, this foaming facial cleanser does an excellent job of removing any impurities and pollutants from your skin. This cleanser is oil-free and helps balance your pH levels, which cleanses your skin without irritating any breakout areas or drying out your skin. This cleanser contains bromelain, which is an enzyme found in pineapple, which helps reduce inflammation and removes dead skin cells. Overall, if you're looking for a gentle cleanser that will leave your skin feeling smooth without any irritation, this cleanser is one to look into. 

PanOxyl Acne Foaming Wash with 10% Benzoyl Peroxide
If you're looking for a cleanser with acne clearing ingredients, this foaming cleanser with benzoyl peroxide will give you the boost you need to start off your skincare routine. This face wash contains 10 percent benzoyl peroxide, the highest concentration available without a prescription, to help kill acne causing bacteria and help attach any current acne breakouts you might have. Additionally, this cleanser will help balance your pH levels and help combat dryness in your skin. This product is extremely budget friendly, retailing for only $11.99.
Paula's Choice Clear Daily Skin Clearing Treatment
If you struggle with mild to moderate acne breakouts, this treatment will pack a punch in your skincare routine without drying it out. This product contains 2.5 percent of benzoyl peroxide, to help kill acne causing bacteria. Additionally, it has a mattifying finish, which will help control any excess oils for those who face issues with oily skin in addition to acne. Overall, this product is less intense than the product listed above, but will not irritate or dry out your skin. 
Glamglow Supermud Clearing Treatment
If you're looking to splurge a bit on your acne clearing products, this mask from Glamglow is certainly one to look into. This product is packed with their "Super Six Acid Blend", including Lactic Acid, Salicylic Acid, Glycolic Acid, Mandelic Acid, Tartaric Acid, and Pyruvic Acid to help unclog and minimizes the look of pores and treat acne breakouts. This product also contains activated charcoal, which extracts dirt, toxins, debris, and impurities from within your pores. Overall, this mask will help purify your skin and clear out any dirt from your pores or creases in your skin, which will overall help clear your acne. 
Perricone MD Acne Relief Retinol Treatment & Moisturizer
If you're looking for a product with retinol instead of benzoyl peroxide, this product is an excellent option to look into. This product combines moisturizing ingredients along with skin clearing ingredients such as retinol, citrulline and niacinamide to help accelerate skin exfoliation, reduce redness, and gently erase imperfections. This product also contains salicylic acid for some additional help to clear active breakouts and prevent future ones.

Kinship Mint Mud Deep Pore Detox Mask
If you're looking for another detoxifying and purifying mask, this is an excellent option to look at. This product is made with bentonite and kaolin natural clays to help detox and clear pores, and balance excess oils. This mask is also infused with lactic acid, which exfoliates the skin, and helps clear clogged pores for smoother, brighter skin. To help strengthen your skin and promote overall skin health, this product contains moringa and kinbiome, which help rejuvenate the skin, and support clear skin and a strong skin barrier.
Kate Somerville EradiKate Acne Treatment
If you're looking for a multipurpose spot treatment, this product is worth a try. This treatment by Kate Somerville helps clear blemishes and acne scars, reduce redness and prevent future breakouts. It's infused with sulfur, which aids in eliminating existing acne spots and keeps new ones from occurring. Additionally, this product contains AHAs and zinc oxide, which reduce the appearance of enlarged pores and absorb excess oils.
Kiehl's Blue Herbal Spot Treatment
If you need an acidic spot treatment, this product by Kiehl's with 1.5 percent salicylic acid is an excellent option to test out. This product is formulated for oily skin, and the salicylic acid targets breakouts to help clear blemishes, blackheads and whiteheads. This product is also formulated with frankincense and ginger root extract to help reduce sebum production and absorb excess oil.
Clinique Acne Solutions Oil-Control Cleansing Mask
Another great product if you suffer from oily and acne prone skin and breakouts. This product keeps excess oils in check while also purifying and detoxifying the skin. This formulated heavy face mask is infused with salicylic acid and acetyl glucosamine to help remove dead skin cells that can contribute to clogged pores. Additionally, this product contains kaolin clay and laminaria saccharina extract to cleanse the skin and absorb surface oil.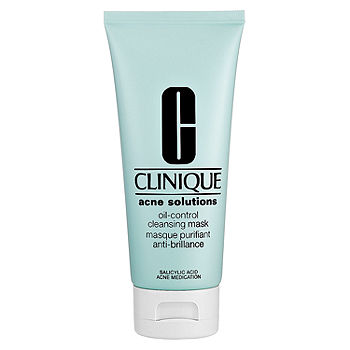 Peace Out Acne Treatment Serum
If you struggle with active acne breakouts, along with stubborn acne scars, this product provides you with solutions for both. This serum is loaded with two percent salicylic acid to visibly address and protect blemished skin while minimizing the appearance of new blemishes. This product also contains niacinamide and vitamin C, which helps brighten areas of post-inflammatory hyperpigmentation and acne scars. Additionally, this product is formulated with triluronic acid, which keeps skin moisturized and calm.
Acne can be an incredibly frustrating skin concern to overcome. There are hundreds of products on the market that are designed to improve your breakouts, clear acne scars and hyperpigmentation, and prevent future breakouts. These 10 products have great reviews and are raved about by so many who have tried them.
Lara Hill
Lara Hill is a senior Public Relations major at Emerson College from Groton, Massachusetts. She has contributed to several college publications, holding multiple editing positions and focusing mainly on sports journalism. When she is not in class or writing, she loves to sail, watch sports with her friends and family, sing with her sisters, and play with her dog, Cassie.