10 Room Decor Items To Create Your Bohemian Oasis
If you are looking to redecorate your bedroom, check out these room decor pieces to create your own little bohemian oasis! These bohemian room decor items are so trendy and create a calming environment for you. 
1. Macrame Woven Rainbow 
This first bohemian room decor piece is something that I actually have on my wishlist for my own bedroom. This woven macrame rainbow wall decor piece comes in such a pretty dusty rose color pallet, as pictured below, and blends really well with trendy bohemian furniture and bedding sets. Believe it or not, this lovely little rainbow is from Amazon and is only $20.95! There are two sizing options, either five by five inches or seven by seven inches, plus if this color pallet does not match the color scheme you are going for in your bohemian oasis, there are ten other color options available in the same sizes for the same price. This piece would add such a fun, whimsical element to the room and would even look perfect in a nursery if you are welcoming a little one soon!
2. Pressed Flower Curtain Tie-Back Set
Urban Outfitters is a store known for its eclectic, bohemian style and their home range is absolutely stunning! One of my favorite items they have available on the website right now is this pair of gold, pressed flower curtain tie backs. These two little objects allow you to tuck your curtains back and let natural light fill your bedroom. This pair retails for $39.00 and adds such a pretty and vintage vibe to your space.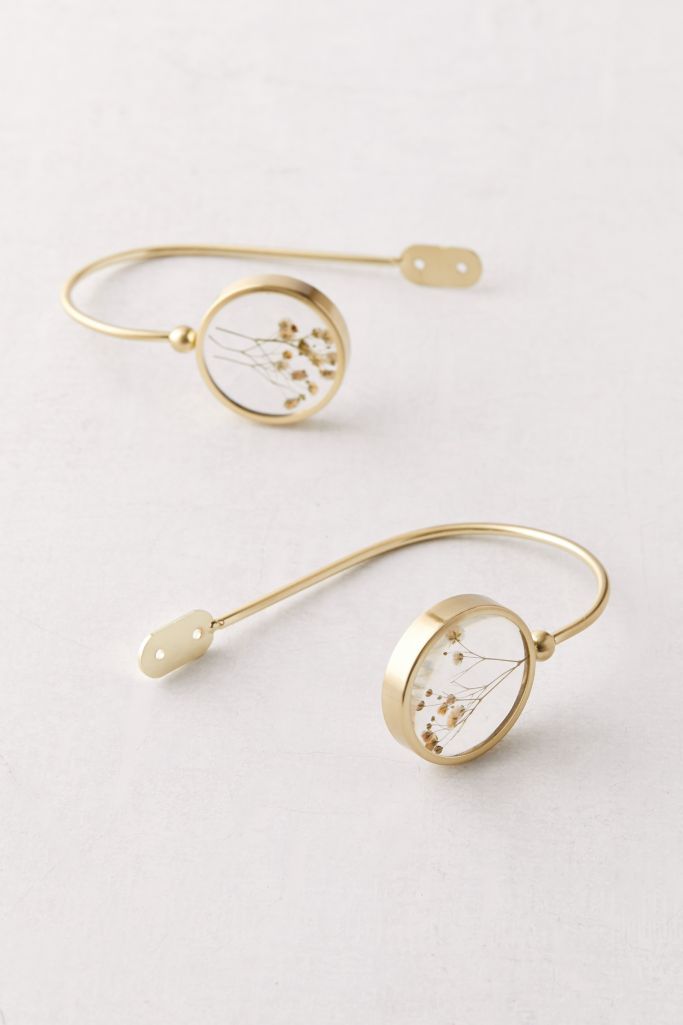 3. Rattan Table Lamp
Every bedroom needs good lighting, right? Urban Outfitters is coming through again with your bohemian room decor necessities, to include this gorgeous rattan table lamp. This lamp is a bit pricey, retailing for $89.00, however, its lantern inspired design when combined with a warm light bulb gives off such a magical glow that is so worth the price! Rattan, the main material used in this lamp's construction, has been trendy for several years now and is certain to remain in style for many more years to come, thus you can be sure that investing in this piece will not be money wasted.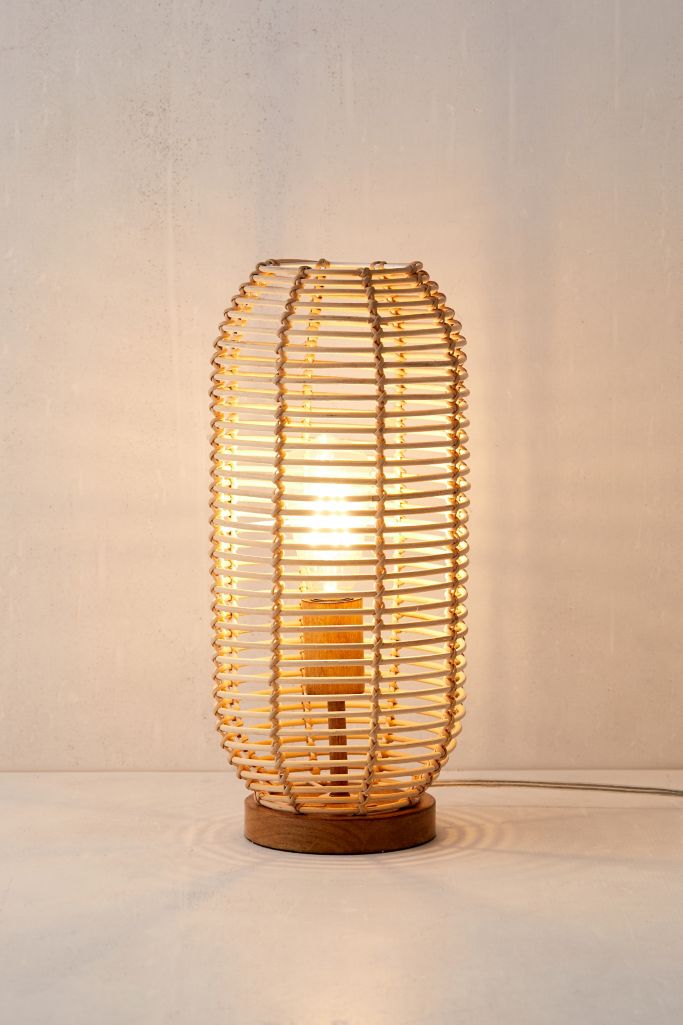 4. Velvet Quilt Set
Next up is bedding. Buying a bedding set that includes a quilt or duvet and pillow shams is a great way to save money and ensure that you get a cohesive-looking bed. If you want to mix and match though,  I have had my eye on this velvet quilt set from Target for months now! It comes in eight colors, the one pictured below being bronze, and is from Target's brand, Opalhouse so you know it gets the bohemian decor stamp of approval. This quilt is $80.00 for a full or queen-sized bed and is machine washable! It is sure to add next-level comfort and look absolutely perfect in your own personal bohemian palace. 
5. Blue Tasseled Floor Pillow
Extra seating options are always nice to have in your bedroom in case friends come over to hang out, or you just want a nice spot to read in! This geometric patterned and tasseled floor pillow is the perfect item to add extra seating in your space, as well as a nice design element. It is from Target, one of my absolute favorite places to shop for room decor, and is approximately $80.00. Whether you have your own place, are living at home with your family, or just moved into your dorm room, this floor pillow is a great addition to any bohemian bedroom.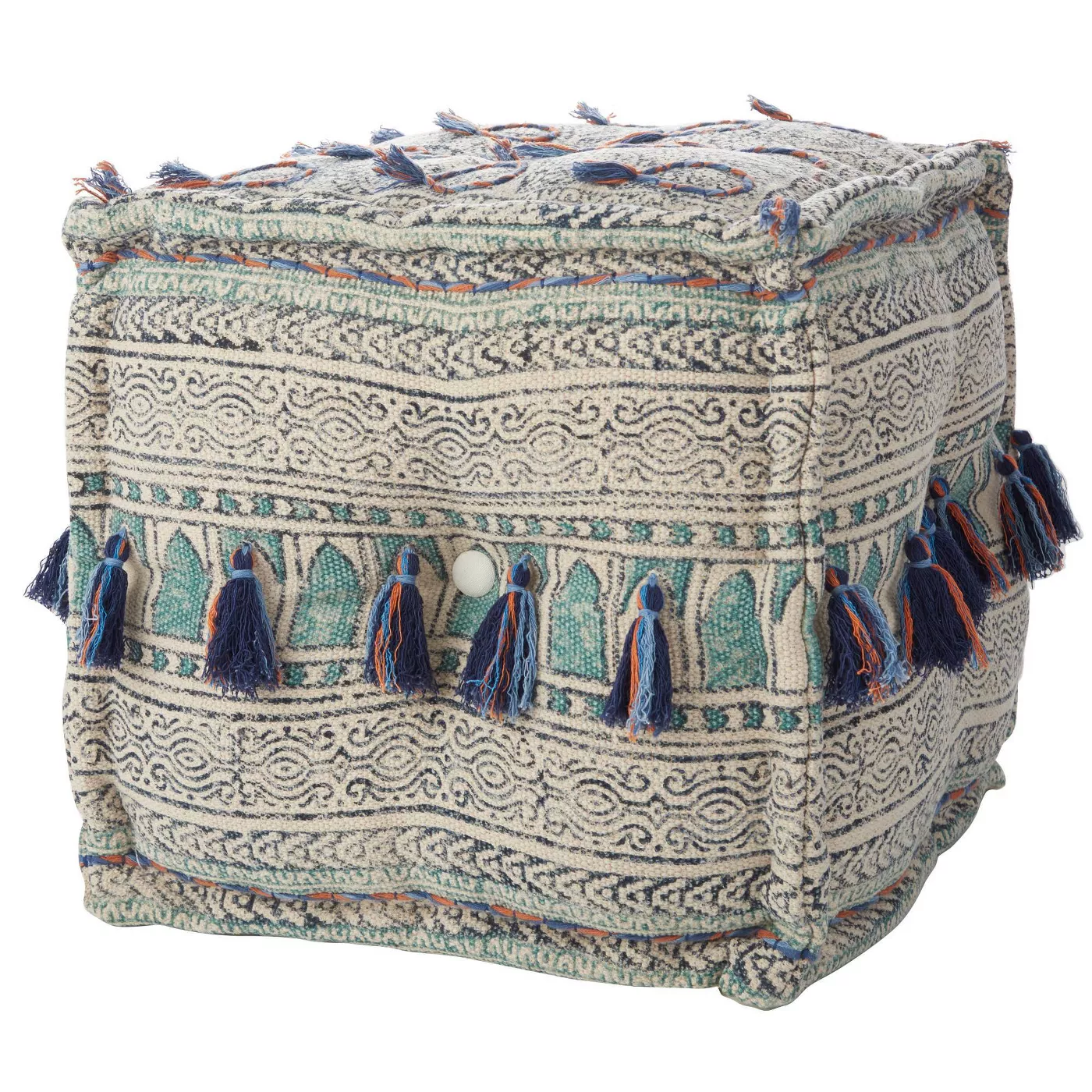 6. Floral Medallion Wall Tapestry 
Wall tapestries have been a staple in room decorating and transformations for pretty much the last decade. There are so many different designs out there to choose from, but my choice for a bohemian vibe is definitely this floral medallion wall tapestry that is surprisingly just from Amazon. This retails for only $20.99 and is fifty-nine by eighty inches, which means it will most likely cover an entire wall of your bedroom. This is a great option if you want to keep yourself to a low budget and buy only a few pieces of wall decor. Wall tapestries instantly transform any room and this mauve, white, and light gray color pallet is the perfect one to finish off your bohemian bedroom makeover. 
7. Semi-Sheer Top Tie Curtains
Curtains are a bedroom must-have, whether you want to block out the bright sunrise and sleep in or just want to cover up those ugly blinds. These semi-sheer white curtains are so pretty and add a nice feminine touch to any room. I like these specifically due to the tie detailing on the tops of the curtains. This makes them a bit different than your average sheer curtains and ensures that they stay in place! Amazon offers these for you to purchase for $19.99, which is such a steal. 
8. Wooden Triangle Storage Shelving
If you need a bit more storage but do not want it to take away from the design aesthetic of your bedroom, consider this wooden triangle storage shelf unit from Urban Outfitters. This is $79.00 and has four tiers of shelves that grow larger as you travel down the shelving unit. The bamboo and white design are neutral so they will go nicely with any sort of bohemian color scheme. There are endless possibilities to how you can decorate these shelves and use them to store your stuff! 
9. Canvas Art Print
If a wall tapestry is not what you are looking for, or you are in need of additional wall decor, this canvas art print from Urban Outfitters is such a cool option. Nadja is the artist that created this piece that is available in eight by ten to twenty-four by thirty size options. You can also choose between black and white frames to polish off this beautiful art piece. This piece starts at $69.00 for an eight by ten print with a frame of your choice and is sure to radiate great energy into your space.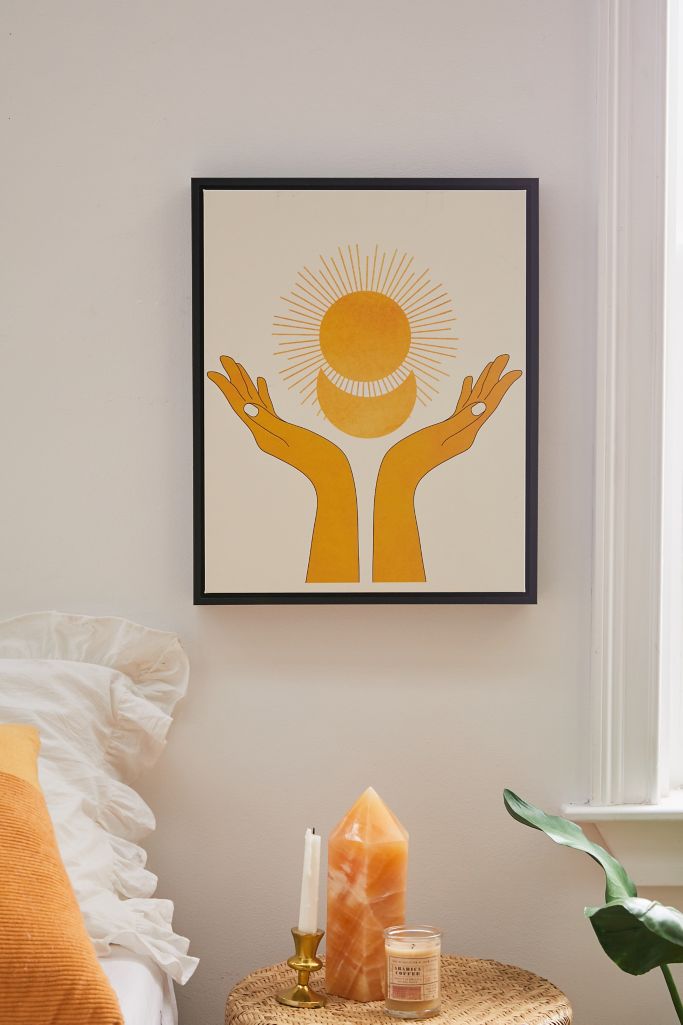 10. Vintage-Inspired Bedframe
Now, new furniture is not necessary for a room makeover, however, if you are in the market for a new bedframe then this one from Target would be perfect to balance the bohemian room decor you choose to decorate with. This bed is a Victorian-inspired pipe bed, which goes with any kind of decor, not just bohemian room decor, and is on sale currently for $415.99. The antique white color of the bed frame combined with this classic vintage design is such a nice piece to invest in!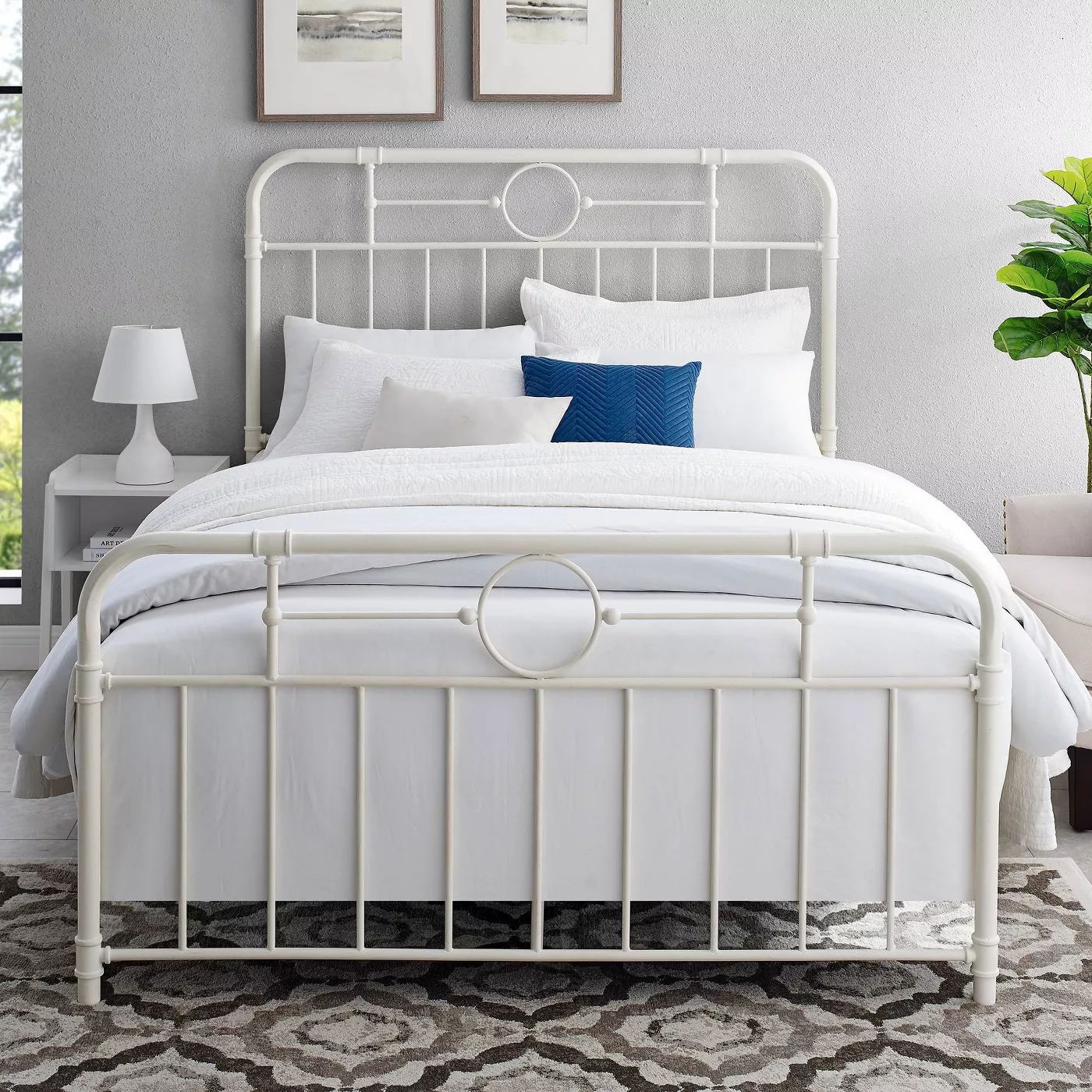 These bohemian room decor pieces are all such cute ideas to mix and match to create for your perfect sanctuary! What are your favorite pieces? Let us know in the comments!
Featured Image Source:https://weheartit.com/entry/349303505