Prom night is a time to show off your style, but it's also a long night to spend in horribly uncomfortable heels. If you want to dance all night without worrying about your feet, here are 12 prom shoes that will keep you comfy!
1. Black Cutout Wedges
Black will go with any prom dress, making these cool shoes a great choice. The wedge heel is much more comfortable than high heels and you'll still get the height you're looking for. This design is intricate but not too distracting so you'll look so chic at prom!
Copy The Look:
2. Silver Knit Ankle Booties
These are the most luxurious comfy shoes that a girl can find. The sock boots trend is glamorous and fashionable, but insanely comfortable too! These shoes will go great with a shorter dress so you can show them off!
Copy The Look:
3. Transparent Wedges
If you consider yourself to be bold and trendy, these are some prom shoes that you have to try! The transparent shoe look has been seen on the runway and on the feet of high profile celebs so you'll feel like a star wearing these to prom!
Copy The Look:
4. Multicolored Sequin Ballet Flat
These prom shoes are so fun and will bring another element to your look! Since they're ballet flats, you'll be totally comfortable all night while still getting a dramatic look from your shoes. Because the sequins are multicolored, they'll look good with whatever dress you decide to wear!
Copy The Look:
5. White Slingback Low Heels
If you really want to wear heels but worry about walking around in stilettos all night, these low heels are a great option for you! This style of heel in white is incredibly fashionable right now so you'll look chic and elegant, and still be comfy!
Copy The Look: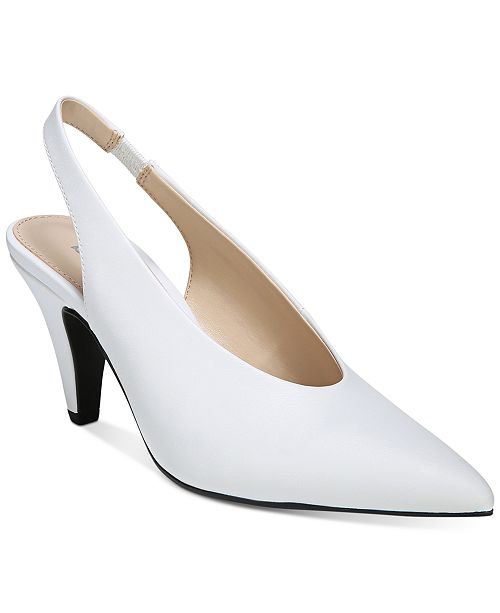 6. Glitter Sneakers
If you really want to be comfortable at prom while also making a big, bold statement, you need to find a pair of glitter sneakers! This is definitely a memorable look that won't be worn by anyone else so you'll totally steal the spotlight when you wear these to prom!
Copy The Look:
7. Black Studded Ankle Boots
If you're rocking an edgier look for prom, these are the shoes for you! The black studs are classy and will match lots of colors of dresses. These shoes are comfier than other heels and will be the perfect complement to any short dress so you can show them off!
Copy The Look:
8. Velvet Ankle Strap Heels
If you still want the heel look and height, these block heels will definitely keep you comfortable! These prom shoes are super elegant because of the velvet and will make you look incredibly glamorous at prom!
Copy The Look:
9. Rose Gold Block Heels
This is another style of heel that will give you the height you're looking for without the extra pain. The rose gold color will work great with a variety of dresses and add some drama to whatever look you're wearing to prom!
Copy The Look:
10. Jewel Adorned Sandals
If you hate heels, you can wear these glamorous sandals to prom! The jewel details make these prom shoes stand out and will add some excitement to the rest of your prom look. Because these sandals are so comfy, you'll definitely be wearing them after prom!
Copy The Look:
11. Sparkly Bow Heels
If you want to flaunt your feminine style, these are the perfect prom shoes to wear! The low heel will keep your feet comfortable all night and they'll complement your dress too. The bow detail is super sweet but also elegant, which is perfect for prom!
Copy The Look:
12. Satin Tie Chunky Heels
If you want a more interesting look, these satin tie heels definitely will bring some drama to the rest of your outfit! The satin ties are super sweet but also sultry if you show off these shoes by wearing a short dress. The thick heel is so much more comfortable than pumps so you can wear these all night!
Copy The Look:
Which one of these comfy prom shoes would you wear to prom? Let us know in the comments below!
Featured Image Source: https://www.instagram.com/p/BvAtOJBFjKN/
Comments, Questions & Rants
Brianna Lesnick
I've got a case of wanderlust, I'll never stop traveling because my goal is to go to every single continent. I've made it to four out of seven so far. I graduated from Emory University in May of 2018 with a degree in English and Political Science. I will be attending law school this fall but in the meantime I write, travel, and love to be outside in nature.