Pretty Little Liars Fashion Inspiration
Whether you watched the show or not, you probably know that "Pretty Little Liars" had some of the best fashion on TV when it was around. There was something for nearly everyone, and each Liar had a distinct style that reflected some part of their personality.
Aria Montgomery
Undoubtedly PLL's most indie and edgy-chic Liar, Aria was often seen wearing boho-inspired clothing like feather earrings, funky hats, and lots of bright prints and patterns. To copy Aria's style, pair a leather (or faux leather) moto jacket with a tight printed skirt, ankle boots, and a flowy top. Don't forget to add some cool jewelry to top off the look, but do avoid having an affair with your teacher, please. If you're headed to a rock concert or a music festival, hers is the style to imitate. It's chic, it's edgy, and it's incredibly cool and creative.
Get the look:
Hanna Marin
Hanna's style is probably the most difficult of all the Liars' to pin down and label since she's always wearing the latest trends. Sometimes rocker, sometimes vintage, sometimes girly, Hanna seemed to change her style constantly but somehow always looked cute. The most reliable part of any Hanna outfit was a belt or cropped jacket though, since she always seemed to emphasize her waist and long legs. It's easy to see why this Liar decided to work in the fashion industry, given her incredible sense of style.
Get the look: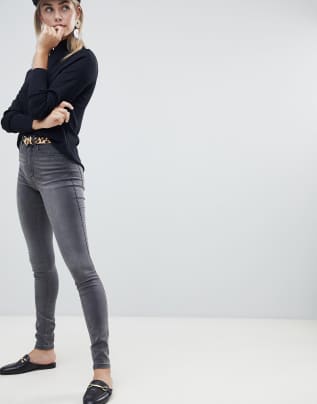 Emily Fields
Emily's style is the easiest of all to replicate; it typically consisted of a pair of pants, a loose-fitting tee or tank layered over a cami, and some sort of button-down layer on top. Denim, denim, denim. For Emily, everything is denim. Simply pair a graphic tee with combat boots and dark jeans, add a button-down shirt, and there you have it! You'll be dressed like the most athletically-inclined and laidback member of the Liars in no time at all. This is the ultimate look for dressing down while looking great. Emily is casual but still looks amazing, and there's even a bit of edge to her style to keep it from looking boring.
Get the look:
Spencer Hastings
PLL's resident academic-chic Liar, Spencer always looked so put-together and ready to ace any test thrown her way. She loved a good collared shirt paired with a cardigan or sweater and some Oxford or other type of lace-up shoes. Layering was truly the name of the game with Spencer's style, and she was usually seen in some type of navy. Coats were a big part of her wardrobe as well, and in later seasons, her outfits were often incomplete without an oversized trenchcoat or a blazer. Truly a style icon, and a great source of inspiration if you're going to a job interview.
See Also
Get the look:
Alison DiLaurentis
Ali is probably the girliest of all of the Liars, and she typically wore jewel tone or pastel colors in her wardrobe. Layer a boldly colored cardigan over a printed dress and add some big silver earrings, a large bright purse, and your most coy smile. Ali's wardrobe is definitely for anyone who wants to dress up and look girly and cute, and there's always at least one item in her outfits that's a statement piece. Example: this bright pink tote bag she carried in the crook of her elbow that makes her look much older than a high schooler. If you want to copy Ali's style, make sure to incorporate something eye-catching in your outfit. Maybe avoid pretending to be dead, though. That's not a good look on anyone.
Get the look:
Who's your PLL style inspiration? Leave a comment below! -A
Featured Image Source: https://weheartit.com/entry/332733359?context_page=11&context_query=pretty+little+liars&context_type=search