10 Moisturizing Products To Try If You Have Oily Skin
If you struggle with managing the excess oil on your face, it might be difficult for you to find a moisturizer that will keep your skin hydrated without making your skin even oilier. Luckily, there are dozens of products on the market that can help you with just that. Whether they're an inexpensive drugstore option or something a little more high end, there's certainly a moisturizer that will help you with all your oily skin care needs and concerns. Here's 10 products to try to hydrate your skin while maintaining your excess oils. 
Neutrogena Hydro Boost Water Gel
This affordable drugstore product is highly recommended by dermatologists. This non comedogenic, alcohol free and oil free moisturizer contains hyaluronic acid and glycerin, which are extremely hydrating products that are not too heavy. This gel based formula is very lightweight and will hydrate your skin without overwhelming your oily skin. This product is fairly affordable and can be found at most drugstores.

Cerave Hydrating Hyaluronic Acid Serum
Although this is not your typical moisturizer, this serum is packed with hydrating ingredients that can be used as a stand-alone moisturizer. This product contains hyaluronic acid and vitamin B, while also producing an anti-inflammatory effect on the skin. This product also contains three essential ceramides, which help boost the overall health of your skin and helps make it similar to a moisturizer while still containing serum-like properties. This is another very affordable product, sitting at $14, and can be found at most drugstores. 

Boscia Green Tea Oil-Free Moisturizer
This product is a bit more on the pricier side, but is an excellent product to help you manage the excess oil production on your skin. This moisturizer contains Japanese green tea, which is an antioxidant that will help nourish your skin and soothe any redness or irritation. Additionally, this product contains burdock root, which can help control oil production and sebum, which is essential for those who have oily skin. Additionally, this product is a great mattifier which makes it great for applying before your makeup to help maintain your oils throughout the day. Sitting at $38, this product is definitely worth the slight splurge to help reduce the production of oil on your face. 

Cetaphil Pro Oil Absorbing Moisturizer SPF 30
If you need a product that will absorb the excess oils that sit on top of your skin, the product will certainly help you out. This product contains "micro-pearl technology", which mattifies and absorbs surface level oils on your skin. This product also contains SPF, which protects your skin from the sun's harmful UV rays. Additionally, damage from UV rays can stimulate additional oil production, so the inclusion of SPF in this moisturizer will help prevent those effects from sun damage. This product is quite affordable and can be found at most drugstores. 
First Aid Beauty Skin Rescue Oil-Free Mattifying Gel Moisturizer
This product is another excellent mid-range moisturizer that provides the perfect balance of oil control and hydration. This vegan, non comedogenic formula has a water-break texture and is packed with antioxidants to provide you with fresh, lightweight hydration for your skin. Additionally, this product contains a unique blend of ingredients  such as FMLT Sebocure and Zinc PCA that help reduce the sebum production and diminishes excess oils. This product is a bit of a splurge, sitting at $30, but is worth the price for its well-balanced formula. 
Farmacy Daily Greens Oil-Free Gel Moisturizer
If you're looking for a moisturizer with clean, vegan ingredients, this product is an excellent option to help you combat your oily skin. This product contains purifying ingredients such as moringa seed extract and moringa water, which helps remove impurities caused by pollution in the air. Additionally, this product contains hyaluronic acid to help hydrate the skin, along with willow herb and niacinamide to help reduce the production of excess oils and minimize the appearance of pores. While this product is a bit more up there in pricing, its multifaceted functions make it a great option for those who need help detoxifying their skin. 
Versed Dew Point Moisturizing Gel-Cream
If you still want the benefits of a cream moisturizer while still containing your excess oils, this affordable product is for you. This product has a unique cream-gel formula that will instantly hydrate your skin without leaving it feeling greasy or heavy. It contains sodium hyaluronate and aloe leaf juice, which locks lightweight moisture into your skin. It also features natural antioxidants  such as green tea leaf extract that will detoxify and soothe irritated skin. Sitting at just $14, this product is a great choice if you want simple ingredients and a refreshing appearance on your skin.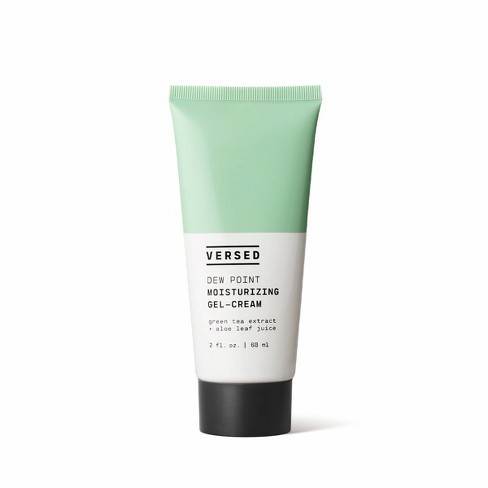 Tatcha The Water Cream Moisturizer
Although this is by far the most expensive product on this list, this Tatcha moisturizer comes with numerous benefits that make it worth the splurge. This product is infused with Japanese Wild Rose and Leopard Lily, which helps smooth your skin texture, tighten pores, and control excess oil production. Additionally, this moisturizer contains multiple anti-aging Japanese superfoods to help give your skin a smooth, lifted and youthful glow without leaving it feeling greasy or sticky to the touch.
Clinique Dramatically Different Hydrating Jelly
This well-renowned product is an excellent lightweight product for those who need a dose of hydration. This product is formulated with a "Clean Shield Technology", which helps provide your skin with protection against pollution for up to 24 hours upon application. It improves your skin's moisture barrier and locks in the hydration to help you rock smoother, healthier and more resilient skin.
Glow Recipe Watermelon Pink Juice Moisturizer
If you struggle with inflammation in addition to your oily skin, this is an excellent option for you to try out. This lightweight formula is made with watermelon extract and hyaluronic acid to help hydrate the skin and soothe any redness. This gel moisturizer is also formulated with antioxidants to clarify and help protect your skin from pollution and stressors, which will additionally help reduce redness and leave you with smooth, glowing skin that doesn't feel greasy or heavy. 
If you struggle with oily, irritated skin, the thought of putting a heavy cream moisturizer on top does not sound like the best option. Luckily there are so many lightweight gel formulas that will help you balance oil control and hydration. Hopefully this list will help you figure out what product is right for you based on your skin concerns. 
Lara Hill
Lara Hill is a senior Public Relations major at Emerson College from Groton, Massachusetts. She has contributed to several college publications, holding multiple editing positions and focusing mainly on sports journalism. When she is not in class or writing, she loves to sail, watch sports with her friends and family, sing with her sisters, and play with her dog, Cassie.