11 Moisturizing Foundations To Try Out This Winter
As we head into the winter time, the cold weather will slowly start to dry our skin out. While there are many precautions to take to prepare for this particularly dry skin season, adding a hydrating foundation into the mix can certainly help keep your skin nourished and moisturized throughout the season. Whether you want to go for something more affordable or high end, there are dozens of hydrating foundations on the market for you to choose from. Here are 11 of the best hydrating foundations you should look into purchasing for this upcoming winter season. 
Armani Beauty Luminous Silk Foundation
This award winning, oil free foundation is perfect for those who need a medium to buildable coverage foundation to help them get through this winter. This foundation is extremely light weight and provides a natural finish. It is extremely buildable, with layers adding extremely smoothly on top of one another. Overall, this foundation provides your skin with a flawless and radiant finish to keep your skin looking perfect all day long. 
BeautyBlender Bounce Liquid Whip Long Wear Foundation
This foundation is for those who need a radiant glow but also want full coverage to cover any imperfections in your skin. This product is formulated with hyaluronic acid and antioxidant-rich white birch extract to help hydrate, soothe and brighten your skin. This foundation comes in 40 shades, so you'll be sure to find your perfect match. 
Make Up For Ever Ultra HD Invisible Cover Foundation
If you only need a light coverage foundation to get you through the winter, this hydrating option is perfect for you. This long lasting foundation helps plump the skin, and is infused with hydrating ingredients such as ginseng and mondo grass to support natural collagen and protect your skin. This satin finish foundation will make your skin look smoother and more radiant throughout the day while giving it that boost of moisture. 

Ilia True Skin Serum Foundation
This foundation with a unique serum formula will provide you with plenty of hydration along with a medium coverage. The serum formula leaves your face with a natural, skin like feel and will cover your imperfections with a radiant finish. Infused with ingredients such as aloe, mastic and plant-based squalane, this foundation will help hydrate your skin while minimizing your pores and locking in the necessary moisture. 
NARS All Day Luminous Weightless Foundation
This oil-free liquid foundation is a perfect lightweight, full coverage option for this winter. While this foundation had a matte finish, the product is infused with plenty of hydrating ingredients to help moisturize your skin, such as scarlet spiderling root extract and vitamins A, C, and E, which help improve discoloration in your skin and neutralize dark spots. It leaves your skin with a soft glow and will keep your skin covered up all day long. 
Glossier Perfecting Skin Tint
If you're looking for a sheer tinted moisturizer that's formulated with clear ingredients, this is certainly one to look into. This extremely breathable and ultra thin formula gives you an even dewy finish on your skin and helps smooth out any uneven texture. It's also formulated with glycerin, which helps lock in moisture and keep your skin hydrated throughout the day. Although it only comes in 12 shades, this tinted moisturizer is extremely adaptable to your skin tone and won't cover up it's natural beauty and features. 
Fenty Beauty Pro Filt'r Hydrating Longwear Foundation
This cult favorite, full coverage foundation is an absolute staple for those looking for a foundation that will cover it all while moisturizing your skin. This foundation evens out your skin tone instantly and covers up even the darkest or reddest spots on your face. This product features grape seed oil to help lock hydration into your skin and gives you a natural finish,
See Also
PÜR Love Your Selfie Foundation
If you're looking for a full coverage foundation that will help rejuvenate your skin, this one is definitely worth considering. This foundation is infused with a combination of ginseng, green tea and vitamin B that helps refresh the look of your skin. This foundation comes in 100 shades, so you are sure to find your match among them all. This foundation also helps your skin fight against sun and blue light damage. 
Purlisse Beauty Illuminating BB Cream
This best selling radiant BB cream is definitely a product to consider this winter. This product is infused with SPF to help protect your skin from sun damage. Additionally, this natural coverage BB cream is infused with hydrating goji berry and jasmine to help keep your skin looking radiant and moisturized all winter long. This unique formula has a matte and glowy finish at the same time, containing light reflectant pigments to help your skin look radiant all day long.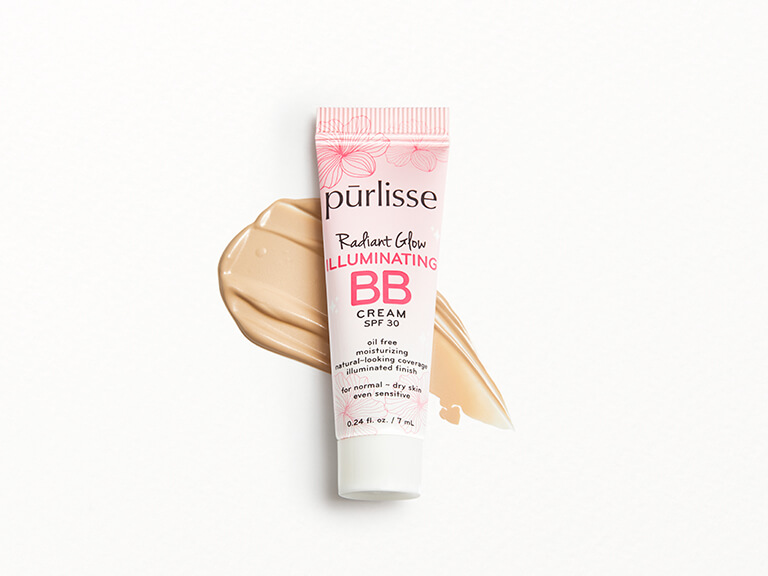 Iman Cosmetics Luxury Radiance Liquid Makeup
If you're looking for a more budget friendly, drugstore option to give you all the hydration and nutrients you need in a foundation, this one is definitely worth your time and money. This foundation is filled with vitamins and minerals such as  vitamin E, acai, magnolia, and cottonseed plant extracts to help keep your skin hydrated and fully covered for the entire day. This foundation gives you light, luminous and oil free coverage to keep your skin looking flawless. 

Bobbi Brown Skin Long-Wear Weightless Foundation SPF 15
This lightweight, long-wear, medium coverage foundation is going to solve all of your winter foundation needs and concerns for your skin. This product is formulated with glycerin and shea butter to help keep your skin hydrated and moisturized all day long while keeping your skin protected from the sun with the infused SPF 15. This foundation has a skin-like matte finish that won't dry out your skin and will keep it covered all day long. 
Finding your perfect hydrating winter foundation can be a hassle, depending on how dry your skin gets in the chilly months of the year. Hopefully this list gives you an idea of what foundations will help with your winter skin care concerns and will keep your makeup and skin looking flawless all season long. 
Lara Hill
Lara Hill is a senior Public Relations major at Emerson College from Groton, Massachusetts. She has contributed to several college publications, holding multiple editing positions and focusing mainly on sports journalism. When she is not in class or writing, she loves to sail, watch sports with her friends and family, sing with her sisters, and play with her dog, Cassie.