Men's Clothing Websites With The Best Deals
Men's clothing websites provide great deals for Spring and Summer apparel and deals on winter clothing that leave the store shelves to make room for Spring and Summer items. Here are currently some men's clothing websites with the best deals to check out.
ASOS
Asos is currently offering a sale on their clothing, and they have a several great pieces any man would love to add to their closet. You can find clothing to keep you comfortable throughout the year and seasons to come. Jeans, shoes, knitwear, hoodies, sweatshirts, coats, and shirts are all available to create the perfect looks men will love to rock in 2021.
Nordstrom
While Nordstrom may not be the cheapest place to shop, they run sales on a lot of clothing and have great men's styles. If you are lucky, you can catch Spring and Summer deals or catch them in between seasons when they start putting clothing from the previous season on sale to make room for new clothes. Check out their website for great styles and accessories for men.
BooHoo
BooHoo is currently offering sales in men's clothing, but they also offer men's clothing at a reasonable price most of the time. You can find sportswear and streetwear as well as plus sizes for men. Many items run from $6.00 to $50.00, depending on the style of clothing item. For example, they have tracksuits that are $50.00 while their t-shirts and vests run about $6.00. Several items are $18.00 and jackets that are $30.00, which is great considering how expensive jackets and coats run through various brands; you could end up spending over $100.00 on just one jacket or coat at some places. Whether you are looking for activewear or leisure clothing, BooHoo has the clothing to best fit your needs and sizes.
J. Crew
J. Crew offers sales and other deals throughout the year; they are currently offering a sale on their clothing for men's and have some great styles available. Whether you are looking for something laidback or a little more dressed up, you will find a great look for a reasonable price. If you consider how expensive the clothing can be on a normal basis despite where you shop, it is always a great idea to hunt down when these places have sales or offer special deals.
Old Navy
Old Navy is a go-to for males or females in getting deals, grabbing great clothing styles, and finding affordable ensembles for various seasons. There are many t-shirts,  pop culture styles, pants, shorts, jackets, sweaters, and much more for Old Navy men. Not only is Old Navy a great place to shop normally, but they often run sales on their clothing or have BOGO deals to appease any apparel shopper.
H&M
H&M offers great clothing and style choices for men and women. H&M currently has a sale going on, and they frequently offer sales on their clothing, especially ones that offer an incentive to buy now and save later. For example, they will offer you to purchase an item now and then get a coupon code to use later that offers 10% off an item. Many times they offer what they call member perks. So if you are looking to save later for other types of clothing styles such as Spring or Summerwear, it could be in your favor to grab an item to obtain that deal in the future. Either way, they often offer incentives or reasonable prices on their clothing in sales or in-between seasons.
Pac Sun
If you are looking for Summer attire and don't want to break the bank, Pac Sun is a great option. Pac Sun offers graphic t-shirts, shorts, jeans, and hoodies to appease any male's fashion desires for the Summer and even fall days.
Urban Outfitters
Urban Outfitters offers many sales, including right now where they have men's clothing on sale. You can find bottoms, tops, accessories, and more at Urban Outfitters for men. Pants, shirts, hoodies, beanies, shoes, belts, and more are found on the website. If you are looking for graphic T-shirts, you are in luck because Urban Outfitters has some great pop culture graphic t-shirts for sports fans, music fans, or shows and franchises. Many 1980s and 1990's inspired graphic t-shirts feature favorite bands, shows, and iconic moments or sports teams. Be sure to check out the sales section of Urban Outfitters for great deals. Check the website often for sales on certain clothing such as lounge or intimates if you are looking to grab something in particular at a good price!
Express
Express offers sales and has a section titles Express Outlet. If you are familiar with outlets, you know you will find great deals on clothing or accessories instead of other places. The website offers you a look inside the Express outlet and the sales section, whether male or female. There are great styles that anyone can pull off and are flattering on just about anyone. You will find clearance items that fall under the categories of shirts, pants, accessories, jackets, and more. The Express Outlet tab showcases shirts, pants, and other accessories marked down to as low as $11.00, and other prices show sales of 40% off items. Whether you are looking for a leather jacket, a great pair of jeans, or a form-fitting comfortable shirt, Express has it all. Check out the website for more deals and selections.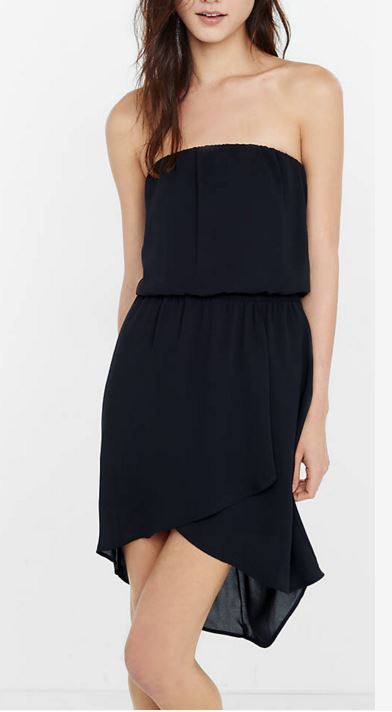 Banana Republic Factory
Banana Republic Factory offers great men's clothing and styles at factory prices similar to what is found in outlet stores. There are many jackets, pants, jeans, shirts, shoes, and other accessories for affordable price tags. At times, the Banana Republic Factory will offer an extra 50% off clearance items. It pays to check their website frequently to see what new deals they offer on their already appealing prices. Find denim jackets, hoodies, water-resistant coats, and more all on their website for outstanding prices. Grab a graphic t-shirt, pants, or other items in the $14 price range and up.
When you are on the hunt to spruce up your look, it is key to knowing when to shop to find websites and clothing on sale. Many places have sales or provide great deals for men and women alike. Doing your research is key, and if you stumble upon a website that hasn't yet put out its sales, you can often sign up for newsletters or save the websites and check frequently. Who doesn't want to get something at 50% off or find BOGO deals? Saving money is important, especially with current events, but that doesn't mean you have to sacrifice style. So be sure to check out the sites listed above and let us know what websites you've found for great men's clothing for a great price!
Featured Image Source: https://weheartit.com/entry/352164301
Sheena Carrasquillo
I am a writer, artist, mother, and wife. I am from California but currently reside in Arizona. I have a BA in English with a concentration in writing. I have a certificate in SEO through Universal Class. I love music, art, writing, pop culture, gaming, anime, and Disney.