10 Mascaras To Try To Give You That False Lash Effect
Mascara is an incredibly important step in your makeup routine, especially for those who have short lashes. Mascara can help lift your lashes and give them more volume and definition. However, some mascaras have different benefits than others. If you want to rock that false lash look without having to worry about putting those falsies on, there are so many mascaras out there that will help you achieve that look. Here are some of the best mascaras on the market, both drugstore and high end, that will give you the voluminous lashes you have always wanted. 
Maybelline Lash Sensational Mascara
This is possibly one of the most underrated drugstore mascaras on the market and it is my ride or die product for getting that false lash effect. The curved brush helps you give your lashes that beautiful fanned out, fluttery look. This mascara is also excellent for lifting your lashes and adding intense volume without looking clumpy. If you layer this mascara a little bit, it will give your lashes a stunning false lash effect that will make everyone think they're fake. For its incredibly affordable price point, this is definitely a mascara you should look into. 

Benefit Bad Gal Bang Mascara
If you want a mascara that will give you all the volume without clumping your lashes together, this is an excellent option. This mascara has a fairly skinny wand, which will help you apply the product to your lashes more precisely and give them the shape you want. This oil-free mascara is excellent for building up the volume of your lashes and gives you control over what kind of shape you want them to be.

Two Faced Better Than Sex Mascara
This infamous mascara is a staple in so many people's makeup collections. With its massive hourglass shaped want, this bestselling mascara is excellent at packing the volume onto your lashes. It packs the volume at the base of your lashes, which allows them to appear more full overall. While it's excellent at packing on volume, it does not make your lashes look clumpy or give them that spidery look. This mascara also comes in a waterproof formula for those who want their mascara to last all day long.
L'Oreal Lash Paradise Mascara
This mascara was all over the beauty community a few years ago for its ability to transform your lashes for such an affordable price. This mascara is almost a dupe for the Better Than Sex mascara, with its large hourglass shaped wand and its voluminizing formula. This mascara will lift your lashes and coat them evenly with just one coat. With its extremely affordable price, this mascara is definitely one you should check out on your next trip to the drugstore.
Benefit They're Real Mascara
If you struggle with shorter lashes and are looking for length in addition to increasing the volume of your lashes, this mascara will work wonders for you. The wand features staggered bristles, which helps it disperse the product evenly on your lashes. This mascara grabs onto your lashes at the root, which gives you a more voluminous base to your lashes to boost that false lash look. Additionally, this smudge proof formula will help your lashes look jet black and full all day long. If you're looking for a mid-range product to solve your lash lengthening issues, this mascara is an excellent option to check out. 

Yves Saint Laurent Volume Effet Faux Cils Mascara
If you want to splurge a little bit on a volumizing mascara that comes with benefits beyond your false lash effect, this is an option you should look into. This mascara is infused with ingredients to help boost the overall health of your lashes, such as Moroccan argan oil and pro-vitamin B5. This lengthening and volumizing mascara will give you the false lash look you want, while nourishing your lashes, which will lead to a fuller look over time. 

Smashbox Full Exposure Mascara
This mascara is an excellent option if you want extra volume in the roots of your lashes without having a clumpy, spider-like look. This smudge and flake free product grabs onto the roots of your lashes with its tapered wand to add length and volume. This product adds a gorgeous and glossy jet black color to your lashes and helps lift and curl them while applying. This is a fantastic option to give your lashes that fluttery false lash effect. 
Thrive Causemetics Liquid Lash Extensions Mascara
This mascara will give you the look of lash extensions without the heavy price tag and the hours of waiting. This mascara contains polymers that wrap around each lash to extend the length of your lashes. This lengthening mascara is also infused with ingredients such as castor seed oil and shea butter to nourish and condition your lashes and improve their overall health and growth.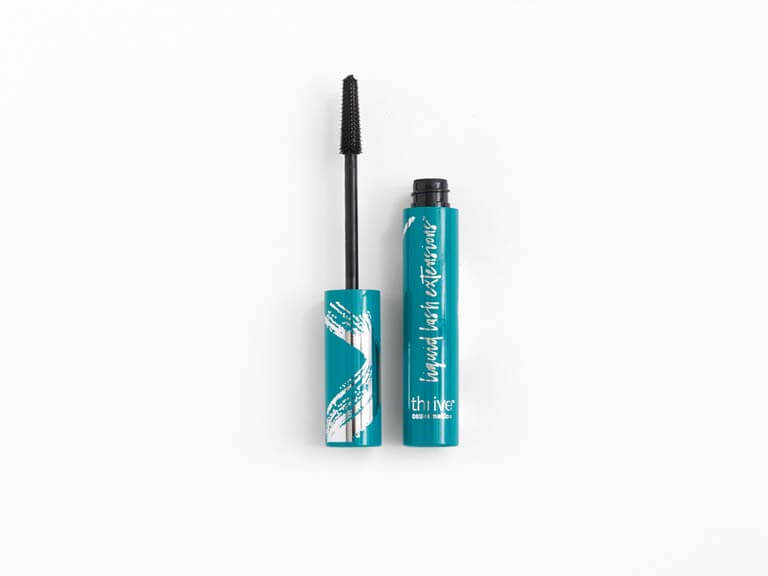 Maybelline Falsies Lash Lift Mascara
Maybelline is known for being one of the best drugstore mascara brands out there, so I had to include another product by their brand on this list. This mascara gets rid of your need for a lash curler, as it instantly lifts your lashes with just one coat. The hourglass shaped wand evenly distributes the mascara across your lashes without making the application messy. This mascara gives you those gorgeous, voluminous lashes without adding a heavy look to your eyes. 
Anastasia Beverly Hills Lash Brag Mascara
This mascara is perfect for those who want control over how much product goes on your lashes. This mascara is incredibly buildable, with each coat adding more volume and length. This product's wand is an hourglass shape, similar to the two faced better than sex mascara. With just a few swipes, this buildable mascara will give you thick but not chunky lashes that everyone will be complimenting you on. 
Although there are hundreds of mascaras on the market, they all have different formulas and wands that will give your lashes a different look. Hopefully this list helps you narrow down which mascara is right for you and will give you that extra lift that you're looking for.
Lara Hill
Lara Hill is a senior Public Relations major at Emerson College from Groton, Massachusetts. She has contributed to several college publications, holding multiple editing positions and focusing mainly on sports journalism. When she is not in class or writing, she loves to sail, watch sports with her friends and family, sing with her sisters, and play with her dog, Cassie.