8 Makeup Storage Ideas Every Girl Can Use
For any girl who loves makeup and owns a fair amount of products, they are faced with the dilemma of figuring out how and where to store it all. For those of us with small apartment bathrooms, this can be quite tricky. We've come up with eight makeup storage ideas to help solve your problem and find a place to store all of your amazing products!
1. The Alex drawer unit from IKEA
This option is rather pricey, but for the girl who owns a ton of products and needs a place to organize it, it's worth the price. You can add dividers to each drawer and organize the drawers to have one type of product in each one. It's super helpful so that you can easily find the exact product you want to use in a pinch!
Recreate this look:
2. Drawer organizer cart from Target
For something a little less pricey, you can always go on the hunt for something like this at Target. The drawers are smaller and won't hold as much as the organizer from IKEA, but it's great for the girl who's makeup collection isn't quite as massive.
Recreate this look:
3. Vanity makeup holders
Here's a makeup storage idea that's perfect if your collection includes a ton of lipsticks and lip glosses, but only a few eye shadows and blushes. Get some lipstick and lip gloss holders and you are pretty much set.
Recreate this look:
4. Makeup organizer for desk or vanity
Drawer sets like this allow you to store your makeup on your desk or vanity or bathroom counters. They are great for smaller makeup collections and the clear unit allows you to see what you have!
Recreate this look:
5. Turn an IKEA Raskog into a makeup storage unit
Grab some dividers, place them in the Raskog in a way that you like, and bam, you have a makeup storage unit on wheels.
Recreate this look:
6. The IKEA Malm Dressing Table
The Malm dressing table from IKEA is a makeup storage idea that works if you use a bunch of dividers. The dresser will hold tons of makeup, so for those who have a huge collection, this dresser is a great solution for storing your entire collection and works well as a vanity.
Recreate this look:
7. The spinning cosmetics organizer
This spinning cosmetics organizer is perfect for anyone who has a smaller makeup collection. It doesn't hold a ton of products, but enough to hold your everyday basic stuff, so it's great if you don't own too many products, but still need a place to store them. Also, it spins and it's super cute.
Recreate this look: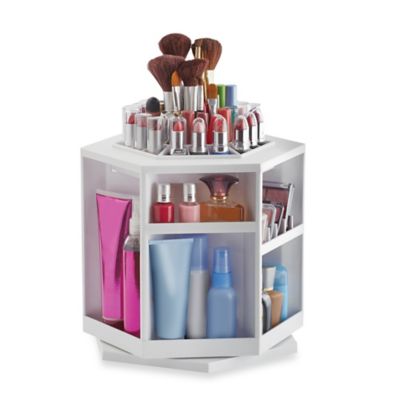 8. A makeup hanger for your door
This is probably one of the cheapest ways anyone could ever store their makeup products. Forget hanging your shoes and start hanging your makeup! A perfect place to hang this would be the inside of your bathroom door for easy access.
Recreate this look:
Did you try out any of these makeup storage ideas? What makeup storage ideas do you have? Let us know in the comments!
Featured Image Source: https://www.pexels.com/photo/accessories-adult-beauty-care-264591/