16 Long Spring Formal Dresses You'll Wear On Repeat
Long spring formal dresses are perfect not only for sorority and fraternity formals but also for any other formal events you may have coming up this spring. With so many colors and styles to choose from, it can be hard to find the perfect dress that will make you stand out among the crowd. These 16 long spring formal dresses are totally trendy, so much so that you'll want to wear them again and again!
1. Leopard Print Slip Dress
This dress combines a leopard print, which is all the rage right now, with a flattering cowl neck and a silhouette that will skim your curves. No matter your height or your body type, this midi dress is guaranteed to flatter all of your best features! You can find this dress on limelush.com in sizes small, medium, and large for $32.95, and it's worth every penny. Wear it to your spring formal with strappy heels, or dress it down for an everyday look with a pair of white sneakers.
2. Long Sleeve Chiffon Wrap Dress
This gorgeous, long spring formal dress gives off major Italian-summer vibes. It features a wrapped bodice that is guaranteed to highlight your curves in the best way possible. The self-tie sinches the waist, and the maxi skirt has a sexy slit if you're looking to show off some leg. Lulus has this dress for $74.00, and you'll be abe able to save it to wear again in the fall/winter because of the long sleeves!
3. Satin Maxi Dress
You'll be turning heads in this sleek and shiny satin maxi dress! The fitted waist tops a full and flowing maxi skirt with a side slit. Lulus sells this dress in five different sizes and in three different colors: rust orange, burgundy, and slate blue, for only $68.00. After wearing this dress to your spring formal, you can save it to wear to the next wedding you're invited to.
Get this look:
4. Gold Sparkly Dress
This is a fancier option out of the long spring formal dresses that are appropriate for a spring formal. It features sparkly embroidery detailing and an open back with cross back straps. Some strappy, gold or nude heels would be perfect to complete this look! This dress is for sale on showpo.com for $79.95 and it is available in seven sizes.
Get this look: 
5. Floral Maxi Dress
Get in touch with your more feminine side in this lovely floral wrap maxi dress. You can find floral print dresses in a variety of colors, and the pattern screams spring. I like this dress in particular, which is on sale from lolitus.com for only $34.99 because it can be dressed up with a pair of gold heels or dressed down with brown sandals for a cute summer look.
Get this look: 
6. One Shoulder Midaxi Dress
What's a midaxi dress, you may ask? It's a dress that isn't quite long enough to be a maxi dress but isn't short enough to be considered a midi dress. Embrace your inner greek-goddess in this gorgeous one-shoulder satin dress. Featuring a draped back and a sexy leg slit, this dress is guaranteed to make you stand out. You can find this dress at asos.com for $72.00 in sizes ranging from 0-14.
Get this look: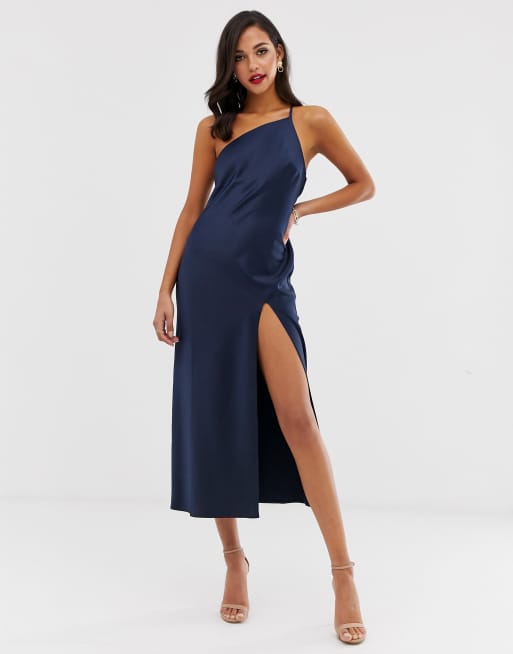 7. Polka Dot Dress
Polka dots, especially black and white, are growing in popularity as a print for dresses, skirts, and tops alike. A black and white polka dot dress is a perfect choice for spring formal, especially because it is so easy to match with your date's outfit. This dress can also be dressed either up or down in the spring and summer depending on the event you're attending. Boohoo has a black and white polka dot maxi dress on sale for only $23.00, in sizes 0, 4, 6, 8, and 10. The website also offers a student discount!
Get this look:
8. Ruffle Dress
Ruffles are timeless and will definitely always be in style. They help to add a little flair to any dress and make the look softer and more feminine. You can get this dress from Boohoo for only $29.99! It combines ruffles and satin fabric and comes in three different colors including black, mauve, and chocolate. It comes in sizes 4-12.
Get this look:
9. Glittery Star Dress
I've been seeing these tulle dresses with silver or gold glittery stars everywhere! Most of the time they come in either navy or black, but this light blue dress is super dreamy, romantic, and perfect for the spring. Shein is selling this dress on their website for only $20.00, which is a steal if you're looking for a long spring formal dress that's inexpensive. It comes in sizes XS-XL and would look adorable paired with some clear chunky block heels.
Get this look:
10. Gorgeous in Gold
Nothing says 'spring' quite like a yellow maxi dress. The versatility of this dress is what makes it so unique. After wearing it to your spring formal, you can pack it in your suitcase to bring on your tropical spring break vacation! This $69.00 dress from Lulus features fluttery, feminine sleeves and an adjustable tie waist. It's currently available in sizes extra-small, small, and medium.
Get this look:
11. Lace Overlay Dress
This boho lace overlay dress is perfect for both the spring and summer. It features adorably scalloped, sheer short sleeves and a deep v neckline, in addition to a flower print. Dress it up with a pair of black or nude strappy pumps for a more formal event, or with cork wedges or brown flats to dress it down. Showpo.com is selling it for $79.95 in sizes 2-14 in the color 'wine lace.'
12. Flowy Wide-Leg Jumpsuit
Long jumpsuits can be a great alternative to long spring formal dresses if you're looking for something different. Some jumpsuits can even give off the appearance of a long dress if they have wide and flowy enough legs. They're extremely versatile, and after you wear it for spring formal, jumpsuits are perfect to wear in the summer for parties, graduations, etc. This one is from Lulus, and you can get it for $67.00 in sizes extra-small and small.
Get this look:
13. Ruched Navy Blue Dress
Wear Pantone's color of the year, classic blue, to your spring formal to show everyone that you're totally up to date on the latest trends. This dress features a sexy side slit and a low cut top in addition to elegant spaghetti straps. Get the dress pictured below from Lulus for only $54.00! It comes in sizes extra-small through extra-large, and it's available in burgundy as well if blue isn't for you.
Get this look:
14. Silk Bodycon Dress
This long, sexy bodycon dress will hug your curves and make you the center of attention wherever you go. This silky material has been extremely popular lately, and celebrities such as Rihanna, Selena Gomez, and the Jenner sisters have been recently spotted wearing similar types of dresses. This dress is on a discounted sale from Boohoo from $52.00 to only $26.00! It comes in a variety of colors, including emerald, berry, magenta, black, cobalt, champagne (pictured below), orange, and chocolate. Get it in sizes 4-12.
Get this look: 

15. Statement Print Dress
If you're looking to make a statement, this dress is the one for you! A bold print is super flattering on any body type, and you can find a long dress with a unique print in so many different styles. Pictured below is a dress with a chain print, which is becoming more and more popular, and a dress with an animal scarf print from Boohoo. It's on sale for $31.00 in sizes 6, 8, and 10.
Get this look:
16. Pop of Color
A dress featuring a pop of color like neon green or highlighter yellow will have all eyes on you at your spring formal. After a long, dull winter, step into spring with some bright color! This one shoulder, neon dress from Revolve is $92.00 and is only available in sizes XXS and XS, but Revolve also has many other styles of dresses with a pop of color available in a variety of sizes.
Get this look:
Don't be overwhelmed when shopping for one of the many long spring formal dresses on sale online and in stores. No matter which dress you choose, you're bound to look beautiful and stand out at your spring sorority formal!