8 Tips For How To Dress For An Interview
Sometime in the near future, whether in a couple weeks or a couple years, you will take part in an interview. And we all know first impressions are everything. That's why it's important to nail your interview outfit. If you're wondering how to dress for an interview, you've come to the right place. You've already prepared as much as you possibly can on potential interview questions, practiced your speaking skills with your friends, and made sure you have the right address. Now all you need to worry about is how to dress. It's a general rule of thumb to dress formal and professional, just like you would if you got the job. Here are some standard guidelines on how to dress for an interview!
1. The Button-Down Shirt
The classic button down shirt is the most basic piece of all professional dress codes. This is a must for general survival of adult life, let alone for a job interview. Make sure it buttons all the way up and is nicely fitted! (The loose style is great for a lot occasions, but for this situation it can make you look untidy and sloppy.)
   
Get The Look:

2. The Dress Pants
Ah, the dress pants. This is important. Jeans are a big no no. Having at least one or two pairs of quality trousers is essential. Stick to black or neutral colors, and be certain they're hemmed! No employer wants to see baggy pants dusting the floor! Slim fit is totally acceptable, but just be sure they're fitted well.
   
Get The Look:
3. The Chic Blazer
A great blazer really brings the whole outfit together. While more modern-style ones are looser and button-less, the traditional cut will always have an air of sophistication. And again, it's crucial that your blazer is well-fitted from the shoulder to the end of the sleeves and that it's the right size for your torso. Like the pants, neutral colors or softer shades are best.
   
Get The Look:
4. The Pencil Skirt
Skirts are absolutely great for interviews, especially if you're interviewing for something more glamorous like a fashion magazine. But sometimes, it can get tricky. You don't want them to be too short…but like overly long pants, a floor-dragging skirt looks messy. The same rules apply here: well-fitted but not too tight and neutral colors. A basic midi skirt will work hitting at just about the kneecaps or a little lower.
      
Get The Look:
 5. The Right Shoes
There are so many different kinds of shoes out there, it's hard to go wrong. But there are some broad norms for shoes: stay away from super high heels, particularly platforms, stilettos, and chunky heels. If you really want to, stick with short wedges or pumps. Closed-toe is best. Never show an open toe at in interview, no one wants to see those! Some great examples are Mary Janes, dressy loafers, oxfords, and the always-reliable flats. This is a great way to express your personal style!

Get The Look:
6. Menswear
Who says girls can't wear ties? If you want to rock a tie and a button down shirt, go for it! As long as you look classy and professional, don't feel restricted to gender norms. A woman in a tie looks super powerful and sophisticated, which is exactly what you want to go for in an interview!

Get The Look: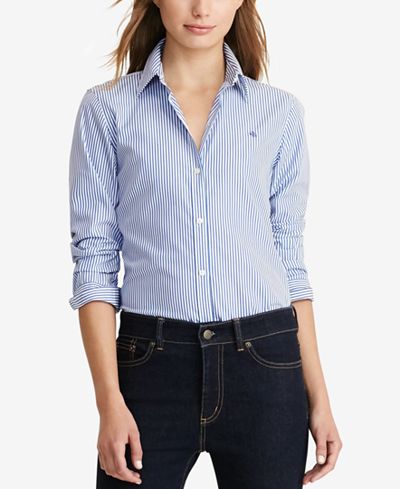 7. A Good Suit
A good suit goes a long way. When searching for a suit, stick to neutral colors like black, grey or navy blue. You can never go wrong with these colors. Next, decide how you want your suit to fit. Do you want bootcut pants or slim fit pants, a shorter blazer or a longer blazer, pinstripe or solid colors? Most importantly, make sure the suit you choose fits well. It's a good idea to take it to a tailor to get it fitted perfectly.
   
Get The Look:
7. A Caution for Jewelry
This interview is all about you, your skills, and what you can bring to the company. You want to present the best version of yourself, but you want to be completely yourself as well. However, sometimes jewelry like huge dangling earrings, large rings, and pendants can get distracting. If you get the job, maybe then you can start thinking about wearing all the jewelry you want, but for the interview, keep it simple. A nice statement necklace can finish off any interview outfit. A watch is always a good idea and keep your earrings minimal, such as diamond or pearl studs.
   
Get The Look:
8. Some Extra Tips
All these rules can seem restricting at times, but the dress code for interviews tends to be on the conservative side: neutral colors, fitted clothes, light on the jewelry. But when it comes down to it, it's your call. This is your interview, and you get to decide what you wear. Some companies lean towards the casual side and you'll be more free to change it up and show more of your own style. No matter what, you want to look your best!
Do you have any other suggestions for how to dress for an interview? Share in the comments below!


Featured Image Source: http://thebestfashionblog.com/
Marika Yang
Baltimore born and bred, Marika is a Professional Writing major at Carnegie Mellon. She loves writing (obviously), reading, painting, and baking, and harbors a not-so-secret passion for all things football.