Hoop There It Is: Hoops For Every Occasion
With designers getting more and more creative there is absolutely a hoop for every occasion now! The hoop has always been a go to in a variety of cultures for a reason it speaks to that inner femme fatale we all have. Just look at Alexandria Ocasio-Cortez knocking down the house in those classic and powerful hoops. Finally some much needed flair in congress!
It can be large or small, gold or silver but no matter the shape or size it demands respect. An earring with a presence if you will.
1. The Door Knockers
The OG hoop is what I like to call the Door Knocker. That massive hoop that makes you stand a little taller and walk with a different swag. These hoops are nice and thin so your statement won't weigh you down.
Door knockers will keep you feeling fierce. This hoop will give you that confidence boost where you feel like the world is yours to take, because it is!
Copy This Look:
2. Workout Worthy
The beauty of this hoop not only lies in all the neon colors it comes in but also in its lightweight design. Since it feels like your not even wearing anything this hoop is a god sent for those long days or for that poppin' Zumba class. Neon hoops bring back this fun 90's feel and have this flirty feel to them. A real knock out.
Since they are clear and light as a feather they are the perfect workout buddy. Sometimes getting to your workout is a struggle but the right hoops can inspire you to sweat it out! You are a boss babe and these hoops won't let you forget it.
Copy This Look:
3. Class It Up
Sometimes you need those hoops that will let your interviewer you're fun and vibrant but also a class act. Nothing says classy like pearls, just ask anyone from 1985. These hoops have a feminine twist which bring a different energy to the entire look.
These specific hoops are tiny enough that they won't intervene in your daily shenanigans but have enough detail that they won't get lost. Put some pearls on those hoops and you are one dynamic lady sans the shoulder pads.
4. All Gold Everything
This hoop is thick and is coated in that deep yellow gold that will stand out against all odds. These hoops give off so much energy and uplifting vibes you won't want to take them off.
This hoop is unapologetic in all it's fabulous self, the only thing it should be apologizing for is the slight pain your ear lobe will have at the end of the day. A minor inconvenience for such an iconic look.
Copy This Look: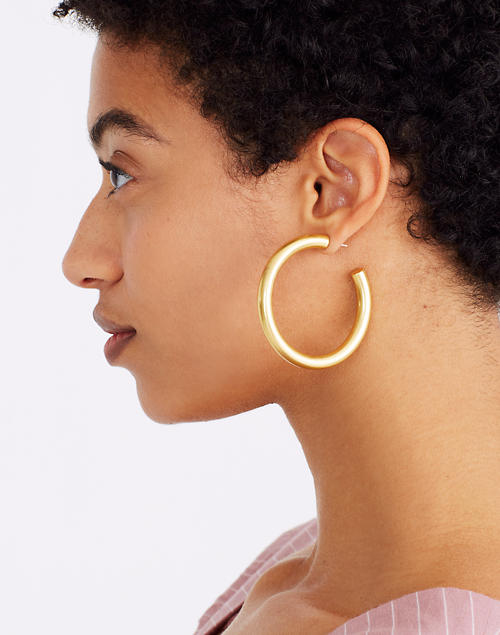 5. Shape It Up
Hoops come in every shape and size you can imagine including the OG heart shape! Show your love with these hoops that play with an unfettered innocence we all still carry with in. Your inner Lisa Frank loving child won't want to take these babies off.
There  are so many geometric gems in the hoop community just waiting to be explored. From stars to hearts pick a hoop and shoot your shot. Hoops that are as eye-catching as they are up-lifting.
Copy This Look: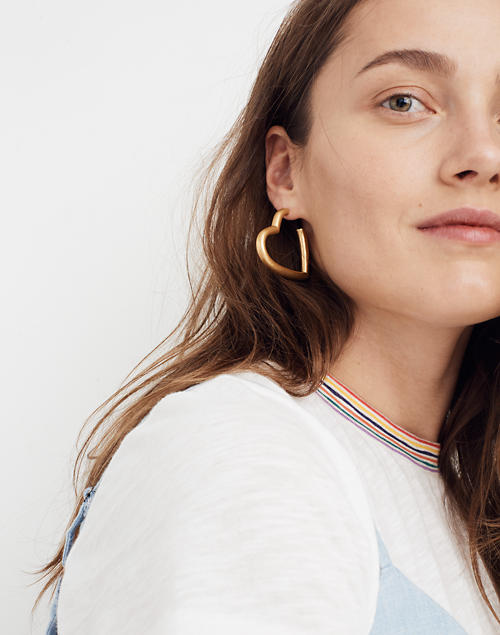 Hoops have that inexplicable and effervescent energy which we all need from time to time. From light-weight hoops to heavy hoops with something to say you just need to find a pair that represents your mission for that day.  With endless shapes, sizes and colors there is a hoop for every…woman out there! Which hoops make you feel like you can take on the world? Share your hoop insight down below!
Featured Image Source: https://www.pinterest.com/pin/303218987408029044/