12 High Waisted Striped Pants You Need For Summer 2018
Summer 2018 is about to arrive, and for many of you, your spring cleaning may have brought up some pretty old and ragged clothing. If your summer clothes are too outdated for your current taste, then these high waisted striped pants are a great addition to a summer wardrobe. Imagine a cool summer night (we are talking 60 degrees) spent by a fire, going out to eat, or taking a walk on the beach – that's what these pants are meant for. Wear them for an occasion, or on the regular, they're good for both! Here are 12 of our favorite styles.
1) The Relaxed Look
You may have once thought about what you'd wear striped pants too, but your answer doesn't have to be as complicated as you may think. Striped pants can be low key, and honestly go great with a graphic tee!
Get The Look:
2) Your Everyday Street Style
Wear high waisted striped pants for an everyday look! Seriously, people, they're just like jeans (but cuter). 
Get The Look:
3) Loosely Fitted
If you're not a huge fan of jeans in the summertime – we understand. Instead, try a loose fitted striped pant. The material is more lightweight, and the pants are super comfortable.
Get The Look: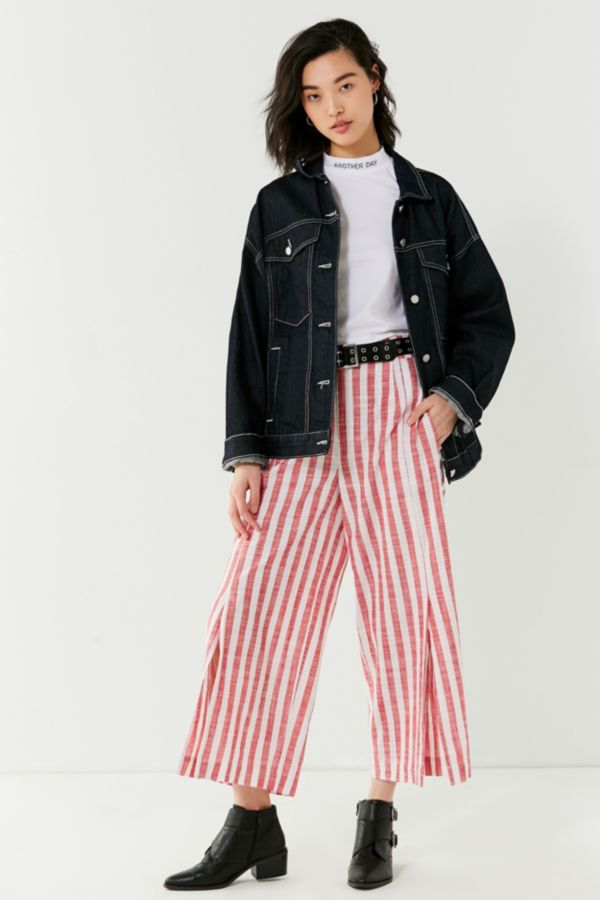 4) The Capris
Capris are one of my favorite clothing items. They're cute, comfortable, and go well with almost all pairs of shoes. Therefore, you might as well add striped cropped pants to your list of things to get!
Get The Look:
5) Light Blue And White For Major Summer Vibes
This photo screams summertime! These blue and white pants look great with a cropped top and sneakers! Wear them for a walk around town, or to grab a drink with your friends!

Get The Look:
6) Keep It Monochromatic
Sometimes, the more simple an outfit is, the better. This color scheme is perfect for an on the go look that's super cute. Not to mention, high waisted striped pants go great with crop tops!
Get The Look:
7) The Ripped Style
Grab some high waisted striped pants that look worn with some rips in them! The holes add a fun element and allow your legs to breathe a little too.

Get The Look:
8) 70's Chic
Everything about this look gives me major 70s vibes. From the graphic tee to the red and white striped pants. If you're a fan of the 70's, we suggest you try this style!

Get The Look:
9) Feelin Chilly? Cozy Up With This Style
These cute distressed pants look amazing with an oversized sweater or sweatshirt. Add some sunglasses for a more vintage tone.
See Also
Get The Look:
10) Loose Fitting And Super Comfortable
Everyone wants to be comfortable, and with loose fitting striped pants like these, I can almost guarantee you will be. There's nothing better than being both comfortable and cute – and each is possible in this striped pant outfit!
Get The Look:
11) Try A Bolder Color
Not all striped pants have to be black, blue, or grey. If you're more into bold looks, try out some yellow striped pants!

Get The Look:
12) The Loose Fitted Capri
Again, loose fits are so comfortable. Not to mention, they can be morphed into so many cute outfit ideas. Try out these striped pants if you want a more comfortable street style!
Get The Look:
Are you ready to wear high waisted striped pants this summer? Let us know in the comment section below!
*This is a sponsored post. All opinions are my own.
Featured Image Source: www. Pinterest.com
Haley Lyndes
Just a twenty-something trying to navigate life. Northern Vermont University graduate. Yes, I own Birkenstocks. No, I do not like maple syrup. Hoppin' around New England since 95', currently in MA.