10 Free Things To Do Around Arizona State University
It is always hard finding something to do when you're broke AF, but luckily there are a TON of free things to do around Arizona State University (besides partying).
1. Take A Hike!
Almost every ASU student has hiked "A" Mountain at least once in their lives.  It is a .9 mile trail with amazing scenery that looks out at all of ASU's tempe campus. If you are into trickier hikes, try Camelback Mountain. It is one of Arizona's most popular hiking sites!
https://www.instagram.com/p/BCTiVh2JO_Y/?taken-by=netmarchewka
2. Bored on a Friday night? Check out First Fridays!
On the first Friday of every month, Downtown Phoenix holds an art walk called "First Fridays," and it is pretty spectacular. You can experience a different kind of vibe by checking out hundreds of art galleries. Doesn't sound fun enough? There are also bands, DJ's, food and drinks
3. OMG! Arizona has more than just Cacti!
If you're in Tempe on the second Tuesday of a month, you should go to the Desert Botanical Garden. On this day admission is free from 8am-8pm. Trust me, you definitely want to see all the different plant life here. The Botanical Garden is extra special because there is also a huge butterfly house, so you can take pictures with your new butterfly best friend.
4. Feeling Artsy?
On ASU's main campus in Tempe, you can visit the Arizona State University Art Museum. No matter what kind of art you are into, ASU's Art Museum has you covered!  The museum features many different styles of art such as contemporary, new media, sculptures, and ceramics.
5. You can't come to Tempe without visiting Mill Avenue First..
Mill Avenue is known for its nightlife and popularity with ASU students.  You don't need to be 21 or have any cash to get engulfed by the Mill Ave scene. You can window-shop, people watch, or even stop to get a beer or snack if you start to feel hungry!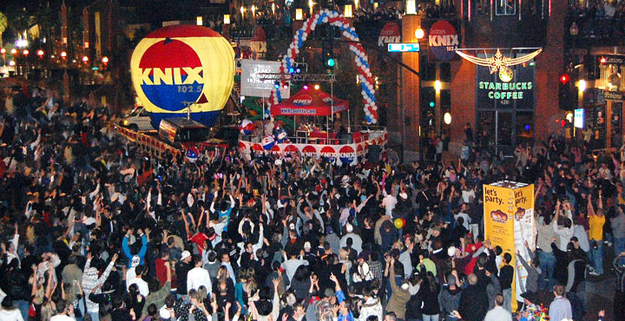 6. You don't have to be flexible to participate in "Yoga to the People."
Yoga to the People is located on 5th street by Mill Avenue.  No registration is necessary, and you can even rent your own mat here. Want to know the best part about Yoga to the People? It is completely free, but you can pay with donations! Yoga is great for health, cardio, and your body altogether!
7. Who Knew You Could Paddleboat in The Middle Of The Desert?
If you're in Tempe, you must visit Tempe Beach Park. This is a popular area because you can go for a walk, run, or even have a picnic here!  Even though Tempe Beach Park is completely free of admission charges, you can rent paddleboats and do other aquatic activities here.
8. Who Does Not Like Free Live Music?
ASU's School of Music and ASU's School of Film, Dance and Theater put on many free shows and performances all the time! These shows are a must see because all of the performers are students at ASU, and they are so talented!
9. Let's PapaGO to Papago Park!
Papago park is just minutes outside of ASU Tempe's campus.  Here, you can find fishing lagoons and beautiful red buttes.  Don't forget your camera if you visit Papago Park because the scenery is beautiful.
https://www.instagram.com/p/BP1ay6Tl-E3/?taken-by=cassieelizabethl
10. Did Somebody Say Shopping?
Tempe Marketplace is a popular hangout spot for Tempe residents.  Here, you can walk around the District with your friends if you're looking to relax.  In the colder months, Tempe Marketplace lights up with Christmas decorations that are absolutely gorgeous.  If this isnt good enough, Tempe Marketplace also has live music performed on the District stage every Friday and Saturday night.
What are your favorite free things to do around Arizona State University?
Featured photo source: pitchforkpress.wordpress.com
Comments, Questions & Rants