7 Fashion Staples To Exude The Dark Academia Aesthetic
The Dark Academia aesthetic has quickly become one of the most popular, especially when it comes to fall and winter fashion. If you are looking to add some pieces that fit this aesthetic, check out these pieces. 
1. Plaid Jersey Jacket
One of the absolute necessities if you are going to rock the dark academia aesthetic is of course a blazer or jersey jacket. The most popular type as of late has been plaid ones in these dark neutral colors. These types of outerwear are great for layering, which is one of the most important steps to successfully exuding dark academia vibes. A coat like this is a great staple to have no matter what type of clothing style you like to dress within, especially if you are going into the workforce. This would look so cool over the top of a solid-colored sweater, especially beige or black, and paired with a nice trouser or skirt. A plaid coat is such an easy way to instantly make an outfit look more classy and like you put a lot of effort into your look that day when really all you did was put on a patterned coat! This one, in particular, is from H&M and is super affordable too, as it retails online for just $39.99.
Shop this look:
2. Black Loafers
Dark Academia is all about pairing basics together in a classic manner within a neutral color pallet. The shoes you choose to wear also play a big part in solidifying an outfit and especially a type of fashion aesthetic. Boots are a popular choice, but black loafers with a small heel are also a wonderful choice that is a little bit different and more vintage-inspired. Urban Outfitters sells this exact pair that is pictured below, which are from the brand Vagabond Shoemakers. These are called the Kenova Loafer and retail for $130.00. The style and black leather that these shoes are made from make them so classic and allow them to be worn with practically any outfit. As styled in the photo, these loafers look so chic with a pair of white tube-like socks but also would look great with a pair of tights or ruffled socks. The small heel gives you a bit of a boost in height but is still short enough at 1.5″ that these shoes remain comfortable enough to wear all day long. 
Shop this look:
3. Beige Turtleneck
Turtlenecks are also wonderful layering pieces, which would be perfectly paired with a jacket like the plaid one from H&M that was listed earlier in this list. These have been in style for decades because of how easy they are to style and while, plus they help to keep you extra warm on a chilly day. The one pictured here is from Forever 21 and comes in beige, white, gray, and black, plus is only $9.99! The extra detail of the ruffled sleeves gives a bit more interest to this otherwise fairly basic piece and the collar is somewhat loose, which makes this one super comfortable and practical. 
Shop this look:
4. Oversized Button-down Shirt
Next, we have another classic piece of clothing that everyone needs to have at least one in their wardrobe, a white button-down shirt. I prefer the fit to be oversized because I find it looks cool half-tucked into a pair of jeans or trousers, however, a slimmer fitting one would also work. This particular one can be found on the Target website and is from one of their popular brands, Universal Thread. The pieces from this brand are such good quality so they will certainly last you quite a long time, plus it is only $20.00. Now that is a steal!
Shop this look: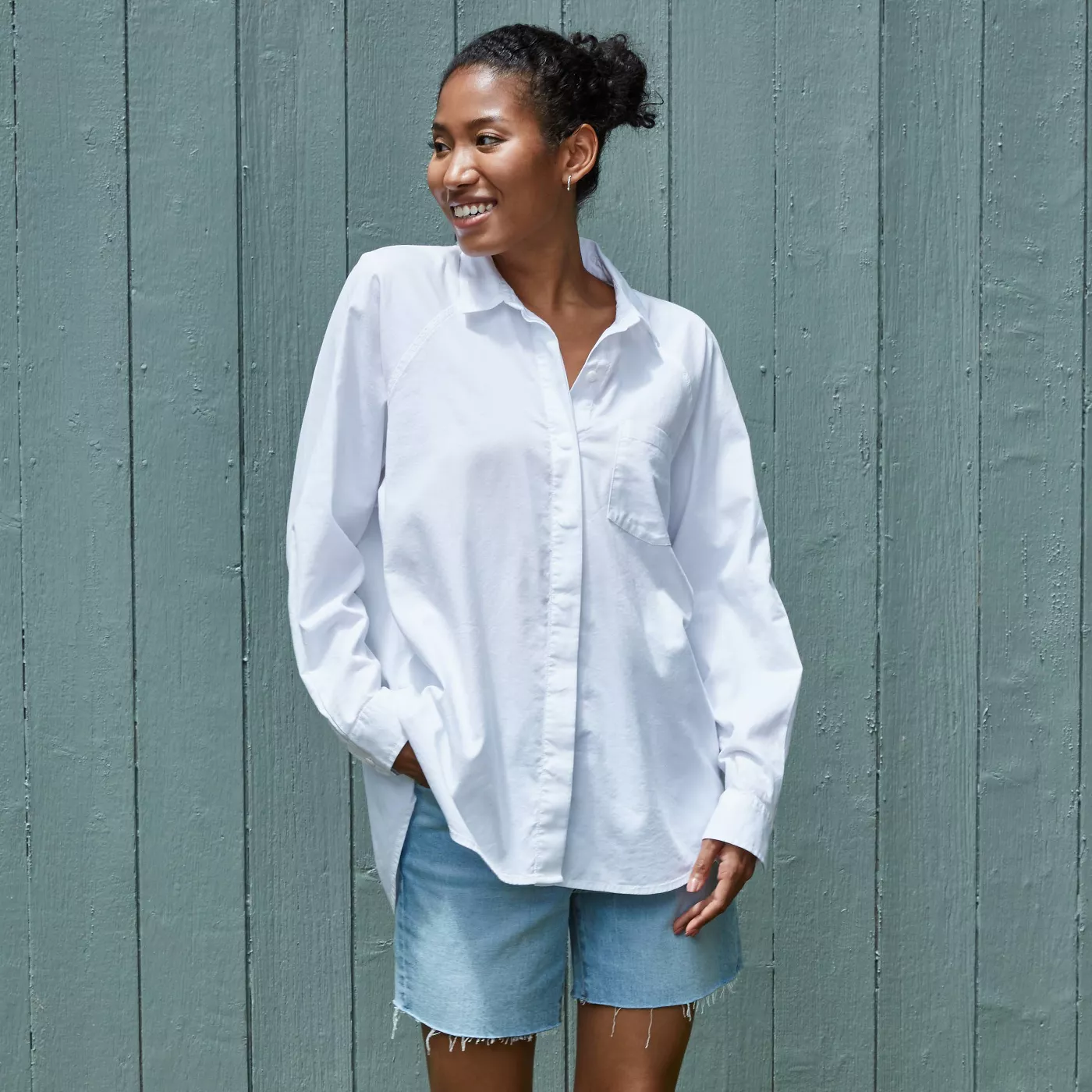 5. High-waisted Trousers
Speaking of trousers to tuck staple tops into, these high-waisted ones from Free People are just perfect. The fit of these is so flattering, as these trousers cinch in at the waist, giving you a nice shape and the neutral khaki color allows them to paired with so many different pieces. These are more of an investment piece, as they retail for $98.00, but the level of comfort and style you get from these with the cinched waist and tapered legs are well worth the funds. 
See Also
Shop this look: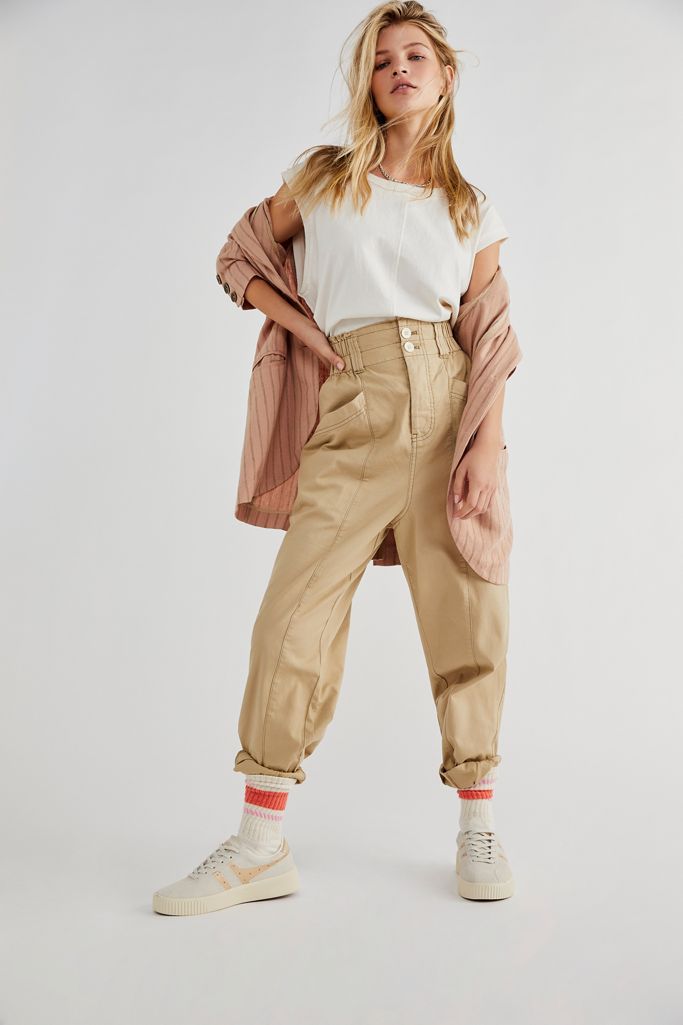 6. Cozy Oversized Cardigan
If you are like me, you love a good cozy knit for the fall and winter seasons. Going full dark academia practically requires one to be in your wardrobe, but these pieces are so versatile that you can wear them with any clothing style. Again you can purchase a more fitted one if you wish, but I really like the oversized look because it is super comfortable and makes the look appear a bit more on the casual side. I would recommend sticking to neutral colors, as with the button-down shirts and trousers so you can mix and match with other pieces in your closet. This black oversized cardigan is from H&M and is retailing for only $24.99! 
7. Plaid Skirt
Lastly, we have another plaid item because dark academia and plaid truly go hand in hand. A fun and girly way to rock this style aesthetic is by getting a plaid skirt to pair with basic tops and coats. This super cute black multi-colored plaid skirt is from Forever 21, which is a great place to get trendy items like this because of how affordable the clothing is, and retails for only $19.99. Forever 21 has so many colors and styles of plaid skirts to choose from, so you can really have fun with it and mix things up depending on your color and length preferences. Plus, this one has a chain around the waist which adds a bit of edge and interest to the design. 
Shop this look:
All of these pieces scream Dark Academia and are just good staple fashion pieces for the fall and winter seasons in general! What are your favorite pieces? Let us know in the comments!
Featured Image Source: https://weheartit.com/entry/349446232