Fashion Pieces To Live Out Your Emily In Paris Dreams
Emily in Paris is a new show that was released on Netflix on October 2nd. Styling was done by Patricia Field, therefore the Emily in Paris fashion was absolutely to die for! Here are some pieces to help you reflect the style of the show!
1. A Statement Beret
Lily Collins wears a lot of hair accessories in the show, the most Parisian ones being the two berets she sports throughout the season. Accessories like a statement beret add so much to a simple outfit, as you can see in the photo below. The navy blue beret with the sleek white stripe and cranberry red puff at the top brings an effortless elegance to the simple dress and blazer combination that Lily is sporting. You can achieve this look very easily! Berets are usually quite affordable if you purchase them from stores such as H&M and Forever 21. If you choose to order one from a French brand, then that is where it gets more expensive. A statement beret would look so chic this fall and winter paired with cozy sweaters and sassy skirts. This is a great piece to purchase if you want to try something new without breaking the bank and rock the Emily in Paris fashion you see on the show! 
Get The Look:
An affordable wool beret option is this solid-colored one that is sold at Free People! It retails for just $28.00. There are seven color options including classic black, cherry red, navy blue, emerald green, pale pink, camel, and pearl white.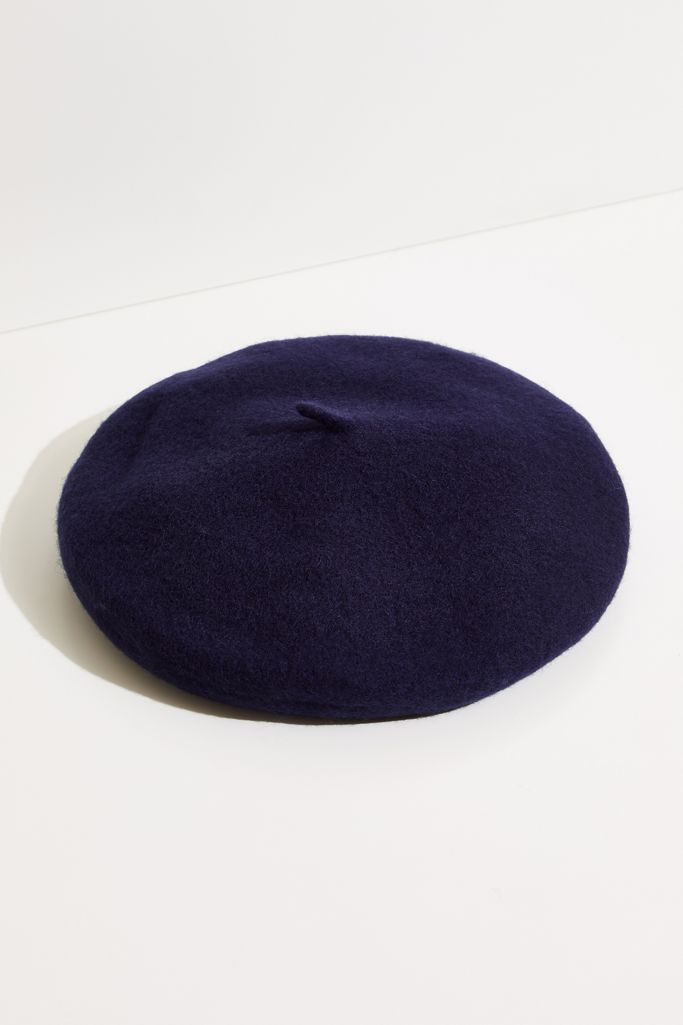 2. A Fun Coordinating Set
Matching sets have been so trendy over the past year especially, and have even trickled into our entertainment. Patricia Field styled Lily in this super fun black and white plaid set that includes a pair of shorts and a blazer. This outfit is very bold and is perfectly accented with a red beret and patent leather black heels. Emily in Paris fashion is all about experimenting with color and pattern but also keeping a certain classiness at the core. Matching sets are a great way to do just that and most of the work of putting together is already done for you by the designer. Of course, accessorizing is important, and minimal accessories are usually best when going for a bold look like the one pictured below.
Get The Look:
I could not find the exact matching set that Lily is wearing in the show, however, this one from Pretty Little Thing has a similar vibe. The plaid pattern is a bit larger on this set and it is mostly black instead of white, but it is similar enough to give you that Emily in Paris look! This set retails for a combined total of $68.00, $30.00 for the plaid pants, and $36.00 for the matching blazer. 
3. Classic Pair Of High Heels
Every woman needs a staple pair of high heels, especially if you want to recreate the Emily in Paris fashion that Patricia Field so expertly curated. There are quite a few pairs featured in the show, however many are classic black pairs. If you are going to invest in any pair of heels that are similar to those worn in the show, I would suggest purchasing a classic black pair. Black matches literally everything and always looks so chic! 
Get The Look:
Now in the Netflix show, Lily wears mostly Louis Vuittons, however, those are incredibly expensive. If you can afford them, by all means, treat yourself to a pair, but if you are like me and on a tighter budget these are a great option for you. This pair of suede ankle strap heels are from LuLu's and retail for only $33.00! 
4. A Flowy & Feminine Dress
Along with matching sets, berets, and classy high heels, Lily also wears her fair share of feminine dresses as Emily Cooper. One of my favorite dresses that she wears in the show is this flowy yellow, black, and white number. I love that Patricia Field chose to cinch it in at the waist with a simple black belt, which really accentuates her figure. 
Get The Look:
You can achieve this look by pairing this yellow slip dress from Anthropologie, which retails for $120.00. This is a bit of an investment but the quality of Anthropologie's clothing is so high and this piece can be styled so many different ways! If you want that Emily In Paris look, pair this slip dress with a black belt snug around the waistline, a pair of black kitten heels, and a matching purse. 
5. A Pastel Moto Jacket
Emily in Paris fashion is all about taking fashion risks and looking put together. I love the way that Patricia Field played with texture and color by pairing flirty and feminine pieces with more structured items such as this pastel moto jacket. A few are featured throughout the season, but this pale purple one is hands down my favorite! 
Get The Look:
To recreate this look for yourself you can purchase this pastel suede moto jacket from Just Fab, which is currently retailing for $24.98 when you become a VIP. Otherwise, the jacket costs $72.00 if you choose to opt-out of the VIP membership. This jacket is such a pretty pale pink color and would look absolutely perfect over a dress with heels, or simply paired with jeans and a T-shirt. 
6. A Little Black Dress
One of my absolute favorite looks from the entire show is this number that Lily wears to the ballet as Emily Cooper. This is one of the most glam looks of all Emily in Paris fashion, and really the elements are quite simple. The main item needed is a little black dress, which is something that every woman needs to have in her closet for occasions such as this. A black dress is such a timeless piece that is perfect for a variety of occasions. 
Get The Look:
If you love this look as much as I do but want to add even more vintage flair, check out this dress from Mod Cloth, which retails for $139.99. I love this one because of how it comes in at the waist and compliments the figure, plus the tool in the skirt and red rose detailing near the bust is the most beautiful finishing touch!
All of these pieces styled to fit your personality all reflect the Emily in Paris fashion! What are your favorite outfits from the show? Let us know in the comments!
Featured Image Source:https://weheartit.com/entry/349728372?context_page=2&context_query=Emily+In+Paris&context_type=search