10 Face Masks For Dry Skin
Colder weather is upon us and that means one thing: dry skin. Beat the coldest weather at its own game by grabbing a face mask or two to combat dry skin, and turn your face into a supple radiant dream. If you want soft, nourished skin, these hydrating face masks are a must regardless, no cold weather required. 
1. Peach & Lily Overnight Star Sleeping Mask
Dull, tired, and dehydrated skin will be banished with this renewing berry mask. Acai berry extract firms and brightens skin, black ginseng extract revitalizes and brightens, jojoba and squalane, as well as macadamia complex, nourishes and hydrates, niacinamide fights free radical damage, hyaluronic acid binds moisture to the skin, and peptides plump up skin for reduced fine lines. Your skin will be refreshed in the morning with this plant-based super mask. 
2. I Dew Care Cake My Day Hydrating Sprinkle Wash-Off Mask
This super fun and sweet mask plumps skin with rich hydration for a nourished, glowing complexion. Soft served with rainbow hydration sprinkles, this mask will look so good you'll want a bite. Hyaluronic acid plumps skin and delivers moisture, squalane provides hydration due to its skin oil mimicking properties, and glacier water refreshes skin. This cruelty-free mask is formulated without sulfates, parabens, phthalates, and silicones so you can feel good about what goes on your skin. 
3. First Aid Beauty Ultra Repair Instant Oatmeal Mask
Soothe and repair skin with this rich hydrating oatmeal mask. Colloidal oatmeal and Avena sativa oat bran power this mask. Oatmeal calms dry stressed skin,  shea butter provides intense moisture and protects the skin barrier, and sea buckhorn is a botanical extract that soothes and conditions the skin. This product is cruelty-free and given Sephora's clean ingredient seal so it's free of harsh and damaging ingredients.  This mask will provide luxurious moisture while repairing skin from the inside out. 
4. Pacifica Wake Up Beautiful Mask
This thick, creamy mask will take care of your skin overnight so you can wake up with hydrated, soft skin. This cruelty-free formula won't leave skin greasy but provides instant moisture skin will lap up. Skin-loving ingredients like sunflower oil, glycerin, aloe vera, shea butter, avocado oil, rose extract, jasmine flower water, vitamin B, vitamin E, rice protein, rice bran oil, and mushroom extract work together to provide healthier radiant skin. This gentle mask will have you glowing by morning. 
5. Youth To The People Superberry Hydrate + Glow Dream Mask
This overnight mask will have you wake up to refreshed, dewy, and deeply hydrated skin with the power of vitamin C and super berries. Infused with skin-loving ingredients, this cruelty-free formula works to nourish skin intensely. Maqui is an antioxidant dense fruit defends skin against stressed looking skin. Vitamin C brightens and firms skin for a glowy look. Squalane mimics the skin's natural oils to provide lush hydration without the risk of clogged pores. Hyaluronic acid and glycerin also work to drench skin in moisture, locking it in to repair dry and tired skin.  This mask is given Sephora's clean ingredient seal so you won't second guess what you put on your skin. This hydrating mask will leave your skin's thirst quenched and your face glowing. 
6. Farmacy Honey Potion Renewing Antioxidant Hydration Mask
This honey mask will make your skin glow and intensely hydrated. Infused with antioxidants, this mask will make your skin dewy and renewed. Proprietary honey blend soothes skin while delivering nourishing moisture and antioxidants, glycerin attracts moisture and hydrates, and essential B vitamins renews and smooths skin. This cruelty-free formula is given Sephora's clean ingredient seal meaning it's formulated without sulfates, parabens, SLS, SLES, phthalates. This honey mask will richly nourish your skin while leaving it supple. 
7. Kiehl's Avocado Nourishing Hydration Mask
Nourish your skin with creamy avocado to moisturize and lock in moisture. Avocado fruit extract seals in moisture, avocado moisturizes and softens skin, evening primrose oil maintains moisture levels. This mask prevents water loss and provides supple, soft skin. Kiehl's mask is free of sulfates, SLS, SLES, and parabens. This nourishing mask only needs 15 minutes to make your skin silky smooth and hydrated. Reviews say this product is perfect for a weekly hydrating pick me up in your skincare routine. This mask will plump your skin and will make a difference in the moisture levels in your skin. 
See Also
8. Laneige Lavender Water Sleeping Mask
This gel lavender-scented water mask is the answer to any dryness, rough texture, and wrinkles. Skin is drenched in moisture with this unique mask, provided by hyaluronic acid. Hunza apricot and evening primrose work together to brighten and purify the skin. Lavender encourages restful sleep and soothes skin. Reviews say the mask is ultra-soothing and allows them to wake up with dewy, hydrated skin. 
9. Fresh Rose Deep Hydration Sleeping Mask
Drench your skin with intense moisture that will continually be delivered throughout the night so you can wake up to bright, nourished skin. Damask rose extract hydrates and smooths skin, supporting its natural moisture barrier. Hyaluronic acid delivers hydration and plumping benefits for the skin. This mask is a duo, the first step is to apply the amber gel onto skin until absorbed, and then follow up with the silky cream mask. This mask will melt into your skin and you'll wake up with a dewy complexion and supple skin.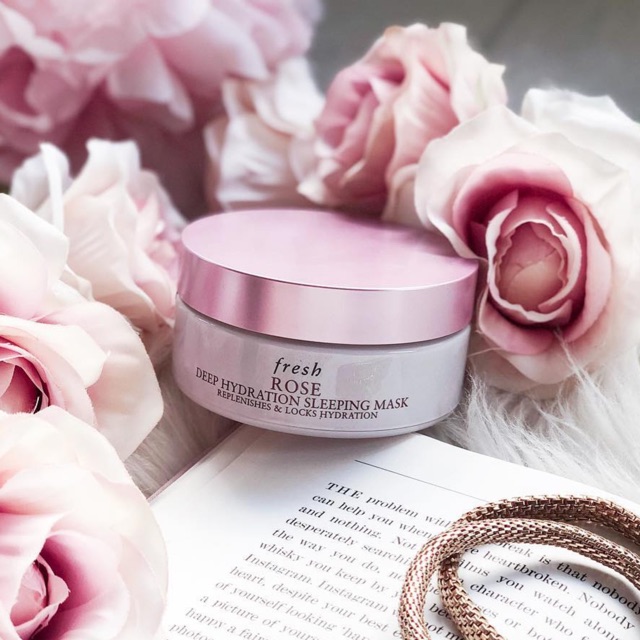 10. Tropic Deep Hydration Soothing Cooling Mask
This creamy gel mask will instantly soothe your skin on contact while delivering deep hydration. This cruelty-free formula is clean and natural, nourishing your skin without preservatives or harsh chemicals. The formula is chalked full of good ingredients that your skin will love. Resurrection flower deeply hydrates and restores skin, wild Australian super berries brighten skin and reduce free radical damage, allantoin offers anti-inflammatory factors that soothe skin. Other healthy ingredients are aloe vera, glycerin, jojoba oil, coconut oil, shea butter, hyaluronic acid, sunflower oil, orange, redcurrant, and cranberry. Skin will feel nourished, softer, and calm after using this hydrating mask. 
Which face masks will you try for your dry skin? Tell us in the comments!
Featured Image Source: www.pinterest.com