15 Face Lotions That Work With All Skin Types
Oily skin, dry skin, combination skin, sensitive skin, all have needs that need met when it comes to skincare. Putting lotion on your face is a vital part of a skincare routine, but finding the right face lotion may be difficult. If you're still searching stop right there, we researched face moisturizers that will work with all skin types so you don't have to. 
1. Skinfood Peach Sake Emulsion
A Korean skincare line, Skinfood works to repair and promote healthy skin. Peaches helps reduce free radical damage and have anti aging benefits due to the vitamins found in them. The acid in peaches also work to repair acne scars and prevent further acne flair ups. Sake encourages blood circulation and tightens pores without drying your skin out and making it feel tight. Sake also works to brighten skin and control sebum production. This moisturizer is mattifying, lightweight, and leaves your skin soft while leaving it smelling faintly of peaches. 
2. First Aid Ultra Repair Cream
This ultra repair cream is super moisturizing, reaping the benefits of colloidal oatmeal, shea butter, ceramide 3 and an antioxidant booster. If you have flaky dry skin, look no further because this luxurious cream is here to save your skin. Many reviewers have claimed it's transformed their skin, making it soft without making it oily. It's been given a clean ingredient stamp of approval at Sephora, while being cruelty-free, gluten-free, and vegan. 
3. it Cosmetics Bye Bye Redness Sensitive Skin Moisturizer
Not only does this face lotion work to soothe your skin, but it will neutralize red tones and work to even out skin tone. It provides intense hydration through the powerful ingredients of colloidal oatmeal, cucumber, aloe, chamomile extract, avocado, turmeric, collagen, and peptides. This lotion works well on all skin types but is a life saver for those suffering from rosacea, acne, and eczema. 
4. Bareminerals Butter Drench Restorative Rich Cream
Deeply hydrate your skin with a moisturizer that works to restore and rejuvenate. Shea butter, peptides, amino acids, ceramides, and algae extract team up to repair rough texture, improve radiance, and bring relief to dry skin. It smells wonderful (one reviewer said like lemon cake) and makes for flawless makeup application when used underneath. This rich cruelty-free cream will have your skin glowing and nourished. 
Find it at ulta.com
5. Benefit Cosmetics Total Moisture Facial Cream
Reinforce your skin's moisture barrier with this mango butter based cream. It combats dryness, wrinkles, and dullness to deliver an all-over healthy look. It immediately quenches dry skin and absorbs quickly so there is no greasy feeling. If soft skin and intense hydration are what you're going for, this is the face lotion you need to check out. 
6. Olehenriksen C-Rush Vitamin C Gel Moisturizer
We have many lotions on this list but not gel face lotions. This mousse like moisturizer works to brighten and hydrate your skin powered by clean ingredients, certified by Sephora. This combats dullness, dryness, uneven skin tone, and wrinkles. Rose, vitamin C, and lemon fruit extract makes your skin glow while delivering deep moisture despite it being so lightweight.
7. Paula's Choice Omega + Complex Moisturizer
Passion fruit and guava come together in this whipped lightweight formula to deliver hydration, soothe stressed skin, and strengthen your moisture barrier. Superfood and fatty acids will restore and replenish skin for healthier skin. This moisturizer is cruelty-free and rehydrates using natural ingredients. 
8. Drunk Elephant LaLa Retro Whipped Cream
This luxurious cream infused with six rare African, a ceramide complex, and watermelon seed oil nurtures and rejuvenates your skin. Soothe and protect your face with a hydrating soft lightweight lotion that is cruelty-free and certified as clean at Sephora. 
9. it Confidence In A Cream Hydrating Moisturizer
This plumping lotion is full of healthy, skin loving ingredients such as ceramides, glycerin, collagen, peptides, hyaluronic acid, shea butter, and vitamin E. Confidence in a cream reduces the appearance of pores and discoloration, improves hydration, and smooths and firms skin for a youthful glow. 
10. Kate Somerville Oil Free Moisturizer
Kate Somerville's hydrating moisturizer that is cruelty-free,  oil-free, paraben-free, and fragrance-free melts onto your skin for a smoother, toned complexion. Red marine algae, amino acids, and oil-absorbing spheres combine to recharge and balance skin. 
11. Bliss Drench and Quench Moisturizer
This face lotion is an ultra-nourishing lightweight moisturizer that turns into water on contact, delivering over 10,000 marine micro-droplets for intense hydration that will stay with you. There's a lot of powerful ingredients, but there is not any animal testing, sulfates, parabens, phthalates, urea, formaldehyde, mineral oil, or harsh ingredients comparable to those listed. Instead, recharge your skin with chamomile extract, glycerin, and rose fruit extract. Reviewers claim this lotion glides on smoothly and improved their complexion immensely. 
12. Kopari Beauty Coconut Face Cream
A dreamy face cream with conditioning ingredients and long lasting hydration. Kopari forumlated this gem without animal testing, parabens, silicone, phthalates, or GMOs. Alternatively, this lightweight moisturizer offers yummy ingredients like coconut oil, sunflower seed oil, shea butter extract, apple fruit extract, coffee leaf extract, butter extract, aloe leaf juice, chamomile extract, vanilla extract, banana extract, cranberry extract, and coconut extract. It's been verified at Sephora for having a clean ingredient list and works hard to deliver moisture all day long.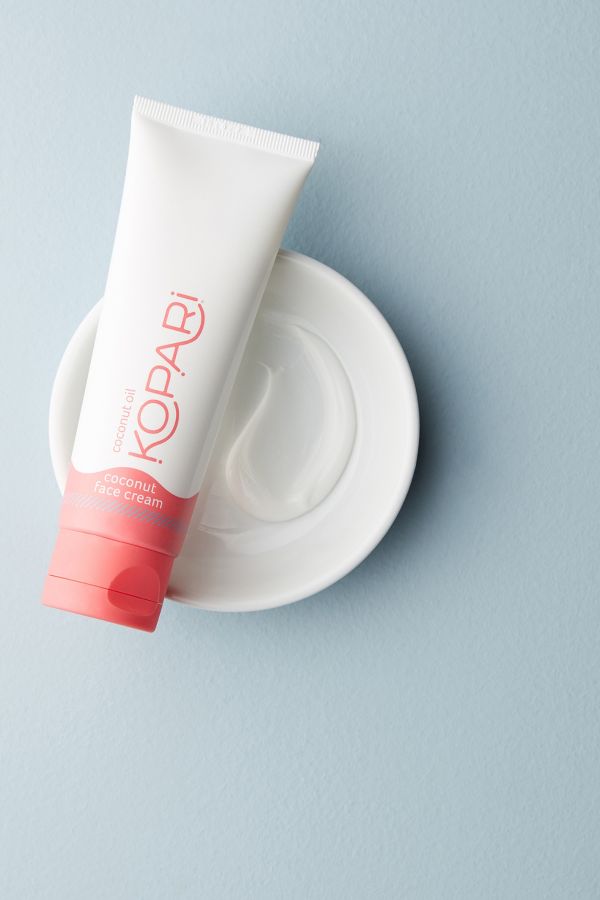 13. Trilogy Very Gentle Moisturizing Cream
Gentle and clean moisturizing perfection, this face lotion will hydrate, revitalize, and reduce irritation. Made with sweet almond oil, glycerin, marshmallow root extract, evening primrose seed oil, green tea leaf extract, and hyaluronic acid, this clean cream provides deep moisture and comforts stressed skin.
14. Tatcha The Dewy Skin Cream
Say goodbye to uneven skin tone, dullness, and dryness with Tatcha's dewy skin cream. This rich formula provides intense hydration, antioxidants, and a healthy glow with skin-loving ingredients, verified by Sephora. Japanese purple rice helps skin recover from stress while hyaluronic acid and Okinawa algae complex replenish's your skin's moisture barrier. Want more to love? It's cruelty-free, gluten-free, and comes in recyclable packaging. 
15. Youth To The People Superfood Hyaluronic Acid Moisturizer 
A lightweight superfood moisturizer that is great for all skin types is finally here! Vegan and verified clean at Sephora, this cream features kale, spinach, hyaluronic acid, and green tea for a healthy glowing complexion! Replenish, nourish, and fight wrinkles with this powerful face lotion.
What brand is your go-to for skincare? Let us know!
Featured Image: www.pinterest.com