10 Drugstore Shampoos To Try Out Based On Your Hair Type
Shampoo is an essential part of your hair care routine, and the drugstore offers plenty of inexpensive options for someone on a budget. However, it can be difficult to figure out which product will work best for you, especially when there are so many options available. Additionally, it might be difficult to figure out which ones are actually beneficial for your hair and which ones are just a basic formula with good marketing. Here are 10 drugstore shampoos for your hair type that contain beneficial ingredients to keep your hair healthy and silky smooth.
OGX Thick & Full + Biotin & Collagen Shampoo
Made by one of my favorite drugstore hair care brands, this shampoo is designed for those who have very fine hair that is often very flat. This shampoo will add volume to your hair by adding collagen and a plumping bamboo fiber, both of which are key ingredients to adding that lift and fullness into your locks. This product is also infused with biotin and other moisturizing ingredients to keep your hair feeling soft, smooth and healthier overall. 
Dove Nutritive Solutions Daily Moisture Shampoo
This ultra moisturizing shampoo is an excellent option for all hair types who want to get clean, sleek hair on a budget. This shampoo helps detangle hair, soften damaged ends, and cleanses without stripping your hair of its natural oils. This product is extremely affordable, sitting at just below $5 at the drugstore.

Herbal Essences Bio: Renew Detox Black Charcoal Shampoo
This shampoo is an excellent drugstore option for those who struggle with overly oily hair. Infused with charcoal, this shampoo strips your hair of dirt, absorbs excess oils and deep cleans hair follicles. If you finish your day with lots of oil build up at your roots even on the same day you wash your hair, this product will help absorb all of it, including oils left by other products, to leave you with smooth hair that isn't overly dry. This shampoo is also extremely affordable, costing less than $7 at the drugstore.  
Clairol Shimmer Lights Shampoo for Blonde and Silver Hair
This shampoo is known for being an excellent way to maintain the tone of your bleached blonde hair. The purple tint of this product tones the brassiness and yellow tones out of your hair, maintaining that silver, platinum or cool-toned blonde hair. Additionally, this product is filled with moisturizing ingredients, so it keeps your hair healthy and nourished while toning and maintaining your perfect blonde shade. 

OGX Anti-Breakage + Keratin Oil Shampoo
If you have hair damage from heat styling or bleaching your hair, this is the perfect product to help bring your locks back to life. This product is infused with keratin proteins to help repair your dry and damaged hair and argan oil to add some extra moisture. Over time, this product will start mending your broken and split ends while also locking in additional moisture to help breathe life into your hair and give it an additional healthy lift.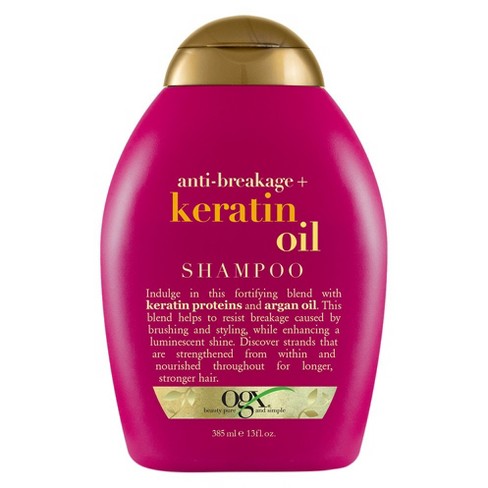 Aveeno Apple Cider Vinegar Blend Shampoo
This is another excellent option for those who struggle with overly oily hair. Apple cider vinegar is known for being an excellent product for DIY shampoo, with amazing benefits that help your hair feel smoother, cleaner and shinier, along with stripping excess oils. However, the vinegar itself has a horrible smell that will typically dissipate after a very thoroughly rinse. This shampoo comes with all the benefits of the DIY apple cider vinegar shampoo without the vinegary scent. This shampoo also contains oats to help soothe your scalp and hydrate your hair.  

Head and Shoulders Classic Clean Anti-Dandruff Shampoo
This infamous product is a staple for those who have issues with dandruff. This affordable drugstore shampoo is infused with pyrithione zinc, which kills the fungus that causes those annoying dry flakes on your scalp. In addition to its dandruff clearing qualities, this shampoo also cleanses your hair and adds moisture without weighing your hair down. Overall, this is an excellent product that is perfect for tackling your dandruff and will cost you less than $4 at your local drugstore.
See Also
John Frieda Frizz Ease Daily Nourishment Moisturizing Shampoo
If your hair is frizzy and difficult to manage, this is the drugstore shampoo for you. Frizzy hair typically means your hair is lacking natural moisture, and this shampoo will pump moisture back into your hair follicles. This product is infused with dimethicone and silk proteins, which create a barrier around your hair strands, which locks in moisture and keeps your hair from frizzing up into a giant cloudy mess. 

Shea Moisture Coconut & Hibiscus Curl & Shine Shampoo
Curly hair tends to be on the drier side, and this shampoo will help bring moisture back to your curly locks without weighing them down. This shampoo is infused with shea butter, glycerin, coconut oil and aloe vera, which will cleanse your curls, hydrate them and keep them defined and voluminous. This shampoo will also make your hair smoother and will reduce any frizziness in your curly hair. This shampoo provides your curly hair with the perfect balance of moisture and definition.
Camille Rose Naturals Sweet Ginger Cleansing Rinse
Color treated hair is often very dry and damaged, especially if you color it often or do it yourself. In order to bring bleached and colored hair back to life, you have to wash it with an ultra-moisturizing and repairing shampoo. This affordable drugstore shampoo contains ginger root to help cleanse your hair and scalp, along with aniseed oil, which will add the moisture back into your damaged hair follicles. Using this shampoo on your compromised hair will help repair damaged ends and bring your locks back to life. 
The drugstore has plenty of excellent shampoo options available to help with whatever hair concerns you have while working with a budget. Although the hair care aisle of the drugstore can be a bit overwhelming, there are some real gems that will work wonders for your hair. Hopefully this list provides you with an option or two to look at on your next trip to the drugstore.
Lara Hill
Lara Hill is a senior Public Relations major at Emerson College from Groton, Massachusetts. She has contributed to several college publications, holding multiple editing positions and focusing mainly on sports journalism. When she is not in class or writing, she loves to sail, watch sports with her friends and family, sing with her sisters, and play with her dog, Cassie.