10 Dorm Rugs That Will Totally Transform Your Room
Dorm rooms are known to be bland and boring, so you need ways to make your room flourish and fit your personality. If you need some decor inspiration, here are 10 dorm rugs that will totally transform your room!
1. Mandala Inspired Design Rug
This cool style of dorm rugs that will make your space look completely different. The intricate details are fun to look at, and will make your dorm room much more interesting than it was before. Mandala's and mandala inspired designs are super popular, so you'll be on trend with your decor!
Copy The Look: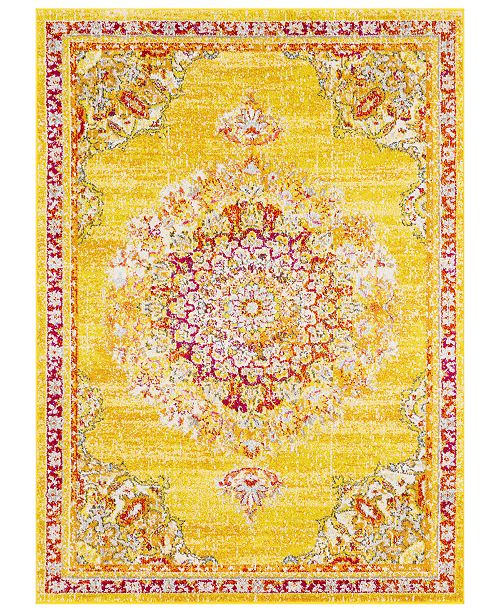 2. Abstract Rug
This is one of the most unique dorm rugs that you can get. No one else will have a design as cool as this in their dorm room, so this rug will make your space stand out! There are so many cool abstract rug designs that you'll definitely find one that matches the color scheme of your room!
Copy The Look:
3. Yellow And White Rug
If your dorm room feels drab, a yellow and white rug will definitely bring some bright color to your room decor! Yellow seems like it would be hard to match, but it will go well with any light colors and the white detail in the rug will help it match the rest of your decor. This rug is a fun way to add some personality to your space!
Copy The Look:
4. Grey And White Graphic Rug
Grey and white is an interesting color combination because it's not the usual and expected black and white. The grey makes the contrast not as stark, bringing some softness to your dorm room decor. Because this color scheme is so simple, it will be super easy to match the rest of your bedding and furniture to it!
Copy The Look:
5. Faux Fur Rug
Everyone loves a soft, fluffy, faux fur rug, and so will you! Not only is it so soft and comfy to walk on, but it also brings a sense of chicness to your dorm room. It's a rug that you'll get so much use out of, even once you move out of your dorm. It also goes well with almost any style of decor so it's the perfect rug to get!
Copy The Look:
6. Ornate Rug
Ornate rugs are classic and always bring some life to any room they're put in. The complicated design makes your room instantly look a thousand times more elegant, which is great in a dorm. You can choose the style that matches the colors of your room and your personality to make it truly yours.
Copy The Look:
7. Chevron Rug
Chevron rugs are a classic style of area rug, but it's one that will completely transform your space. The bold, graphic print will draw attention to your rug and complement the rest of your furniture and bedding. It's also a great way to add some design to the plainness of any dorm room!
Copy The Look:
8. Marble Rug
This is one of the chicest dorm rugs that you can get. If you have an elegant sense of style, this is the rug that you need to get! It will elevate your dorm room and tie your decor together if you have similar colors in the rest of your room. It's also an interesting style of rug that you and your guests will love!
Copy The Look:
9. Sassy Doormat
If you don't want the commitment of an area rug, a doormat can transform your space just as much as other dorm rugs can! Place this rug right where you walk in the door so all of your guests can see your sass and sense of humor.
Copy The Look:
10. Galaxy Rug
Your room will be out of this world if you get this style of rug! It's unique and interesting, so it will totally transform your space and be the centerpiece of your room. You can find the galaxy design that has the right colors to match your room, so this is a great idea for anyone who loves space!
Copy The Look:
Which one of these dorm rugs would totally transform your room? Let us know in the comments below!
Featured Image Source: https://www.pinterest.com/pin/AQnGQOP2UXm0xPKv97gXl0ak2r69RS1S8Na5rgsbskBgJPsrIt86OWY/
Brianna Lesnick
I've got a case of wanderlust, I'll never stop traveling because my goal is to go to every single continent. I've made it to four out of seven so far. I graduated from Emory University in May of 2018 with a degree in English and Political Science. I will be attending law school this fall but in the meantime I write, travel, and love to be outside in nature.