15 Cute Work Outfits To Wear All Season Long
Whatever your budget, you can make it stretch further by choosing clothes that transcend seasons. Check out these items that will take your personal professional brand to the next level all year long.
Pencil Skirt
Slimming and timeless, the pencil skirt is a staple of the work wardrobe. Wear it with a sweater in the winter, a cap sleeve blouse in the summer or a silk button-down all year long. With a belt or without, you can pair this skirt with a multitude of options from your closet. For a polished look, tuck longer shirts into the skirt or wear cropped ones loose. For a creative work environment or a night out, try wearing it with a graphic tee, leather jacket, and animal or floral print heels.
The pencil skirt is such a can't miss hit, I would actually recommend keeping a couple in your closet- one in a neutral solid and another in a fun print.
This Hampshire Ponte Skirt from Boden is designed for all-day comfort. It's ultra-stretchy fabric is lined and machine washable. (Skipping the dry cleaners is always a big bonus in my book!)
Shop the look:
Black Blazer
Show me any piece of workwear you own and I'll bet it looks good with a black blazer. It even can transform items of clothing into work attire. That dress you bought for your cousin's wedding… top it with a black blazer and head into the office. Jeans and a white tee… add a black blazer and you look hot for casual Friday.
There are a myriad of options, cuts, and styles in this category. My suggestion is to get a classic cut and you can wear it forever.
Boden's Smyth Ponte Blazer is a great option. It's made from the same stretchy and soft ponte fabric as the pencil skirt recommended above. So, if you buy the pair, you have a smart suit that is boardroom-ready. But, even as a stand-alone, this blazer's fitted shape and nipped-in waist are flattering. The length lands at the top of the thigh and comes in petite sizes too to help ensure a good fit.
Shop the look:
Cardigan
Winter, spring, summer, or fall, the cardigan sweater is one of the most adaptable items of clothing. It covers your shoulders to make strappy summer camis office appropriate in the summer and layers nicely over tops and oxfords to complete your fall look. This is another case where you can benefit from having more than one. I'd get one cardigan in a classic fit that hits just below the hip and another with a longer cut.
J Crew always has this sweater staple, even at its outlet.
Shop the look:
Pleated Maxi Midi Skirt
The pleated skirt is a stylish choice at any time of year. With minimal effort, you can achieve maximum versatility. Pair it with fitted tucked tops and heeled sandals in summer months. For the winter months, opt for a fitted tucked-in turtleneck and pumps, or oversized sweater and boots. Get creative because you can reinvent this look with so many pieces you already own!
This DKNY Pull-on Pleated Maxi Skirt is breezy and beautiful. The length hits below the knee and transitions quickly from work to play by swapping those pumps for sneakers.
Shop the look:
Wrap Top
Wrap tops are flattering on all body types. The v-neck draws the eye down to your waist, the thinnest part of your body, and then flares out to further define your waist and emphasize your curves.
The Gathered Sleeve Wrap Top from Vetta is made from tencel, a super soft sustainable fiber. In black or in cream, this top is so versatile you could wear it multiple times in the same week and no one would even know. That's because you can cross it in front or in back, wear it with or without the tie, and even layer it on top of something strappy as a light cardigan.
Shop the look:
Jumpsuit
Dress it up or dress it down. Jumpsuits are smart and sassy for any occasion, including the workplace. Blazers and boots make this look a cold-weather favorite, but a strappy heel and lightweight cardigan cools it down when the temps go up.
This flattering Karen Kane Tie-Front Jumpsuit jumpsuit defines the waist and helps mask the tummy bulge if you have one. It's side pockets are super handy and the knit material is soft, comfortable, and made in America from ethically sourced fabrics. Thank you, Karen Kane, for making this available in plus size too!
Shop the look:
Sheath Dress
Let your inner Audrey Hebburn shine when you wear the timeless sheath dress. This closet classic seems to turn every wearer into a classic beauty and becomes a canvas for you to create a variety of looks. Blazers and pumps are an easy addition for a corporate look, but the dress looks great with sweaters, wraps, and boots too. Accessorize at will and have some fun with it!
J Crew's "Long sheath dress in four-season stretch" is a super sleek sheath that gives you a flattering fitted silhouette. It's available in tall and petite lengths and has gotten some rave reviews.
Shop the look:
Floral Print Dress
Big florals, delicate florals, vintage florals, and fleur-de-lis… they all are on trend for fall and winter 2020/2021. So, flaunt your feminine side through the cubicle farm. Strappy heels complement dresses like this nicely for the summer but a simple pump is all you need to winterize.
Lulu's Floral Dressed Up Dark Green Floral Print Midi Dress is timeless with its mock neck and flowing floral print. The sleeve length makes it appropriate for all seasons. Just grab a blazer or wrap when it's chilly.
Shop the look:
Basic White Button-Down
AYR Creative Director Jac Cameron says, "I think a clean white shirt is the most classic item in the wardrobe and something you'll never tire of." It also works year-round because it looks sharp with every skirt or pants pairing. (It's also fantastic with jeans or shorts on weekends.)
Ann Taylor makes a bold claim with its "Perfect Shirt". It's a classic crisp point collar, button-down shirt but modernized with a bit of stretch. It comes in petites too.
Shop the look: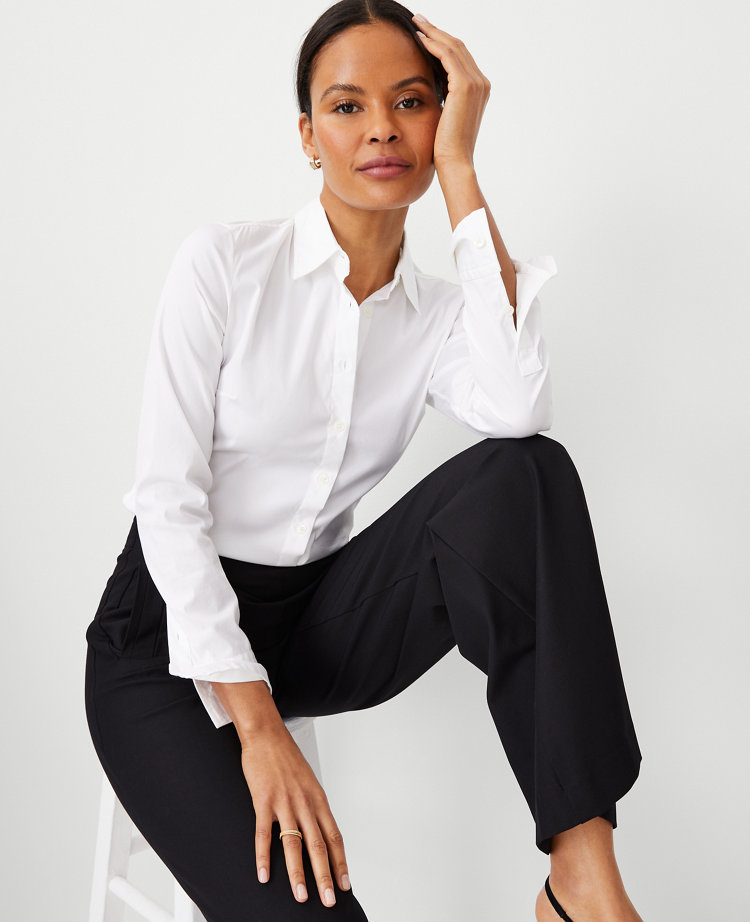 Shirt Dress
A shirt dress is a smart addition to any closet. Its basic structured look gives you a chance to have some fun accessorizing. Printed belts or pumps, chunky earrings, scarves… let those baubles take the spotlight for a day (just not all at once).
This Twill Shirt Dress with Removable Belt from White House Black Market boasts "super-soft fabric for all-day comfort". It's a classic cut and is available in petites.
Shop the look:
Flattering Black Pants
Black pants go with everything. They know no limits. They know no season. So take the time to find the cut that makes you feel fabulous and wear them until you wear them out. Wide-legged, slim cut, cropped, boot cut… buy them all if you like them all because there are plenty of opportunities to use them.
AYR claims The Arrow Pant is "the hottest pant of all time". It is made from a Swiss equestrian fabric that is stretchy but does not wrinkle or lose its shape. In other words, these pants should never stop hugging your curves.
Shop the look:
Retro Short-sleeved Shirt
Find a Peter Pan collar, ruffles or bow… or all three in one fun top. These retro details give the shirt enough character to stand alone without a blazer or sweater. The look works well with modern slim cut dress pants and hot heels or with jeans on casual Fridays.
CECE makes a Ruffle Collar Short Sleeve Blouse that's pretty and proper. Love the slight poof to the sleeve as an added touch!
Shop the look:
Oversized Blazer
Also known as the boyfriend blazer, this trendy menswear look has taken over the runway and the streets. The loose boxy silhouette becomes a feminine fave when paired with a pencil skirt, blouse and heels Monday through Friday, or skinny jeans and a graphic tee on Saturday and Sunday.
In finding a blazer that works year-round, be mindful of the material it's made from. While the look transcends seasons, the fabric does not always follow suit. Linen is intended for spring and summer whereas wool looks and feels too heavy to wear outside of the cool weather months.
Trinity has a Bishop & Young Oversized Blazer that fits the trend in any season. This double-breasted plaid weaves in so many colors- ivory, navy, black, and copper- you can wear it with almost anything.
Shop the look:
Cami
A little camisole goes a long way in your workwear wardrobe. Because it's barely there, it's easy to layer. Blazers, lightweight cardigans, fringe earrings, or chunky necklaces… add the pieces that work for the season and this base layer will keep you covered underneath.
Do be discerning in selecting your workwear cami, though. Steer clear of fabrics that are too sheer and keep your bra straps under wraps. Keeping "your business" your business will help your colleagues and your leaders stay focused on your great work.
Banana Republic's Essential Camisole Top is ready for layering but fabulous alone with jeans or shorts when you're off the clock. It's fully lined and machine washable, a couple of practical pluses. And the BR website gives you some helpful hints on how to wear this adaptable piece.
Shop the look:
Leather Mules
The mule is the mullet of shoe fashion- closed-toe in the front and opens in the back. Yet this slip-on style is both trendy and timeless. Comfortable, classy, and cute, the backless version of the loafer has become a wardrobe staple because it pairs perfectly with dresses, trousers, and ankle-length pants.
"Easy to wear, easy to pair, and always chic", the Linnie Bit Mule by Sam Edelman goes with everything and gives you a variety of colors and prints to choose from.
Shop the look:
What's your favorite thing to wear to work? Let us know in the comments below!
Featured Image Source via luxe.digital.com 
Alexandra Ford
A. A. Ford is a writer from St. Louis, Missouri. She is currently a student majoring in English and Theology at the University of Notre Dame. In addition to her articles for Society 19, Ford is known for her poetry and fiction, which can be found at https://aafordstories.wordpress.com/. In her free time, she loves directing stage theater, spending time with her friends and family, and trying her best to glorify God by her life.