15 Cute Summer Work Outfits Appropriate For The Office
When the warm weather finally hits, the last thing you want to do is sit in an office all day. Office environments are typically cold, grey, and not where you want to be. However, there are ways to improve your indoor blues, like trying out an outfit that's both cute for summer, and office appropriate (yes, it's possible). It's all about finding that right balance of airy work attire, while still keeping it professional on an 80 plus degree day. We get it, and you can rest assured because we are here to tell you summer office outfits can be done. These are the best cute summer work outfits for women that are great for both the office and day to day wear!
1) Baggy & Beachy
Coming up with an outfit for both indoor and outdoor wear can be confusing. Sometimes it's brutally hot outside, but your office is freezing cold. Where's the line? This outfit is one of the best cute summer work outfits due to its baggy fit. With an outfit like this, you can forget feeling suffocated as soon as you walk outdoors, and be comfortable in both environments.
Get The Look:
2) You Can Never Go Wrong With A Collared Shirt
Collared clothing is the best because it can take an everyday shirt from casual to fancy. In addition, a pleated skirt always adds a classic touch. This is definitely an office appropriate summer outfit.
Get The Look:
3) Bright Colors For The Warm Weather
I mean, hello we've waited for for…ever for warm weather! That's why wearing an outfit that screams spring or summertime is definitely one worth wearing. These warm seasons don't last forever, wear some warm clothing while it lasts!
Get The Look:
4) Flowy Stripes
There's nothing that says summer more than the classic blue and white stripes and on a pleated skirt? It can't get much better! This is one of the best cute summer work outfits since it's so trendy and can be worn to the office, or out to dinner!
Get The Look:
5) A Simple Sundress
If you're in a crunch for time and are wondering what to wear, there's nothing better then throwing on a white dress and calling it a day! You'll look like you put in so much more effort than you truly did.

Get The Look:
6) A Tank & Skirt
The classic tank top and skirt outfit make a great combination for your office attire. Not to mention both of these items are worth the investment since they can be worn for far more than just your boring office.
Get The Look:
7) The Wide Leg Pant Style
This style is so underappreciated, however, it's perfect for the office! The wide leg pant won't suffocate your skin when it's too hot and will keep you at a great temp for the office.
Get The Look:
8) Some Cute Mules
This whole outfit is perfect for an everyday office look. The mule shoes also add a nice flare to the outfit as well. Definitely, one of the best cute summer work outfits to wear!
Get The Look:
9) A Classy Dress
When you're working a full-time job and managing your life, the last thing you want to think about is picking out an outfit for the next day. With a fancy simple dress, it's one and done – no need to stress!
Get The Look: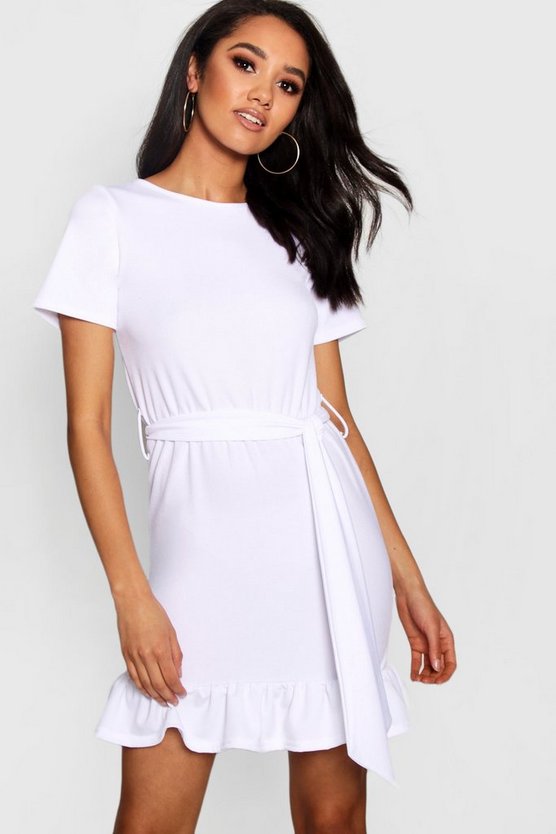 10) Get Fancy With It
If your office isn't super tight on the rules, try out a spaghetti style blouse! This is perfect for the summertime and can match with any pant or skirt combination you pair it with!
Get The Look:
11) Or Stick To The Basics
This outfit screams business. However, there's nothing wrong with that! If you want to stick with the classic business outfit, try and go with a style like this for the summer!

Get The Look:

12) A Casual Look Never Hurt
It's true, it doesn't hurt. Not all offices expect you to be at your best, let alone spend hundreds of dollars on fancy clothing. An outfit like this is the perfect combination of dressy and casual!
Get The Look:
13) Just Because It's Warm Doesn't Mean You Can't Wear Darks
With summer, a lot of people prefer to wear lighter colors. However, I know a good amount of women who refuse but to stick to the monochromatic color scheme. If you're one of those people, try out an office appropriate outfit like the one below!
Get The Look:
14) A-Line Anything
I'm not sure what it is, but there's something about an A-line skirt or dress that really upgrades a look. If you want to look a bit more dressy, try out an A-line outfit for your next work day!
Get The Look:
15) A Short Skirt
Short skirts are the best for those days it's just too hot for you to even handle. However, it's important to find an appropriate skirt for your body type that's not too short. An outfit like the one below is a good example for the office!
Get The Look:
What do you think of these cute summer work outfits? Do you think they're office appropriate? Let us know in the comment section below!
*This is a sponsored post. All opinions are my own.
Featured Image Source: www. Pinterest.com
Haley Lyndes
Just a twenty-something trying to navigate life. Northern Vermont University graduate. Yes, I own Birkenstocks. No, I do not like maple syrup. Hoppin' around New England since 95', currently in MA.