50 Cute Dorm Room Ideas That You Need To Copy
Trying to brainstorm cute dorm room ideas as you begin shopping for college can be pretty hectic! With so many amazing styles and looks to choose from, how will you ever decide? Should you keep it chic and girly or do you want some bohemian flare? Do you prefer furry blankets and pillows or do you prefer the shaggy chic style? Paisley, floral or chevron print? Your mind might be spinning at a thousand miles an hour right now, but take a deep breath, sit back and relax. In order to help you through this confusing time, we thought it'd be a great idea to grab some decoration inspiration from some of the most amazing dorm rooms on Pinterest! There's a look for everyone, and hopefully, you will be able to draw some inspo and maybe even recreate some of these awesome dorm rooms yourself! Good luck and have fun!
1. Chic And Girly
If you're a classy girl who loves pink with accents of fur and metallic, this chic look is for you! Just add some gold polka dots and a faux fur blanket and you're good to go!
Copy this look:
2. Photo String Lights For A Personalized Touch
The best part about these string lights is that they come with clips so you can hang your pictures or some of your favorite wall prints up at the same time! String lights should be in all cute dorm room ideas!
Copy this look:
3. Every Dorm Room Needs A Hammock
Take your dorm to the next level with an extra lounging space for when you just don't feel like lying in your bed! It also never hurts to line your walls with your favorite boy band pictures…
Copy this look:
4. Put Your Name On It
Nothing says 'your room' like having your name up on the wall! There's also nothing cuter than a ruffle comforter for that effortlessly shabby, chic style. To top off this look, add a cute mandala tapestry to brighten those boring walls.
Copy this look:
5. The Artsy Girl
This gal prefers simplicity and artistic vibes to bring her room to life. Opt for some cute throw pillows and wall art while keeping the rest of your room pretty neutral to accomplish this look!
Copy this look:
6. Beach Vibes
This is one of my favorite cute dorm room ideas! Keep it chill with this relaxing room. Add some beachy wall art, hues of aqua and blue, and maybe even an ocean tapestry to brighten up your room!
Copy this look:
7. For The One With Wanderlust
This look is for the world traveler. If you're one of those students who loves studying abroad, try patterns and prints with ethnic vibes… and don't forget your map!
Copy this look:
8. Bohemian Babe
If you're into the boho chic look, opt for a shaggy blanket and an assortment of throw pillows to decorate your bed. Add a mandala tapestry and adorn your walls with some of your favorite wall prints!
Copy this look:
9. Good Vibes Only
If you're constantly in the chill zone and find all your days are spent daydreaming, send out good vibes with this super cool set up.
Copy this look:
10. Add A Fur Accent
If you like to keep it pretty simple for the most part, dress up your space with a little fur as a seat cover and some super cute light bulb string lights for a cozy atmosphere!
Copy this look:
11. Your Pillows Can Make A Statement
All you need are some trendy pillows to dress up your room. The more, the better. Just stick to one color scheme! Throw pillows should be in all cute dorm room ideas.
Copy this look:
12. Country Chic
For the girl born in the countryside with hopes and dreams of traveling the world. Pin Tacks to your wall map to to showcase everywhere you've been and everywhere you plan to go in the future!
Copy this look:
13. The Girl Next Door
Sometimes all you need are a few fur accessories, your photo clip string lights, and your monogram on the wall..duhhh!
Copy this look:
14. Floral Details
If you prefer to spend your summer nights on backyard patios surrounded by flowers, friends, and good times, this look is for you! Floral accessories and details make great accent pieces.
Copy this look:
15. Channel Your Inner Chanel
You only buy designer, you only read Vogue and you just don't have time for all the basics. You have exquisite taste and you hope your roommate does too.
Copy this look:
16. Pretty And Preppy
This super cute dorm is perfect for the girly girl that loves bright bold colors, floral patterns and most importantly, monogram everything!
Copy this look:
17. For The Not So Basic, Basic Girl
Some people think all black and white is a pretty basic, boring look. But not in this case! Kick your idea of "basic"  up a notch with this trendy monochrome vibe!
Copy this look:
18. Latin Vibes
If you dream of dancing the night away in Spain, under the stars, while your Latin lover serenades you to the tune of his amazing guitar, this is your look!
Copy this look:
19. The Luxurious Dorm Room
Are you the kind of girl who loves the idea of lavish hotel rooms and luxurious threads? If so, check out this super posh dorm room. Mounds of pillows, delicate writing, and your name up in lights..it doesn't get much better than this! Keep it pretty with neutral colors and soft fabrics.
Copy this look:
20. The Retro Indie Gal
If you dig the retro vibe and find yourself constantly digging around the music store for the best vinyl records, why not post them up on your dorm room wall for a stylish look? Add some string lights and cute indie decor and you're all set!
Copy this look:
21. The Dope Dorm Room
This room is for that too cool for school girl who loves her "chill" time. Her bed is her favorite place to be, so the more the pillows, the better.
Copy this look:
22. Hippie Chic
Add some peace, love and happiness vibes to your room with some colorful decor pillows and an ombre comforter! Don't forget a tapestry to dress up your walls and some words of wisdom for daily inspiration.
Copy this look:
23. Parisian Vibes For A Princess
So this gorgeous room might require a little bit of DIY work. To get that amazing chair, just buy the chair separate and order a monogram decal in any color and any size, then add it to the back of the chair! And why not top of your room with tons of plush pillows and the Eiffel Tower on your wall?!
Copy this look:
24.  For The Girl With A Green Thumb
Create a room with some fresh, clean and calm vibes. Start with a paisley comforter and go for green and blue hues. Add some nature inspiration to your room with wall decor and cute vine leaves garland! If you like floral patterns and plants, this will quickly become one of your favorite cute dorm room ideas!
Copy this look:
25. The Golden Gal
Go for the gold with this shimmering room! Hang up multiple tapestries to make your room look bigger and cozier at the same time! If you like lights, this will be one of your favorite cute dorm room ideas!
Copy this look:
26. For The Daydreamer
If you've got a case of wanderlust and are constantly day dreaming about living life to the fullest, this room is perfect for you. Give it dreamy vibe with star and moon accents!
Copy this look:
27.  Summertime Vibes
This room is perfect for a Cali girl who can't stay out of the sun! Nothing reminds us of summer more than palm trees, the ocean and cute pineapples!
Copy this look:
28. Wild & Free
This cozy room incorporates a little bit of everything for a fun, shaggy and chic look! Stick with hues of pink, gold, grey and white for that girly touch.
Copy this look:
29. Sending More Good Vibes Your Way
Keep it ultra cool-girl with these relaxing accents and chill vibes. Fun tie-dye prints and geometric patterns turn an average room into a cozy but cool living space!
Copy this look:
30. City Views
Last but not least, keep it sleek, modern and contemporary for city girl vibes. Using neutral shades and adding a pop of color or prints is a cool way to have a modernized funky yet fresh style!
Copy this look:
31. Mix and Match
Mixing and matching patterns and textures like paisley with stripes can look so cute and chic! Pick a few colors to work with and the finished product will look amazing!
Copy this look:
32. Cute Couture
Okay, this Chanel barrel nightstand is absolutely amazing. Unfortunately, this is a homemade creation, but on the bright side you'll have a fun little DIY project to work on since it's super easy to recreate! All you need is a metal garbage can or barrel with a flat top surface, some paint and stencils. And voilà you have have a nightstand (just try to keep a steady hand!)
Copy this look:
33. Light It Up
This bright dorm room is all about relaxation. Combine neutral with monochrome shades and use plants and cute decor to add pops of color to liven it up!
Copy this look:
34. Ugh..This Room Is So Cute
A cute color scheme can bring an entire room together. And if you have a roommate, try discussing which colors you guys like so you can coordinate your decorations and bedding!
Copy this look:
35. Bonjour, Madame!
Are you an international city girl at heart, stuck inside four drab dorm room walls? Dress it up with accents of foreign decor and chic designs!
Copy this look:
36. A Dose Of Sugar
If you love sugary sweets and constantly find yourself day dreaming of winning the Golden Ticket, go for a fun room with cute pillows, wall decor and bright color schemes!
Copy this look:
37. Feeling Blue?
Okay, well not literally. This room is just perfect for the girl who loves blue. Mix it up with a little bit of silver and you've got a dreamy metallic vibe going that looks awesome!
Copy this look:
38. Black And White
So if blue isn't your thing, you can totally stick to black and white! To make your look unique, play with different prints and patterns in the same color family for ultimate dorm room goals!
Copy this look:
39. Get Lost In The Jungle
Give your dorm room an amazonian makeover with a cool jungle vibe backdrop! Add some wall decor and fury accents and you're good to go!
Copy this look:
40. Big City Dreamin'
This one's for the classy New Yorker who's proud of where she's from and proud of what she does!
Copy this look:
41. Modern Contemporary
If you enjoy contemporary style with simplified looks, this dorm room is for you. Stick to neutrals with a little inspiration from the city.
Copy this look:
42. For the Girl Who Likes A Little Bit Of Everything
If your mind is always overflowing with thoughts and ideas, it may reflect in your room decor! Sometime's being a little all over the place is a great thing because your dorm room will end up looking totally unique and awesome! The collage decor approach is definitely one of the cutest dorm room ideas!
Copy this look:
43. The Wild Wild West
Are you a fan of the classic western look? Love watching old school western movies with those infamous cowboys you hate to love? If so, try out this look with cool aztec prints and western hues!
Copy this look:
44. Don't Quit Your Day Dream
This room is perfect for the girl who spends her days in la la land. Soft, fuzzy fabrics mixed with pastels and cute decor make for the ultimate relaxation dorm for plenty of hours spent daydreaming.
Copy this look:
45. Hello Gorgeous!
Wake up every morning feeling like a million bucks! (Even if you don't look it.) There's nothing like a little inspirational wall decor to start your day off on the right foot and feel good about yourself!
Copy this look:
46. Carbs Are Friends And Food.
If you want your voice to be heard, there's nothing wrong with expressing those opinions of yours! They can even be used to decorate your boring dorm walls! Quotes are awesome for college dorm room ideas because they allow people to see what you're really like!
Copy this look:
47. Get A Little Funky With Cool Colors and Prints.
Mix up different textures and prints in hues of blues, greens, and purples for a super cool relaxing vibe. Eye also love that funky pillow on her bed!
Copy this look:
48. Oh Deer, This Looks Cozy!
Add unique touches to your room to liven it up, such as a world map tapestry to cover a wall, or a furry chair cover! String lights and tons of pillows give it the ultimate cozy vibe.
Copy this look:
49. A Room For A Boss Lady.
It's known that well-behaved women seldom make history. If you're anything like Audrey Hepburn or Marilyn Monroe, then this powerful room will suit your style and your personality.
Copy this look:
   50. Romance Is In The Air
For all the hopeless romantics out there, this room will suit your style! Balance soft string lights for a cozy vibe with white patterns and prints for a comfy, clean look. The combination of the black and white wall art gives it that old-school vintage romantic feel.
Copy this look:
Featured images source: Pinterest.com
*This is a sponsored post. All opinions are my own.
Do you have any other cute dorm room ideas that should be on this list? Share in the comments below!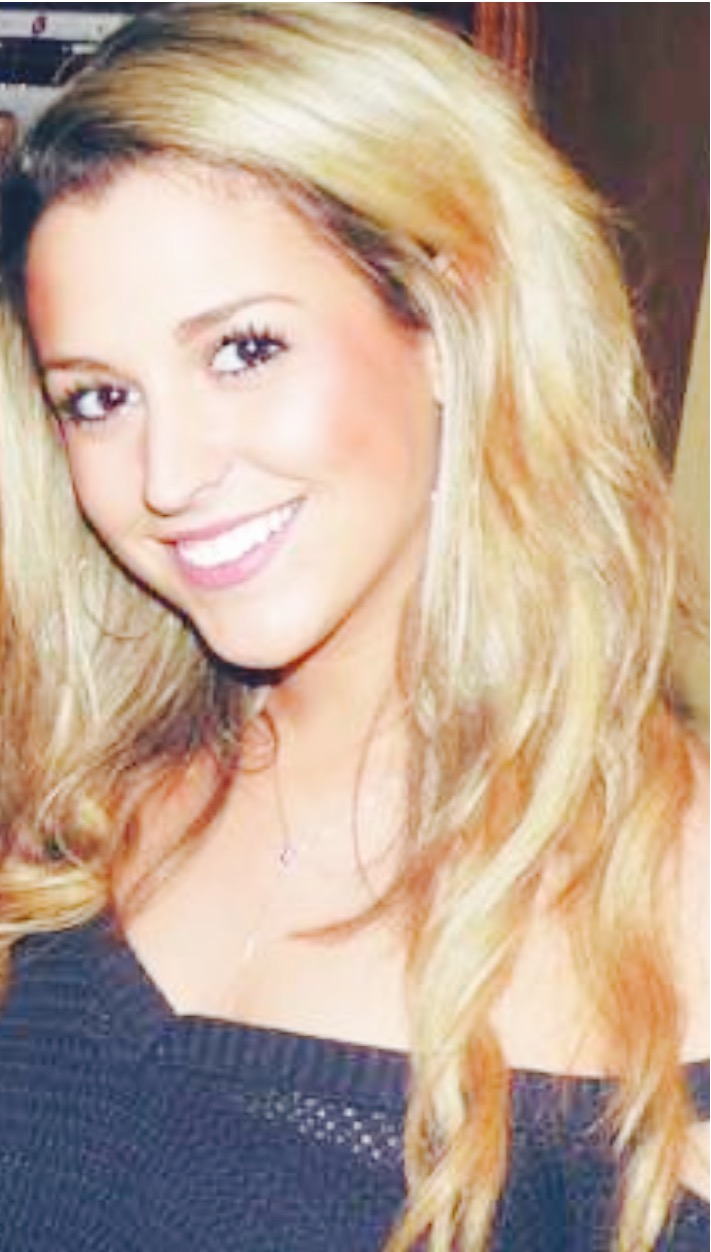 Erin Mahoney
Graduate of Emerson College '15 with B.S. in Multimedia Journalism. Originally from Haverhill, MA. Lover of dogs (and some cats), shoes, hot sauce and depleting my bank account.