10 Cute Crop Tops You Need For Summer
Summer is the official season of crop tops so you need to make sure your wardrobe is ready for the hot weather. If you need to step up your clothing collection, here are 10 cute crop tops you need for summer!
1. Polka Dot Crop Top
Polka dots have been seen all spring and will definitely continue being trendy through the summer. Polka dots are so cute and dainty that you'll look adorable if you wear this style of cute crop tops! There are so many colors and styles to choose from that you'll definitely find the one that matches your look!
Copy The Look:
2. Bandana Crop Top
Bandana crop tops will make you nostalgic for the early 2000's but you'll also look so hot in this summer style! This is a great casual look that you'll be able to wear all summer. To achieve the ultimate look, pair this crop top with high waisted denim jeans or shorts!
Copy The Look:
3. Gingham Crop Top
Gingham has been documented as one of the most adorable spring and summer patterns, so you definitely need to grab one of these cute crop tops for your wardrobe. Gingham is so sweet so you can pair this crop top with other light colors or a matching skirt!
Copy The Look:
4. Long Dramatic Sleeves Crop Top
Summer isn't sweltering everywhere, so if you still want that crop stop style without being too chilly, you need to invest in a long, dramatic sleeved crop top! This style of crop top is airy and dreamy, so you'll embody the perfect boho style with this look!
Copy The Look: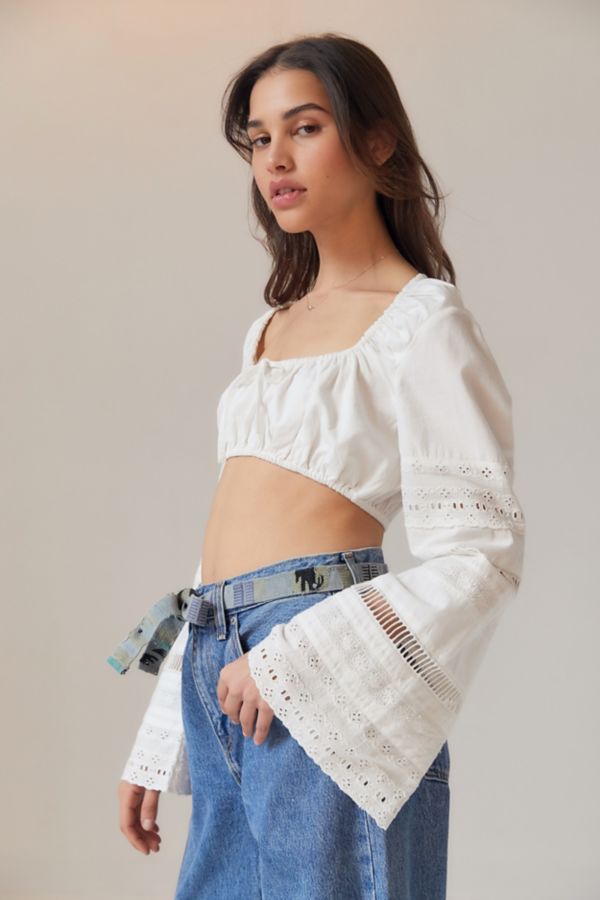 5. Multi-Way Halter Crop Top
There's nothing better than a top that you can wear multiple ways, and this crop top fits that description. This is a perfect crop top to get because it can go without so many different outfits. Also, this style of crop top is the perfect amount of sexy that will keep you cool all summer long!
Copy The Look:
6. Smocked Ruffle Crop Top
Smocked tops are back in style, so you definitely need one of these before summer rolls around. This style is so sweet, which is perfect if you like to show off your feminine style. These cute crop tops are a basic summer staple, but the ruffle detail gives it more flair so you'll look so stylish!
Copy The Look:
7. Multi-Colored Striped Crop Top
This casual style of cute crop tops is a great addition for anyone's wardrobe. The stripes are flattering, so this top will look great on every body type. This top will go with virtually anything in your closet, so it's definitely an item you need to get for summer.
Copy The Look:
8. Embroidered Mesh Crop Top
Mesh crop tops have been super popular, so you can elevate this top style by choosing an embroidered top. The embroidered see through style can be worn with so many outfits for so many occasions so you'll get so much use out of this top. This style is super sexy, so pair it with something sweet underneath!
Copy The Look:
9. Cutout Crop Top
Cutout tops are another sexy style that you can wear for summer. This top is super sultry without being over the top, which is perfect for a night time look or even a casual day around town. This style of crop top is super versatile so you'll have no problem creating a fire outfit with it!
Copy The Look:
10. Suede Bralette Crop Top
Bralettes are another summer must-have, but there's a fine line between wearing lingerie as clothes and a sexy fashion statement. The suede tones down the sex appeal of this look so you can wear it for a night out or a daytime hangout.  If it's a little chilly outside, you can throw a lace see through shirt over this look and still look super fashionable!
Copy The Look:
Which one of these cute crop tops are you going to get for summer? Let us know in the comments below!
Featured Image Source: http://wachabuy.com/100-summer-outfits-wear-today/3/
Brianna Lesnick
I've got a case of wanderlust, I'll never stop traveling because my goal is to go to every single continent. I've made it to four out of seven so far. I graduated from Emory University in May of 2018 with a degree in English and Political Science. I will be attending law school this fall but in the meantime I write, travel, and love to be outside in nature.